Children's Ministry
"Jesus said, "Let the little children come to me, and do not hinder them, for the kingdom of heaven belongs to such as these."—Matthew 19:14
When we went to Binh Chau in June of 2004 we found they were holding Sunday Worship services in a home, but only 2 or 3 adults were attending. There was no program or focus on the children. Because of the lifestyle and the culture many children were being exposed to smoking, drinking, gambling, drugs, and lack of respect towards their parents at a very early age. We also discovered that, in many cases, the adults were so hardened in their ways, that they were not receptive to hearing the Gospel of Jesus Christ. We began to pray about it and God put it in our heart that the focus should be on the children and the generations to come, and by God's Grace, their parents would come to know Him through their children's experience.
We then talked with Pastor Quy from Ba To if he would be willing to send some people from his church to Binh Chau to start some weekly adult and children's Bible studies with financial support from our church in the USA. Pastor Quy said this would be possible. When we returned to our home in Tucson, Arizona, we presented this information to our church, Catalina Foothills Church. Our church generously agreed to help support the outreach effort to Binh Chau, and in February of 2005, Pastor Quy sent Tam, Lam, and Mai to Binh Chau on a weekly basis to hold Sunday Worship Services and adult and children's Bible studies.
When we returned to Binh Chau in July of 2005 we attended Sunday Worship Services (which was being held in a home there), the Tuesday night children's Bible study, and the Friday night Adult Bible study. The children's Bible study had the most energy and enthusiasm of the three groups. Only 10 or 11 children were attending, but they were eager to learn about the Word of God. Lam and Mai were riding from Ba To to Binh Chau each Tuesday night by motorcycle, making numerous trips around town to transport their students to class( on their motorcycle ), teaching the children, and then driving back to Ba To late at night. Their love for and dedication to the children was heartwarming to see. They were not only teaching God's Word to the children, but also showing that it could be fun at the same time (and they were doing it with virtually no teaching material).
We returned back to Tucson in August 2005 and shared what we had witnessed in Binh Chau. Almost immediately, Pastor Quy began to send us letters requesting that we return to help with God's Work in Binh Chau. We prayed about whether Mai should return so soon and God answered our prayers. Catalina Foothills Church offered to pay for the plane trip to Vietnam and other members of our congregation gave financial support to purchase training materials and bibles. We purchased two sets of felt board figures to be used in the children's ministry as this had been a request of Pastor Quy, Lam, and Mai.
Mai arrived in Binh Chau in October 2005 and started working with Pastor Quy, Lam, and Mai in visiting families in the area. During Mai's seven weeks in Binh Chau, she saw the children's bible study class increase from 10-11 children up to 25-30 children. The felt board figures were a great tool in making the Bible stories more fun and exciting to the children. They not only had bible study, but played games, gave out prizes for scripture memorization, gave an eleven year old student the first birthday party she ever had, and just had a joyous time of fellowship in the Lord. Mai wishes everyone could have seen the twinkle in the eyes of the children as they experienced the love of God. We thank God for touching people's hearts at Catalina Foothills Church that made this trip possible through their financial support.
In phone conversations recently with Lam and Mai, they reported that the children's Bible study class has now grown to 42 students per week age 5 to 13. Plus, they now have enough youths 14 and up, that they started a youth group on Tuesday night with about 11-12 attending. God is GREAT!! Lam teaches the children and Mai teaches the youths. We are so grateful that God has allowed us the privilege of serving Him through this ministry. The needs are growing, but the workers are few. Please pray that God would raise up more lay people to teach and disciple these precious souls. Please also pray that God would provide the funds to purchase a van to transport children to and from the Bible studies as it is now impossible for Lam to get all that do not have transportation to the Bible studies each week.
We welcome any and all ideas on how we can help the children's ministry flourish in Binh Chau so more children might come to know Jesus as their Lord and Savior. "From the lips of children and infants you have ordained praise"—Psalm 8:2
Mercy Ministry
Religion that God our Father accepts as pure and faultless is this: to look after orphans and widows in their distress and to keep oneself from being polluted by the world"—James 1:27
There is a strong hesitancy in some churches in Vietnam to use Mercy ministries in fear that people will come to the Lord in order to continue to receive food, clothing, money, or medical assistance from the church. While this may be a possibility in some cases, we believe it is very hard for someone to be receptive to hearing the Gospel of Jesus Christ when they are struggling to provide food, clothing, and shelter for their families from one day to the next. Jesus not only gave the people the Bread of Life for their spiritual needs, but also fed them fish to meet their physical hunger. Because of the culture, lifestyle, lack of educational opportunities, and more, many people in Binh Chau are in need of both spiritual and physical help.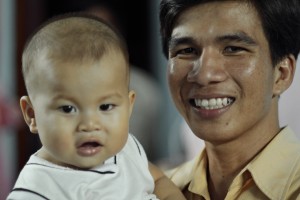 The seven weeks last fall (2005) when Mai was working with the church in the Binh Chau area, they had 37 people pray to receive Jesus as their Lord and Savior. To God be the Glory! Three of those families were really in need of assistance and Mai focused on helping them to meet their daily needs through some of the funds Catalina Foothills Church and our congregation provided. Here is one of those stories:
Mai went to visit one family (husband, wife, and four children) in Binh Chau. The husband is a fisherman and goes out to sea a month at a time on a fishing boat. It is very dangerous and hard work. In fact, he was suppose to be out to sea when Mai came to visit, but he had gotten sick and came ashore to get medication and then was to return to his boat. However, he returned late and his boat had already left for sea so he returned home (coincidence? we think not). Mai learned that sometimes the family actually runs out of food before the husband returns from his long month at sea. When this happens they resort to searching for wild green leaves and coconuts for food and stay curled up inside their home (what we would call a shack). The wife was the first to accept Christ, then her husband, then all four of their children. Mai gave them some money for food and also enough for the wife to start a little business to help provide for the family when the husband is out to sea. This family was not only Buddhists, but into voodoo and witchcraft practices (their house was full of idols). The husband told Mai before she left that he would pray about getting rid of all the idols in his house. After Mai returned to the states, Lam informed her that the man had indeed taken all the idols out of his house and destroyed them. Praise God!  And the testimony gets even better. Lam also told us that this family led another family (their friends) of six to the Lord and that family destroyed all the idols in their house, also. They are all currently attending Sunday Worship Services and the Bible studies now and are getting ready to be baptized. Halleluiah! What a Savior!
We believe this story confirms that there is a place for Mercy ministry in Binh Chau and we pray that God would provide the funds to help those in dire need in Binh Chau not only to have their spiritual needs met, but also their physical needs ministered, too.