by Dennis & Mai Spencer | October 31st, 2012
JESUS IN VIETNAM MINISTRIES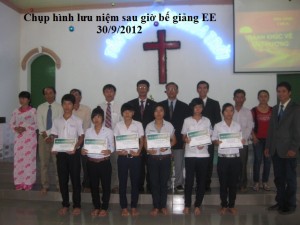 TRAINING SOUL WINNERS
In the summer of 2011 we held our first Evangelism Explosion clinic at the Binh Chau church led by Pastor Phan Bien. 11 (8 adults and 3 youth) members of the Binh Chau church participated in the EE clinic.  During the 5 days of the clinic the Gospel was shared with 56 people and 29 of those prayed to receive Jesus. Cam On Chua!  Over the last few months, Elder Nhan has been conducting EE classes with some of the High School Youth Group from the Binh Chau church. They met every Sunday afternoon at the church for a class session. Then they would get on their bicycles and travel throughout the neighborhood praying that the Holy Spirit would lead them to Divine appointments to share the Gospel. Last Sunday 6 of those youths graduated and received their EE diplomas (picture above).  This celebration was an exciting and joyous occasion for these kids and the church. Please pray that God will give these young people the desire to train others so God can multiply the soul winners to reach out to all the other hamlets and villages around Binh Chau with the saving grace of the Gospel. 
GOD'S AMAZING GRACE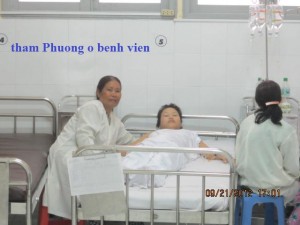 Thao and Hang's (from Tan Thang) daughter, Phuong (pictured above in hospital bed), was married a few months ago, but they kept it a secret from the Binh Chau church because she married a non-believer. They thought the church would not approve of this. A few weeks ago, Phuong and her husband, Hiep, were returning home one night on their motorcycle when they were hit head on by a drunk man on his motorcycle. The drunk man was killed and both Phuong and Hiep ended up in the hospital with severe, but not life threatening injuries. When the church heard that Phuong was in the hospital they went to visit her and that's when they were told the whole story. They showered Phuong and Hiep (along with his parents) with the love of Jesus. Plus, they were able to help with the medical costs. God used this situation to open the eyes and soften the heart of Hiep to hear and understand the Gospel. Hiep prayed to receive Jesus as his personal Lord and Savior. Please pray for Hiep's parents that, through the love and mercy shown to them by God's servants, they too will come to accept Jesus as their Lord and Savior. 
"As the heavens are higher than the earth, so are my ways higher than your ways and my thoughts than your thoughts."  Isaiah 55:9 
WIDOWS AND ORPHANS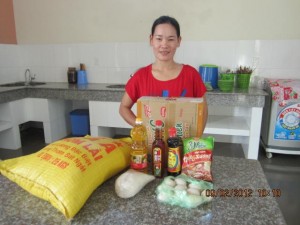 Nhung (picture above) is another one of Thao and Hang's daughters from Tan Thang. Her husband was killed at sea leaving her to raise their 4 children. Nhung has to go deep into the jungle for her work, leaving her mother to watch her children. However, Hang has 6 children of her own and many times there just isn't enough food so some of kids are sent to Nhung's mother-in-laws. The church recently gave Nhung a mercy box to help her family out. Nhung was so grateful that she left her work to travel to Binh Chau to attend Saturday night Children's Church and Sunday Worship with her children. Nhung stated that the church had shown her family so much love that she wished she could leave her kids with the church. This is just one of many families we know of where the father has died or abandoned the family where the mother struggles to put food on the table for her children. Nhung is blessed to have grandparents that can help some, but many children are left home alone, or worse, roam the streets. That is why God has put it in our hearts to build an orphanage that could reach out to the community to help in such situations from families inside and outside the church.
"Religion that God our Father accepts as pure and faultless is this: to look after orphans and widows in their distress…..  James 1:27  
PRAYER REQUESTS
Please pray that God will open the door for an orphanage to be built on the church property to meet the physical and spiritual needs of so many hurting children. 
Please pray that God will provide the funds to construct another building to be used for classrooms now and dorms for the orphanage in the future. 
Please pray that God will grant Mai wisdom and discernment in working with the Binh Chau church when she returns toVietnamlater this month. 
Please pray that God will raise up more people willing to serve in the Binh Chau church. 
Please pray that God will open the door for house churches to be planted in S.B. and T.T. in His perfect timing.
FUTURE KINGDOM EXPANSION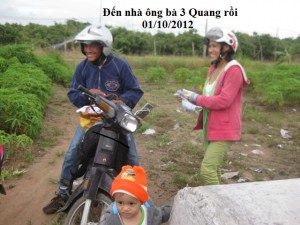 Hai and his wife, Minh, recently visited the Binh Chau church. Hai is in training to be a missionary and God has put it in his heart to serve in a small town. Hai and Minh ( center picture above) were taken to both T.T. and S.B. to see the areas we have been praying about for God to open the door for house churches to be planted in.