by Dennis & Mai Spencer | May 7th, 2023
VBS CAMP SPONSORS NEEDED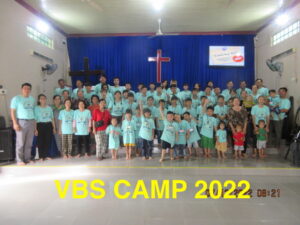 We have 68 children signed up to attend our VBS Camp this summer from June 19-22. We also have 34 students that qualify for our School Sponsorship Program. We praise God that 27 of those children are already sponsored to attend both our VBS Camp this summer and the new school year starting in August. That leaves 34 children that need sponsoring for our VBS Camp only ($70) and 7 children that need sponsoring for our VBS Camp and our School Program ($260 total for both). We are doing our fundraising this year through our newsletters and emails only. We have a larger number of children without sponsors this year due to 34 children still needing VBS Camp sponsors are all new to the church. This will be their very first VBS Camp! How exciting that we will have 4 days to show and share the love of Jesus to these precious children and teach them how much God loves them (and their families). We really need your help this year to enable us to make a difference in these children's lives (prayerfully, for all eternity as they ask Jesus into their heart). We ask you prayerfully consider sponsoring one of these precious children to experience the love of Jesus at VBS & the opportunity to attend school. Donations may be made online (jesusinvietnam.com) or checks sent to 8821 N. Silver Moon Way, Tucson, AZ 85743.We will be returning to Vietnam on May 24th and would love to tell the children they all have sponsors when we see them. We would appreciate an email if God puts it in your heart to sponsor a child/children this year so we can send you their picture and information. Thank you!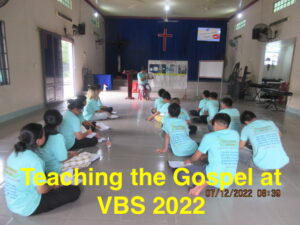 During VBS Camp this year we will also be teaching the middle and high school students how to share the Gospel with their non-Christian family members and friends.
EASTER SERVICE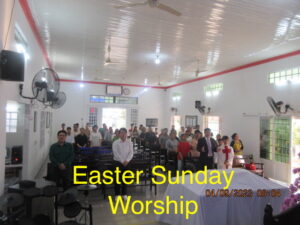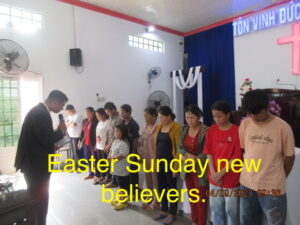 God blessed us with a glorious Resurrection Day with several people attending from Tanh Linh. This group spent Saturday weekend on the church property attending both Children's Church and Easter Sunday Worship Service. Most importantly, Pastor Tu was able to share the Gospel with them. Praise God as 11 people asked Jesus into their heart as their Lord and Savior. After sharing through Scripture the importance of now being baptized, all 11 agreed to be baptized during our Easter Service. To God be the Glory!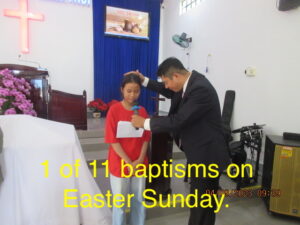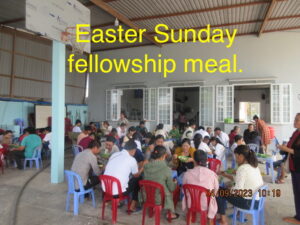 "How can we thank God enough for you in return for all the joy we have in the presence of our God because of you." 1 Thessalonians 3:9
PRAYER REQUESTS
We have more children needing sponsors than we usually do this close to our VBS Camp. Please pray God will provide sponsors for the remaining 34 children signed up to attend our VBS Camp this year. Plus, school sponsorship for the 7 children not sponsored for this program.
Please pray God's protection on the 34 non-Christian children signed up to attend our VBS Camp as many may face persecution from family members or friends not to attend. Please pray they will stand firm (and their parents) in their commitment to attend so they might hear of God's love for them.
Please pray God will provide a housemother or house parents for our orphanage. Please pray for wisdom and strength for Kim as she temporarily fills in as the housemother.
Kim just informed us the street she lives on is going to be widened and she will have to tear down almost half of her house she just had built 4 years ago. We will share more info soon. Please pray God will give Kim His peace as He guides her through this very upsetting news.