by Dennis & Mai Spencer | February 11th, 2023
NEW VEHICLE FOR GOD'S WORK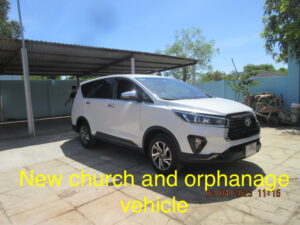 We praise our Heavenly Father and thank each of you who prayed and/or gave financially to enable us to replace our 24 year old church van with a brand new vehicle. We wanted to purchase another 9 seater, but discovered they no longer sell those in Vietnam. They only have 12 or 16 seat vans now. And, those vans are considered commercial vehicles, which requires a different license to operate. We paid for Pastor Tu and another young man in the church to get a regular car driver's license at a cost of over $1,000 each (includes 6 months of training). A commercial driver's license in Vietnam cost a few thousand dollars and takes a couple of years to get. We checked out several models and then purchased a 7 seat 2022 Toyota. However, the seats are wide and we can get all the kids in our orphanage in it if needed. This vehicle will be used to take our children in the orphanage back and forth to school each day. Our children are taken to school each morning by motorcycles, picked up for a 2 1/2 hour lunch/nap break, taken back to school for their afternoon session, and then picked up at the end of the school day. With our new vehicle we can take all the children together at once. The trips will be much safer, a lot less time consuming, and take the weather out of the picture. We will also use it for church evangelistic trips, such as to the Montagnard village of Tanh Linh 2 hours away.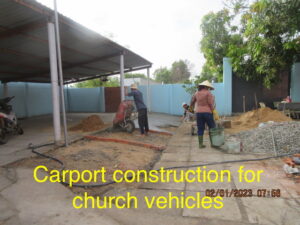 Our Because of all the rain Binh Chau receives, a few years ago we built a covered area for the congregation to park their motorcycles during Sunday Worship and other church events. When it was built we raised the foundation up 2 feet to prevent flooding from the heavy monsoon rains. With the new vehicle we needed to raise the roof and pour a new concrete slope.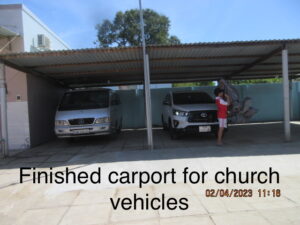 Plus, we had to raise the front gates up to pour a concrete slope to the street so the bottom of the vehicle would not drag going over the existing hump. The church property is about 2 feet lower than the level of the street.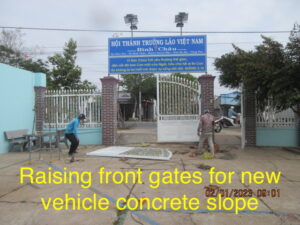 We are so blessed and humbled that God would give us this new vehicle in answer to your faithful prayers and financial support. We give Him all praise, honor, and glory! We thank each of you again for enabling us to purchase this new vehicle that will provide needs for the church and orphanage for many years to come.
prayer is this new vehicle will serve the church and our orphanage for the next 15-20 years.
CHILDREN OF PROMISE SUPPORT
This is the time of year we seek funding for the children to live in our orphanage for 2023. As the saying goes "It takes a village to raise a child" and God has put that in our heart. We ask for donations to support the orphanage overall. Therefore, you help impact every child living in our orphanage/love house for Jesus. We do have some that give monthly, but the majority of the funding needed for these children living in our orphanage comes in during this yearly request.
We ask that you please prayerfully consider donating towards helping these precious children of promise. If God puts it in your heart to give, please mail your check to JIV Ministries, 8821 N. Silver Moon Way, Tucson, AZ 85743 or donate online at jesusinvietnam.com
We are so appreciative and so humbled by your prayers and support that enables us to show and share the love of Jesus to these children every day. Take joy in knowing God is using you to make such an impact in these children's lives for all eternity.
YOUTH EVANGELISM TRAINING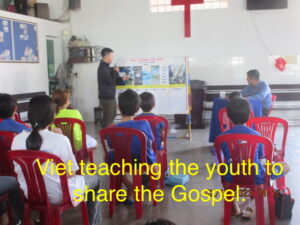 After a few weeks of training to share the Gospel, the children have started going out on visits Sunday afternoons. God gave them immediate fruit as they connected with 2 of the children that accepted Jesus at our Children's Christmas Outreach. Both boys have started attending our Children's Church on Saturdays now. Praise the Lord!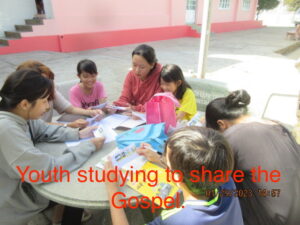 INSTALLATION OF DEACON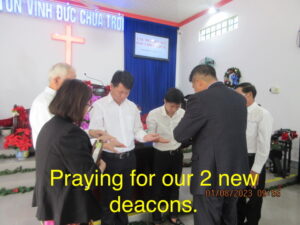 We were blessed to install 2 young men (Viet and Quang) as deacons in the Binh Chau Church in January. Viet has attended virtually every Saturday Children's Church and Sunday Worship since he was 5 years old. Quang attended for many years, then moved to Saigon for work, and then started attending again when he moved back to Binh Chau last year. Recently, both have been teaching the high school students at Children's Church. They both expressed a desire to serve the Lord and we are excited to see how God uses them for His glory.
MERCY MINISTRY AT WORK
In November, Hoa (a member of the Binh Chau Church) was involved in a motorcycle accident with her twin 4 year old daughters. We thank God her daughters didn't even receive a scratch, but Hoa's left leg was severely broken. We were able to take her daughters back to our orphanage and also her 10 year old mentally challenged son, Phuc, during her hospital stay/recovery at home.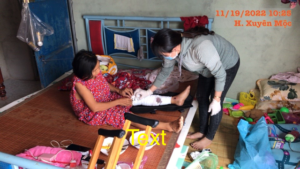 After Hoa was released from the hospital we had hot meals delivered daily to her home and hired a nurse from the hospital to come by daily to clean her wounds/change her bandages. In a few weeks Hoa was able to get around on crutches and came to take Phuc back home. We were hoping Hoa would leave Phuc in our orphanage too, but Hoa wanted to take him home. When Phuc first came to us he couldn't speak or feed himself, but when he left he was feeding himself and saying "Ba" (I'm called Ong Ba) when I talked to him.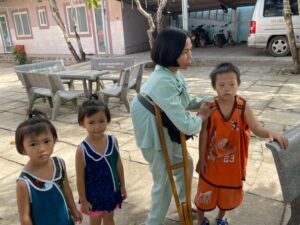 PERSERVERANCE IN PRAYER FRUIT
We have shared over the years about the families living directly across the street from the Binh Chau Church. They are all Buddhists and were not at all happy about the church being built next to them. They persecuted the church for many years, especially the young men living there. However, about 10 years ago we (Mai and Dennis) reached out to some of the women living there and God used that to soften their hearts. The persecution turned to tolerance and then acceptance. Mai had shared the Gospel with some of the women, but none would give up their Buddhist beliefs. For the last 15 years during our Wednesday Night Prayer Meetings we have prayed for these families to turn away from their false idols and come to know the one true living God. Two of the children living there (Be Ba and He) we have known since they were babies. Over the years, they would both come over to play with the kids in our orphanage and occasionally attend Children's Church. Mai was able to share the Gospel with Be Ba and He before we left Vietnam last month and they both prayed to ask Jesus into their heart as their Lord and Savior. Mai also shared the importance of being baptized, but they had to ask their father if it was ok. Their father (who was one of the young men who initially persecuted the church) told them they could if that's what they wanted to do. We praise God for putting it in our hearts to pray for these families all these years and then answering our prayers by bringing these 2 precious children to saving faith in Jesus.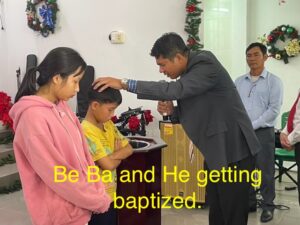 We were able to witness Be Ba and He's baptism while we were there Afterwards, we were blessed to pray for them and present them with Bibles.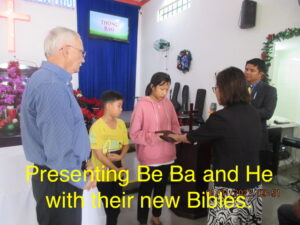 PRAYER REQUESTS
Pastor Tu and the witnessing team will be going to Tanh Linh one Saturday a month to visit with Mai and connect with other families there. They will then bring Mai and her mother with them back to Binh Chau so they can participate in Discipleship classes, Children's Church, and Sunday Worship. Please pray God will give them a deeper understanding of His Word and the desire/boldness to tell others in Tanh Linh about His love, mercy, and grace for them. Please pray for God's protection on this precious family.
Please pray for Pastor Tu and his wife Thuong as her father is very close to going home to the Lord. Pray for God's peace and comfort to surround them and their family.
Please pray God will give the youth evangelism teams Divine appointments to reach more children with the Gospel.
We are in the process of translating into Vietnamese a 7 book discipleship program for Pastor Tu to implement in Binh Chau. Please pray God will use it to strengthen new believers in their walk with the Lord.
Quang and Nhu Y have shared with us they do not have the experience (both 24) to oversee the children in our orphanage. Please pray God will raise up another housemother or house parents for our orphanage.
Please pray God will provide the funds for our children to live in our orphanage for 2023.
Please pray for unity and a spirit of humbleness between Pastor Tu and Kim as they serve together.
Please pray for Kim's 2 sons Vu and Van. For Vu to have a desire to follow Jesus again and for Van to give his heart to Jesus.
We have 2 contractors working up bids for an additional building for our orphanage/love house. Please pray God will give us favor with these men and they will give us a fair and as accurate as possible cost for labor/materials.
"How can we thank God enough for you in return for all the joy we have in the presence of our God because of you." 1 Thessalonians 3:9