by Dennis & Mai Spencer | July 10th, 2022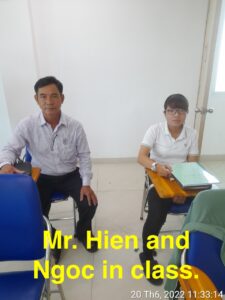 BIBLE CLASSES BEGIN
Mr. Hien and Ngoc were very excited to start their Bible school classes this month. It's a 2-year program teaching a deeper spiritual understanding of God's Word in order to equip Christians to serve the Lord. In addition to learning God's Word, there will be classes in evangelizing, church planting, how to prepare a sermon/Bible study, church leadership, how to lead small groups, etc. Mr. Hien and Ngoc will spend 4 days a month in Saigon attending classes. Then they will have homework assignments to complete at home the rest of the month.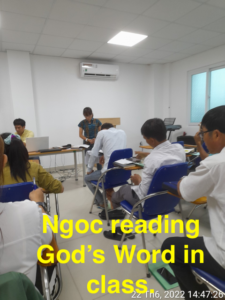 Besides their personal growth in the Lord, Mr. Hien's desire is to be able to lead our church plant that meets in his house on Sunday evenings. Ngoc has a desire to serve the Lord by helping lead our Children's Church each Saturday night. More exciting news: next month Quang (who grew up attending Children's Church) and his wife, Nhu Y (picture top center), will be joining Mr. Hien and Ngoc in class. Quang and Nhu Y (both 24 years old) also have a desire to serve in the Binh Chau Church helping lead our Children's Church.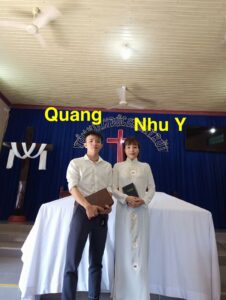 PRAY FOR GOD'S FAVOR
Several years ago God opened the door for us to plant a church in Mr/Mrs. Ba Quang's house in Suoi Bang. Although local authorities allowed us to hold Worship Services there each Sunday evening for many years, they never granted us "official" permission to meet in Suoi Bang or recognize our church plant as part of the Binh Chau Church. Eventually, for several reasons we stopped meeting at the Ba Quang's over 3 years ago. In July 2020 God raised up another family in Suoi Bang (Mr./Mrs. Hien) to offer their home as a meeting place for the church. We praised God for giving us another opportunity to plant a church in this farming community about 20 miles from Binh Chau. God has blessed us and we currently have around 25 people attending our Sunday evening Worship Services. A local Binh Chau official recently visited Pastor Tu at the Binh Chau Church to discuss our Suoi Bang meetings. The official told Pastor Tu he should fill out an application and submit it to local authorities requesting to make Mr./Mrs. Hien's house an official outreach of the Binh Chau Church. This would be a tremendous blessing for us as it would open the door for us in the future to plant churches in other towns around Binh Chau. Please pray the local officials are sincere in their actions and God will give us favor with these officials in recognizing Suoi Bang as a branch of the Binh Chau Church.
VBS CAMP 2022 UPDATE
We now have 61 children signed up to attend our VBS Camp on July 11-14. And, they are all sponsored! We thank each of you who have sponsored a child/children for this year and for those of you who prayed God would raise up sponsors for every child. Out of the 61 registered, 24 are non-believers. We are excited to be able to show and share the love of Jesus to these precious children. Please pray God will give these non-believing children an understanding of the Gospel and they will ask Jesus into their heart. Please pray these children will return home with the joy of the Lord in their heart and God will use them to influence their non-believing family members/friends for Jesus.
Besides the 61 children sponsored to attend our VBS Camp, we have 31 children sponsored to attend school this coming August through our School Program. We still have 1 child needing sponsored for $140 (provides their registration fees, books, school uniforms, supplies, and health insurance for the school year (picture above). Please let us know if God puts it in your heart to sponsor this last child.
BIBLES NEEDED
We are also in need of 50 Bibles to be given out at VBS ($13 each) written in today's language which makes it easier for the children (and adults to understand).
PRAYER REQUESTS
Please pray God will bless every aspect of our VBS Camp next week from all the children showing up, wisdom to those teaching, open minds and hearts of the children, no accidents or sickness, good weather as it's monsoon season, plenty of adult volunteers, etc.
Please pray God will give Mr. Hien, Ngoc, Quang, and Nhu Y the desire of their heart to be equipped through their Bible School classes to serve our Lord in the Binh Chau Church and Suoi Bang church plant.
Please pray God will grant us wisdom and discernment when to return to Vietnam later this year.
Please pray for God to provide the funds for a newer, more reliable van for the church and our orphanage. Our current van is now 23 years old and in poor shape.
Please pray God would provide the funds to build a 2nd story onto our orphanage which would enable us to separate the boys from the girls as the boys enter their teenage years.