by Dennis & Mai Spencer | June 18th, 2022
VBS CAMP 2022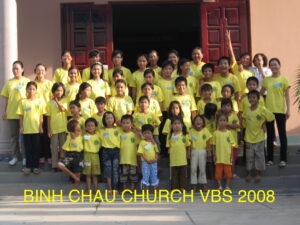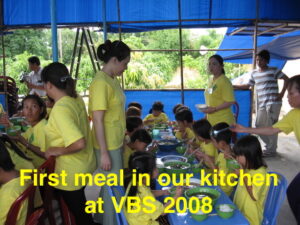 Since we had to cancel our VBS Camp last year (for the first time in 14 years) due to the covid lockdown, we decided to include pictures of our very first VBS Camp in 2008. We have seen our attendance go from 40 children the first year to averaging over 110 throughout the years. Even though the lockdown restrictions have been lifted, this year's VBS Camp attendance will be around 50-60 children for 2 reasons. First, after 2 years online, we were able to hold in-person Children's Church only about 3 months ago. It will take some time to get some of the children used to attending in person again and their parents feeling comfortable to let them be in a larger group. Second, covid numbers are still pretty high and the authorities are keeping a close watch on what the church is doing. Since we had almost 100 in attendance at our 16th anniversary of the Binh Chau Church on April 30, we have received 3 letters from the local authorities reminding us to be careful when scheduling large group gatherings. However, they have approved us holding our VBS Camp this summer.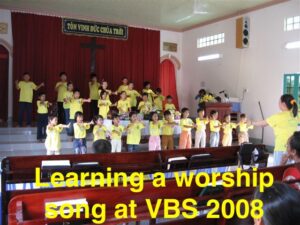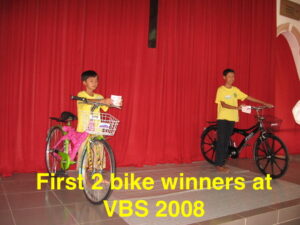 Our 2022 VBS Camp at the Binh Chau church will take place on July 11-14th. After having to cancel last year's VBS Camp due to covid, we are excited to be holding our 14th VBS Camp. We praise God for all the children He has allowed us to show and share the love of Jesus to over all those years. As in previous years, the children will spend 4 days/3 nights at the church (including eating all meals, showering, and sleeping there) in praise and worship, learning and acting out stories in the Bible, memorizing Scriptures, playing Bible educational games. Most of all, they will hear the Gospel (whether for the 1st time or many times) as they are reminded of God's love for them. This year's VBS foundation Bible verse will be John 14:6 (as pictured below on our VBS t-shirts for 2022).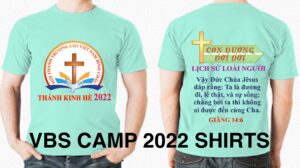 VBS 2022 SPONSORS NEEDED
We have 51 children signed up to attend our VBS Camp this summer so far. We praise God that 32 of those children are already sponsored. Some for VBS Camp only and many for our School Program also. We have kept the cost for our VBS Camps at $50 for over 10 years now. However, due to the rising costs, especially with food for the VBS meals, we felt the need to increase this year's cost to attend up to $60. Also, we have been able to keep the cost of sending a child to school at $125 for 10 years now, but the costs for books, uniforms, insurance has increased quite a bit. We felt the need to raise the school cost from $125 up to $140 for the school year starting this fall. We still have 15 children that need sponsoring for our VBS Camp only ($60) and 4 children that need sponsoring for our VBS Camp and our School Program ($200). We ask you prayerfully consider sponsoring one of these precious children to experience the love of Jesus at VBS & the opportunity to attend school. Donations may be made online at our website (jesusinvietnam.com). We would love to have all 19 kids sponsored in the next 2 weeks. We would appreciate an email if God puts it in your heart to sponsor a child or children this year. Thank you for helping us share Jesus with His children.
VBS 2022 TEACHING
At every one of our VBS Camps we have a separate class for the non-believing children where we share the Gospel with them. This year all the children will be in some classes together to hear the Gospel and then be taught how to share the Good News with their non-believing friends. We will use the Eternal Way message God gave Mai many years ago to teach them who the one true living God is. This is critical for the children to understand since they live in a country where many, many gods are worshipped. We then cover the Fall of Man and our need for a Savior using the Eternal Way and EE (Evangelism Explosion) messages. When a child in Vietnam becomes a Christian, they more than likely will be the only Christian in their group of friends and schoolmates. What a harvet field for them to share Jesus! Our goal is to equip them with a deep understanding of the Gospel and then ask God to instill in them the strength and desire to share His love to others.
"For I am not ashamed of the Gospel, because it is the power of God that brings salvation to everyone who believes, first to the Jew, then to the Gentile." Romans 1:16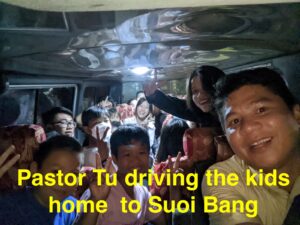 GOD'S PROTECTION
Pastor Tu is the only person in the Binh Chau church who has a driver's license to drive a car/van. Therefore, he picks the kids up in Suoi Bang (about 20 miles away) each Saturday for Children's Church and takes them home afterwards (around 8:30 pm). Two weeks ago he had just stopped in front of one of the children's home to drop Quoc off. Quoc had just stepped out of the van and started to walk towards the back of the van when 2 drunk men on a motorcycle plowed into the back of the van. We thank God for protecting Quoc from being ht by them as a couple of more seconds Quoc would have been behind the van. Local police were called, recognized Pastor Tu, and asked them to settle it peacefully among themselves. Then the police left. Pastor Tu recognized one of the men whose child had attended our Children's Church before. One of the men had a cut on his forehead needing stitches so Pastor Tu took him to urgent care in Binh Chau. He then ended up taking them to the hospital in Ba To (about 15 miles away) for head xrays (both men were negative for injuries). As Pastor Tu was taking the men home one asked the other to stay the night at his home so they could have a couple more beers. Pastor Tu pointed out that wasn't a good idea. He suggested they both go home and thank God they hadn't hurt someone or themselves seriously. Please pray God will use the kindnees shown to them by Pastor Tu to draw both men to Him.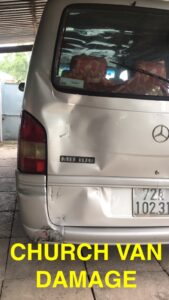 ANSWERED PRAYER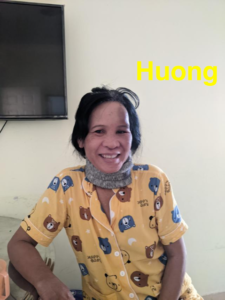 Thank you for all your prayers for Huong as God has answered them. Even though Huong suffered some severe injuries from her motorcycle accident, God protected her neck and spinal cord from being broken. The loss of feeling in her arms and legs were the result of inflammation around her spinal cord. Huong can move her legs and walk now. She has some feeling in her arms, but can't move her hands very well. Her doctor said it would take some time, but he expected Huong to recover fully. Praise the Lord!
CENTRAL HIGHLANDS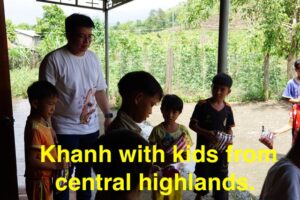 In our last newsletter we asked for prayer for Khanh as he was invited by a pastor in the central highlands of Vietnam to come and help with his VBS. The pastor was expecting around 200 youth to attend. However, without much notice the local authorities canceled it stating it was too large of a gathering due to a possible covid break out. Khanh was able to fellowship with the pastor and some of the kids from his village. While disappointed the VBS was canceled, we thank God for the connection formed with this pastor that prayerfully will lead to an open door for us to serve with him in the future.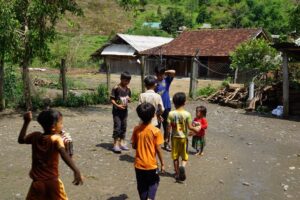 PRAYER REQUESTS
Please pray God will give the 18 non-believing children attending our VBS Camp understanding of the Gospel and they will ask Jesus into their heart.
Please pray God will use our VBS Camp to strengthen the believing children attending in their walk with the Lord and they will come away with a desire to tell their friends and classmates about Jesus.
Please pray the remaining 19 children needing sponsors will all be sponsored in the next 2 weeks.
Please pray for these 6 youth leaders or former youth leaders of our Children's Church (Minh Anh, Viet, Huyen, An, Quang, and Ngoc) as they will be helping Pastor Tu teach classes during our VBS Camp this summer.
We will be sending Mr. Hien (whose house our Suoi Bang church plant meets in) and Ngoc to Bible school classes in Saigon later this month. Please pray God will use these classes to give them a deeper understanding of His Word as He equips Mr. Hien and Ngoc to serve Him.
Huyen is off to a good start as the spiritual big sister for the children in our orphanage/love house. Please pray God will give her favor with the children and use her to strengthen and ecourage the children in their walk with the Lord.
Please pray God will grant us wisdom and discernment when to return to Vietnam later this year.
Please pray for God to provide the funds for a newer, more reliable van for the church and our orphanage. Our current van is now 23 years old and in poor shape.
Please pray God would provide the funds to build a 2nd story onto our orphanage which would enable us to separate the boys from the girls as the boys enter their teenage years.
"How can we thank God enough for you in return for all the joy we have in the presence of our God because of you." 1 Thessalonians 3:9