by Dennis & Mai Spencer | February 17th, 2022
CHRISTMAS OUTREACHES 2021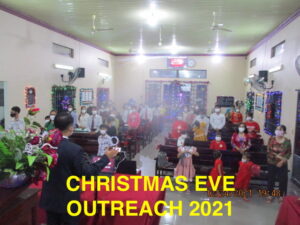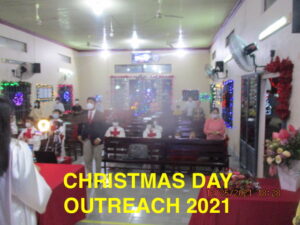 Over the last several years we have been blessed to see between 250/300 people attend our Chirstmas Outreaches each year to hear the true meaning of Christmas and to celebrate the birth of our Lord and Savior. However, 2021 would be challenging due to the restrictions on gatherings due to the pandemic. Pastor Tu planned to stream the services and ask the congregation to invite people to watch in their homes. Then, a few days before Christmas, we were told we could hold our outreach, but no more than 30 people could attend. Pastor Tu went to meet with the local authorities and stated he wanted to hold 3 services. When they asked why, Pastor Tu explained we had many who wished to attend and he didn't want to upset those who he would have to say no to. They stated that made sense and authorized the 3 services. We thank God for giving Pastor Tu favor with them. We held our first service on Christmas Eve and over 60 people attended. Pastor Tu had designated 30 to attend, but he said more kept coming and he couldn't turn them away. Our second service was held on Christmas day with close to 30 attending. Our third service was held Sunday evening (December 26) at our church plant in Suoi Bang with 14 people attending. Plus, we had more watching online. We praise God for removing many obstacles for our Christmas Outreaches to be held this year during the pandemic restrictions.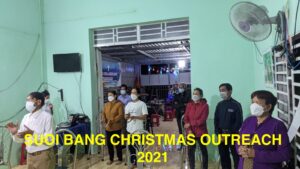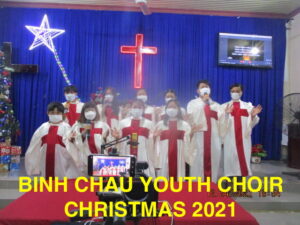 MORE OF GOD'S FAVOR
Every year at Christmas the local authorities bring a gift to the Binh Chau Church. However, this year they posted a picture of that visit (lower right below) on their website along with visits to other recognized churches for the first time.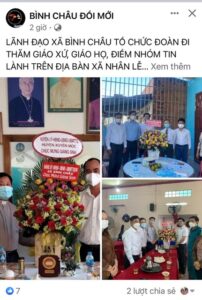 PROFESSIONS OF FAITH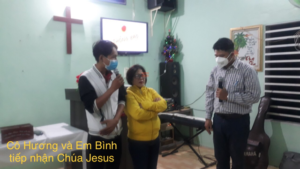 A husband (Binh) and wife (Huong) asked Jesus into their heart at our Suoi Bang outreach (picture above). Plus, Pastor Tu led 6 other people to saving faith in Christ during the Christmas season, including a 65 year old grandmother (Khach) and 2 of her grandchildren (Huong 17 years old) and Quy 15 years old) she is raising (picture below).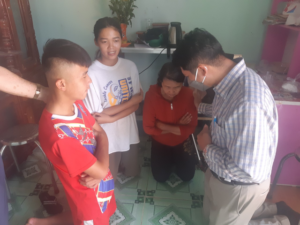 BINH CHAU CHURCH BAPTISMS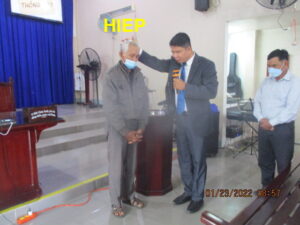 Pastor Tu also had the blessing of baptizing 3 of the new believers recently. We thank God for drawing Hiep, Mai, and Nam to saving faith in Jesus and to publicly declare they are a new creation in Christ.
FUTURE LAND TRANSFER
When God opened the door for us to purchase land in Binh Chau in 2005 to build His church, as foreigners we were not actually allowed to own land in Vietnam according to their laws. Therefore, we put the property in Mai's sister's (Kim) name. As God provided more funding over the years to purchase additional land to build our kitchen, orphanage, classrooms, and pastor's house on, Kim was also listed on the deed as sole owner. Over the years the laws on land ownership has changed and you now are allowed to have as many a 3 people listed as joint owners. We pray God will continue to bless us with good health to serve Him for many more years to come in Vietnam, but as we are now in our 70's, God has put it in our heart to plan for the continuation of His church long after He has called us home with Jesus. We fully believe God reunited us with Pastor Tu after 6 years and has used him to lead the church during our 2 years back here in the USA due to the pandemic, because Pastor Tu is the man called by our Hevenly Father to lead the church going forward. We have been praying and discussing with Pastor Tu and Kim over this the past few months. We have come into agreement the deed needs to be changed to list Pastor Tu, Kim, and Elder Hien from our Suoi Bang church plant as joint owners of the land. Elder Hien comes highly recommended by Pastor Tu. We have not met Elder Hien in person, but we have met and talked to him and Mrs. Hien several times online and find them to be a very humble couple with a strong desire to serve our Lord. We all want to meet face to face and have further prayer and discussion as a group before any actual paperwork is started. Please join us in praying for God's wisdom and discernment as we continue to seek His guidance and confirmation in this important decision concerning the Binh Chau Church property.
IN PERSON SERVICES BACK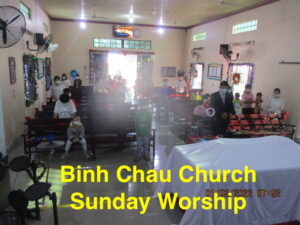 We praise God that we can now meet back together (30 person restriction) to worship our Lord and study His Word each week. People are now able to attend Bible study and prayer meetings at the church too. Pastor Tu is allowed to travel to Suoi Bang to hold Sunday evening Worship Services there also.
FUTURE FUNDS FOR GOD'S WORK
When we first went to Vietnam in 2004 to explore the possibility of God enabling us to build a church in Binh Chau, we took with us the funds from the sale of our house in Tucson with the hope of purchasing land for His church. One of Mai's sisters (Lam) and her husband (Tam) approached us with an offer. They were living on a piece of land, but didn't have an official deed for it. However, they had built a house and planted an orchard of fruit trees on it. In the past after living and working a piece of land for a few years, the government would issue a deed to those families. Tam offered to sale part of that land to us for church use. Since we couldn't officially own land ourselves, we took Tam up on his offer. However, the government found out we were involved and said they were going to use that land for their own purposes and not issue a deed for it. Tam felt over time that would change as he continued to make improvements to the land. He would be issued a property deed and the land sold with proceeds given to the church to further God's work. Tam promised to pay the money back if this did not happen. We have waited patiently over the years, but neither of these things have come to past. Recently, Tam has built a larger house, purchased an SUV, and prospered financially. Rumors are that Tam did receive a deed and sold the land we had originally purchased for God's work. We will discuss this with Tam when we are able to return to Vietnam. Please pray God will give us favor with Tam and Lam when He gives us the opportunity to discuss with them and He will reveal the truth concerning this situation.
PRAY FOR XE DUC
Xe Duc was one of the first children we saw in Binh Chau in 2004 as a little girl. She accepted Jesus and attended our Children's Church for a few years before she moved away from Binh Chau. Over a 2 week period her stomach grew as if she was pregnant. Tests showed she had advanced ovarian cancer and the hospital sent her home saying there was no more they could do for her. She is now staying in Binh Chau with her mother and re-dedicated her life to the Lord. We thank God Xe Duc's stomach has almost returned to normal size over the last 2 weeks and she is experiencing less pain. Please pray for Xe Duc and her family.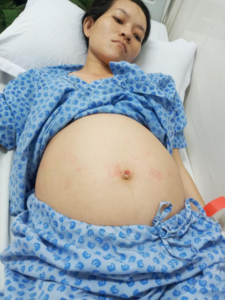 DAN LUPO 1935-2022
We are sad to report our beloved leader of our JIV Focus Team (Family) here in Tucson went to be with our Lord on January 5th. Sad, in we will miss Dan dearly, but at the same time, joyful knowing He is free from the suffering he endured these last few years and is now with his Lord and Savior Jesus. There will be a Celebration of Life for Dan held at Catalina Foothills Church on Saturday, February 26, 2022 at 10:30 am. Please pray for his wife, Nancy, and her family as God leads them through a season of grieiving. May our Heavenly Father give them strength, peace. and comfort each day filled with all the wonderful memories they have of a beloved husband, father, grandfather, and great-grandfather.
PRAYER REQUESTS
Please pray God's protection covers the 8 new believers and He will give them strength to stand firm in their faith from persecution of non-believing family members or friends. Please pray they will stay connected with the church and grow in their walk with the Lord.
Ngoc has had a change of heart and decided not to serve as the spiritual housemother for the children in our orphanage/love house. She felt she was too young for the responsibility. Please pray God will raise up another lady to serve in this important role.
Our wistnessing teams have a new evangelistic approach to sharing the Gospel they are excited about. Please pray the restrictions will be lifted soon and they will be able to resume going out. Please pray God will bless them with many Divine appointments.
Please pray the 30 limit restriction on gatherings will be lifted soon so all who want to worship in person may.
Please pray for the virus threat to subside so the Vietnamese government allows incoming international flights and we can return to Vietnam again for 2022.
Please pray for God to open the door for us to travel to Thi's home village in the Central Highlands of Vietnam to share Jesus with them when we are able to return to Vietnam.
"How can we thank God enough for you in return for all the joy we have in the presence of our God because of you."
1 Thessalonians 3:9