by Dennis & Mai Spencer | January 2nd, 2022
SHARING GOD'S MESSAGE
"Consequently, faith comes from hearing the message, and the message is heard through the word of Christ." Romans 10:17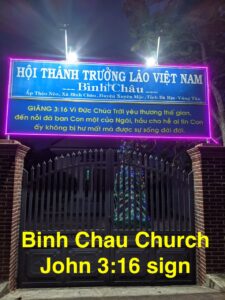 For almost a year now we haven't been able to hold Saturday Children's Church, Sunday Worship, and other church Bible studies in person. We thank God that He has blessed Pastor Tu with the technical savy (which we don't have) to stream all the services online during this time. In addition, our witnessing teams have not been allowed to go out on their weekly visits in hopes of sharing the love of Jesus. God blessed us many years ago with a true miracle (as most house churches can not to this day) of being able to display a sign for the Binh Chau Church. We have recently added a sign with John 3:16 on it below our church sign to share with people passing by the church. God's timing is perfect for this Christmas season as we seek to share the greatest story ever told about the greatest person to ever live on this earth and the greatest gift we could ever receive in Jesus. We also had a banner with John 3:16 on it made for our church plant in Suoi Bang where Mr. and Mrs. Hien agreed to display it (picture below). They live on a main road where many people will see it as they pass by.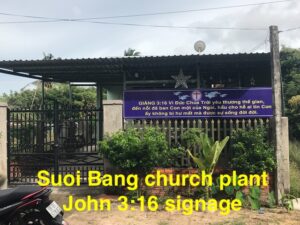 Please pray the local government will allow the signs to remain up after Christmas, especially in Suoi Bang where we haven't been officially recognized as a church there yet.
When God allowed us to build the Binh Chau Church in 2006, we were encouraged by local pastors to build a 6-foot brick wall around the church property. Otherwise, some people would vandalize the church. It still stands today and is painted white. This makes a great backround for another message board. We are going to have a banner made to hang on the front wall facing the very busy street the church is on. We will select a Scripture to put on the banner and change it out each month with a different one. We asked Pastor Tu which Scripture he wanted to start with and he selected the following one:

"That if you confess with your mouth, Jesus is Lord, and believe in your heart God raised Him from the dead, you will be saved. For it is with your heart you believe and are justified, and it is with your mouth that you confess and are saved." Romans 10:9-10
YEAR END GIVING
We shared with you in our last newsletter Dung and her family's request for prayer that God would provide the funding (approximately $5,000) for them to renovate/add on to their one room house. We praise God and thank those of you who already responded with $2,200 towards this request. We also have another family that is in dire need of help. Hue is a widow who is now helping raise her 2 young grandchildren. They live in a house (more like a shack) made up of some wood and some aluminum with a ceiling of aluminum and palm branches. The wooden poles holding the houses/roof up are termite infected. Pastor Tu inspected the house for us and said it really needs to be replaced before it collapses. When it rains, which it does quite often, they have to huddle in one spot in the house to keep from getting soaked from all the roof leaks. This family lives about a half mile from the church and Hue's children all attended our Children's Church for many years and Hue has volunteered to help cook for many of our VBS Camps throughout the years. As you plan your year end giving (beyond your local church), we ask that you prayerfully consider helping these 2 deserving families. Funds may be given online at our website jesusinvietnam.com or sent to our home address. Please note "Dung Family" or "Hue Family" on any contributions.
CHRISTMAS OUTREACHES 2021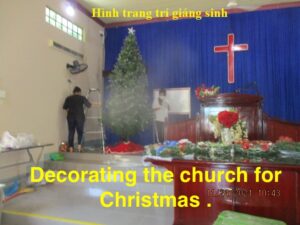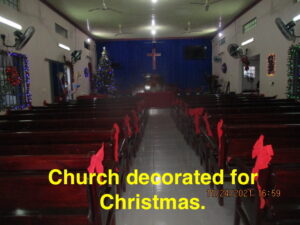 Pastor Tu and several of our brothers and sisters in the Binh Chau Church have been busy sprucing up the church/church grounds (pictures above) in preparation for our upcoming Christmas Outreaches. Christmas lights were put up in the sanctuary and throughout the church property. We wanted to send the message, that despite the hardship/anxiety brought by the pandemic and lockdown, this was still the season to celebrate with joy and hope of God's love for us, as shown in His sending His Son Jesus to save us.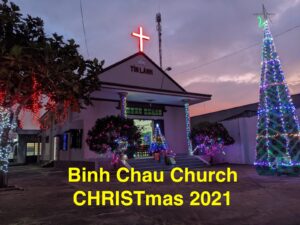 The limit for public gatherings still remains in effect due to the pandemic. However, Pastor Tu will stream the outreaches online. Church members have been asked to invite non-Christian family or neighbors to their homes to watch the outreaches with them.
ELECTRICAL POLE INSTALLED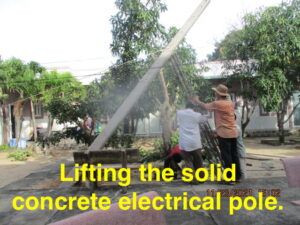 We have battled electrical problems on the church property over the years as we have added more and more buildings. This time we needed to add another electrical pole. These pictures demonstrate how much more difficult things like this are without the proper equipment we have here in the USA. It took a strong rope, a metal ladder to balance the pole on, and 8 men to lift the solid concrete pole into place.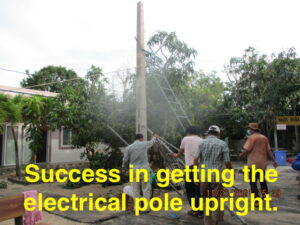 MORE ANSWERED PRAYER
As we were searching for a picture of Khanh as a young boy, we also came across the picture of Ngoc (below) also attending our very 1st VBS Camp in 2008.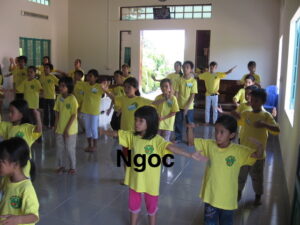 As we have shared before, Ngoc will be soon moving into our orphanage/love house as the spiritual housemother for the children living there. Ngoc will lead them in their Bible studies, Scripture memorization, and prayer time. She will also help them with their online schooling. Ngoc is another example of how impactful your faithful prayers and support has changed lives for all eternity. Not only in her life, but the other children and adults God will use her to share God's Word with.
ORPHANAGE BLESSING
We have a nephew (Khanh) who now works in a supermarket in Saigon. Khanh grew up going to our Children's Church, servd as one of our youth leaders while in high school, and played the keyboard for Children's Church, Sunday Worship, and other church meetings. During the lockdown he was given a permission document to travel around Saigon delivering groceries to those in lockdown. The owner of the store was impressed with his work ethic and being able to depend and trust in Khanh to make sure everyone was taken care of. Khanh was in a position to get to know/talk to the owner and share he was a Christian. The store gives donations to some of the Buddha temples in Saigon. Khanh shared with the owner about the Binh Chau Church and our orphanage/love house. The owner then agreed to give a donation for the children in our Children of Promise house. The picture below shows the children with school backpacks, milk, and juice. Khanh share the owner told him he would give more donations in the future. Khanh also shared the Gospel (using the Evangelism Explosion (EE) method we taught him as a teenager) with the son of a clergyman and he accepted Jesus. To God be the glory!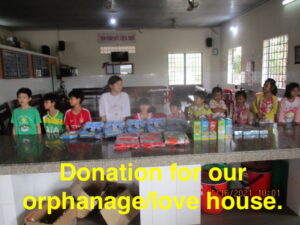 The picture below shows Khanh at our very 1st VBS Camp in 2008 accepting a gift as one of the top students in his class. Take joy in knowing Khanh is an example how God has used your faithful prayers and support over the years to impact His children for Jesus. God brought Khanh to the church as a young boy where he heard the Gospel and accepted Jesus as his Lord and Savior. Then your prayers and support allowed him to "grow up" in the church and mature in God's Word. Then, moving away from Binh Chau as an adult, he is still walking with the Lord and sharing his faith with others.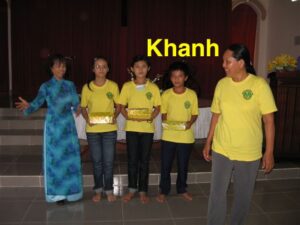 PRAYER REQUESTS
As the 30 in person limit remains in effect, please pray God will lead each member of the Binh Chau church and our Suoi Bang church plant to the right non-Christian family to join them in watching one of our Christmas Outreaches online. Please pray many of these families will understand the true meaning of Christmas and ask Jesus into their heart as their Lord and Savior during the altar call.
Please pray the blood of Jesus will form a hedge of protection around our brothers and sisters in Christ in Binh Chau and Suoi Bang from getting the coronavirus as the outbreak continue.
Please pray God will give Ngoc wisdom and understanding of His Word, favor with the children, and use her to strengthen their walk with the Lord.
Please pray for the virus threat to subside so the Vietnamese government allows incoming international flights and we can return to Vietnam again for 2022.
A pastor from a nearby town dropped by to ask Pastor Tu for help as the local authorities stopped allowing the church to meet in his house. Please pray God will give us wisdom and discernment to help according to His will.
Please pray for God to open the door for us to travel to Thi's home village in the Central Highlands of Vietnam to share Jesus with them when we are able to return to Vietnam.
As we are now in our 70's, please pray God will keep us strong and healthy to serve Him in Vietnam for many years to come. Please pray God will raise up a young man or woman we can begin to mentor to continue the ministry God has blessed us with.
Please pray for God to provide the funds for us to replace our 22-year-old van with a newer, more reliable one for the church and our orphanage/love house.
MERRY CHRISTMAS!!
We have much to be thankful as 2021 comes to an end. We thank God for all He has done for us to continue to share Jesus with His children in Vietnam on your behalf. May God give each of you and your families a blessed Christmas as we celebrate the birth of our Lord and Savior.
"How can we thank God enough for you in return for all the joy we have in the presence of our God because of you." 1 Thessalonians 3:9