by Dennis & Mai Spencer | October 11th, 2021
ANSWERED PRAYERS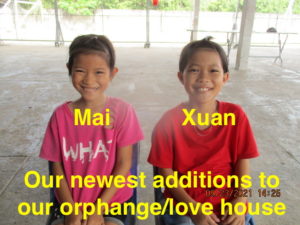 "Take delight in the Lord, and He will give you the desires of your heart." Psalm 37:4
Thank you for all your prayers for God to open the door for us to bring Xuan and Mai into our orphanage/love house even during the restrictions imposed due to the Covid surge. We praise God for answering our prayers and giving us the desire of our heart to be able to raise these 2 sweet girls up knowing Jesus and the truth found in God's Word. Even though their mother is still stuck in Saigon, Xuan and Mai live with their grandmother (Lan) in Binh Chau. With school starting up online this year, this presented a dilemma for the girls. The grandmother, being very poor, had no computer for the girls to attend online classes. Considering the online classes might continue for some time, the girls might miss out on this school year all together. After much prayer and discussions with Pastor Tu, Kim, and Lan, God put it in our hearts to go ahead and take Xuan and Mai into our orphanage/love house now and do the paperwork when their mother is allowed to leave Saigon and travel to Binh Chau. This way the girls would have the opportunity to start classes the same time as the other children living in our orphanage/love house. With online schooling now, computers are in high demand. However, they are very scarce and hard to come by in Binh Chau. We praise God for another answered prayer as He "reserved" a used computer we were able to purchase recently for the girls to use for their online classes.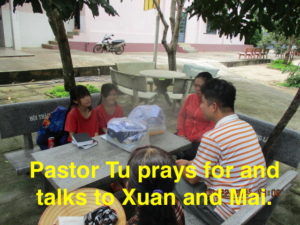 "I will give thanks to you, Lord, with all my heart; I will tell of all your wonderful deeds." Psalm 9:1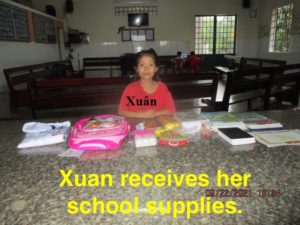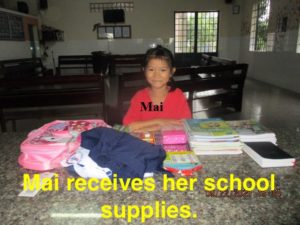 TUTORING FOR MAI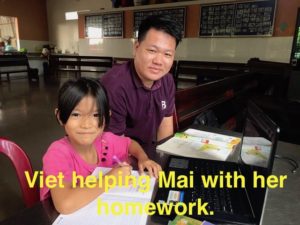 Both Xuan and Mai are adjusting very well in living in our orphanage/love house. Loan, our housemother, says they are so sweet and a joy to be around. Xuan seems to be doing good in her studies, but it became quite apparent from the beginning that Mai was no where near her 2nd grade level. She doesn't know her alphabet, numbers, or can't read very well. Viet, who grew up attending our Children's Church, recently graduated from a trade school and has a job offer. However, that has been put on hold due to the Covid shutdown. Viet has helped Mai with her homework a few times and we have offered to pay him to tutor Mai during the lockdown. Viet would be required to live on the church property due to the lockdown and he and his mother are considering this now.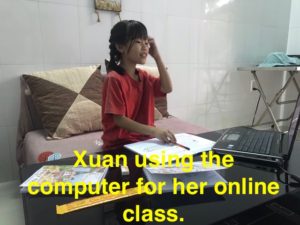 THANK YOU VBS CAMP SPONSORS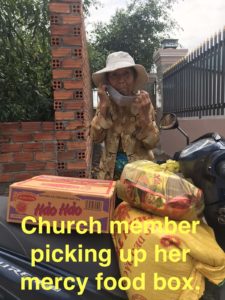 When we had to cancel this summer's VBS Camp we gave those of you who sponsored children to attend 2 options. We would be happy to keep those funds and use them for VBS Camp 2022 or we could use them to provide mercy food boxes for those families in need due to the extended lockdown. The response was 100% to use these funds for our mercy food box program. We so appreciate and humbly thank each of you for enabling us to show and share the love of Jesus by providing food boxes to these families in their time of need. These families are so thankful for the love you have shown them & praise God for His provision during this trying time. To God be the glory!
WHAT AN AMAZING GOD
It brings us so much joy to share this example of God's hand and favor on the Binh Chau Church. As you read the following, we are sure you will agree with us only our Heavenly Father could have opened every door in His exact timing to make this happen. With the Binh Chau area now considered a hot spot for Covid, vaccine shots are being administered to certain groups. Kim called a local official to see if she and Pastor Tu could get shots since they work with the church and the children in our orphanage/love house. Kim was told they weren't elligble for the shots. Mai has been teaching the Bible and mentoring Khanh, one of the young people who grew up in the Binh Chau Church, but has been living and working in Saigon the last few years. Being in Saigon, Khanh is much more aware of what the higher authorities are doing concerning Covid. Khanh shared with us in Saigon that the first group to be given the shots were government employees, then those working with large groups of people (hospital workers, teachers, etc.) Khanh said the second group included pastors in Saigon churches. After Khanh shared this with Mai, she called Pastor Tu to relay this information to him. Mai encouraged Pastor Tu to write a letter to the mayor of Teo Neo hamlet, where the church is located, requesting as pastor of the Binh Chau Church he be included in those eligible to receive the vaccine as pastors in Saigon are. Plus, to also request the other 3 adults (his wife, the housemother and her assistant for our orphanage/love house) be included since they live on the church propery too taking care of the children. We prayed together asking God to give us favor with the mayor. Pastor Tu then took it a step further and called the mayor directly to appeal to her. Her initial reaction was not very friendly and she said no he (they) didn't qualify. However, she said she would check out what he told her about Saigon. The very next day the mayor called Pastor Tu this time with a very friendly attitude. She informed him that all 4 adults living on the church property could now receive a vaccine shot. Praise the Lord for changing hearts!
However, God wasn't through opening doors for His faithful servants. When Pastor Tu told Thi (our housemother's helper) the good news. Thi stated she didn't have her ID needed to get her shot. Thi said her brother had her ID. Thi is a Montagnard (indigenous people of the Central Highlands of Vietnam) and her brother still lives in her village there. The village is atop a mountain with access by motorcycle only. Thi said her brother had a cell phone, but it was not easy to get him to answer it. Plus, the reception on the mountain comes and goes. Pastor Tu called Thi's brother, who answered the phone immediately, and said yes he did have Thi's ID. He said it would take 3-4 days to travel to Binh Chau to bring it to her, but he couldn't even travel now due to the lockdown. Pastor Tu asked him if his phone could send pictures and was told no. Pastor Tu then asked him to go ask the other families in the village (about 60 of them) if anyone had a phone that could take/send pictures. In a short while, Thi's brother called back and said he had found one. Pastor Tu asked him to take a picture of Thi's ID and send it to him, which he did. And then, Thi was able to go get her shot. So many things had to take place when they did for all this to happen (and all in one day). Only God!! We get "goose bumps" thinking about how He worked everything out in His perfect timing. We truly serve an Amazing God! How blessed are we as Christians to have such a loving God involved in every aspect of our lives and fulfilling His promise to work all things out for our good and His glory. And, we do give our Heavenly Father all praise, honor, and glory!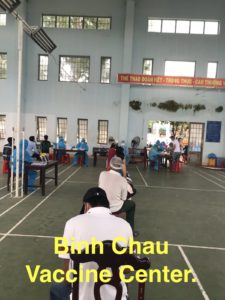 We always emphasize with Pastor Tu to take every precaution when he has to leave the church property during this pandemic. He sent us the picture below to let us know he followed through (2 masks and a shield 🙂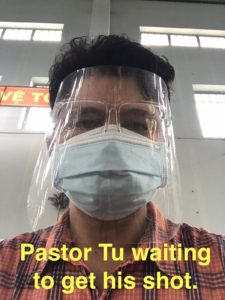 "Through Jesus, therefore, let us continually offer to God a sacrifice of praise – the fruit of lips that openly profess His name. And do not forget to do good and to share with others, for with such scarifices God is pleased." Hebrews 13:15-16
PRAYER REQUESTS
Please pray God will keep all our brothers and sisters in Christ in Binh Chau and Suoi Bang from getting the coronavirus.
Thank you for praying for Ngoc. We praise God for healing her from her 2nd battle with Covid. Ngoc is still stuck in Saigon due to the lockdown. Please pray God will open the door for her to return to Binh Chau by the end of the year to serve as the spiritual housemother for the children living in our orphanage/love house.
Please pray God will give us favor with Viet and his mother (Dung) to allow Viet to stay at the church to tutor Mai in her online schooling.
Please pray our brothers and sisters in the Binh Chau church and our Suoi Bang church plant will remain faithful in signing in to Sunday Worship, Children's Church, and our weekly Bible studies to continue to hear God's Word together, even though we can't meet in person.
Please pray for extra strength, energy, wisdom, and good time mamangement for Pastor Tu as he balances doing all the online services, spending extra time teaching the children in our orphanage/love house, reaching out by phone to the congregation each week, and being a husband and father for his family.
Please pray for the virus threat to subside so the Vietnamese government allows incoming international flights and we can return to Vietnam again soon.
Please pray for God to open the door for us to travel to Thi's home village in the Central Highlands of Vietnam to share Jesus with them when we are able to return to Vietnam.
As we are now in our 70's, please pray God will keep us strong and healthy to serve Him in Vietnam for many years to come. Please pray God will raise up a young man or woman we can begin to mentor to continue the ministry God has blessed us with.
Please pray for God to provide the funds for us to replace our 22 year old van with a newer, more reliable one for the church and our orphanage/love house.
"How can we thank God enough for you in return for all the joy we have in the presence of our God because of you." 1 Thessalonians 3:9