by Dennis & Mai Spencer | September 15th, 2021
MORE MERCY FOOD BOXES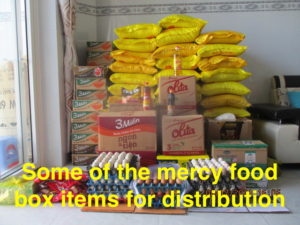 We outlined in our last newsletter the surge in COVID cases in Vietnam and the lockdown of the country. Unfortunately, things have gotten much worse throughout the country. Even Binh Chau, which had no COVID cases until July of this year, now has over a 100 cases. All businesses remain closed with a curfew from 6pm to 6am each day. Then, only people with medical emergencies are allowed to leave their home. God provided the funds the end of June for us to give out 57 mercy food boxes ($50 each) to the families of the Binh Chau Church and our Suoi Bang church plant. However, our brothers and sisters in Christ are now in need of another round of mercy food boxes. Plus, non-Christian family members, friends, and neighbors are turning to our church for help too. This creates an evangelistic opportunity for our churches to reach out with the love of Jesus to meet some of their physical needs with the hope of sharing the Gospel with them in the future. We praise God and thank the Catalina Foothills Church Missions Committee and a couple on our JIV Focus Team for providing the funds to enable us to supply these families in need with another round of mercy food boxes. The local markets are all closed. People needing food have to contact the government rep for their neighborhood who takes their order, collects their money, and delivers food to them. The government has allowed the Buddhist temples and Catholic churches to distribute food. We thank God that He has given us favor for the Binh Chau church to be able to distribute food also.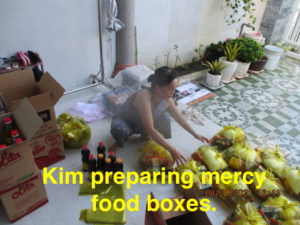 The picture above shows Kim organizing some of the food items the market had in stock for distribution. More items will be delivered to her as the market receives them. We had the food delivered to Kim's house instead of the church property to protect the children in the orphanage and Pastor Tu's family from possible exposure to Covid. Kim has already received her first vaccine shot.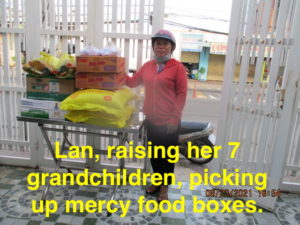 We were also able to get permission to rent a small truck to take mercy food boxes to Mr. Hien's house for our Suoi Bang church plant there (picture below). Since Suoi Bang is a rural farming area, our brothers and sisters there were able to go to Mr. Hien's house to pick up their mercy food boxes. "And my God will meet all your needs according to the riches of His glory in Christ Jesus." Philippians 4:19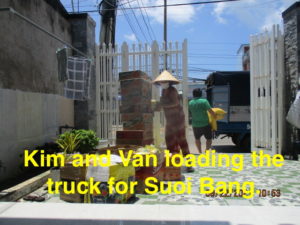 VBS CAMP 2021 CANCELLED
We are sad to report that we have had to cancel our VBS Camp for this year due to the continued surge in covid cases in Vietnam. This is the first time in 14 years we won't have a summer VBS Camp. For those of you who sponsored the 59 children who registered this year to attend our VBS Camp, we would like to present 2 options. (1) We will hold those funds ($50 per child) to apply for your child/children to attend our VBS Camp 2022 or (2) we will use those funds to provide mercy food boxes to families in need as the lockdown looks like it will be in place for an extended time. We will send each of you sponsors a separate email asking what God puts in your heart. Those funds given for school, birthday gifts, and Christmas gifts will still go to your sponsored child/children.
ONLINE SERVICES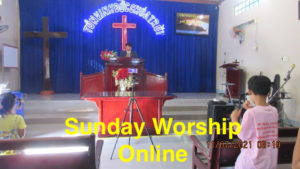 We thank God all the time for bringing Pastor Tu back to serve in the Binh Chau Church. His technical savvy allows us to stream all the church serices online. This includes Wednesday night Prayer, Thursday morning Bible Study, Friday night Bible Study, Saturday Children's Church, and Sunday worship Service. Plus, Pastor Tu is able to see who signs in to watch each service. This enables Pastor Tu to call those not turning in to encourage them to join their brothers and sisters in Christ in studying God's Word.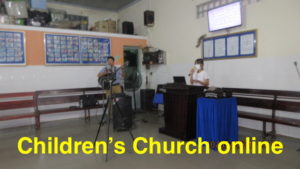 ONLINE SCHOOL STARTS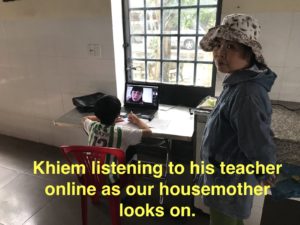 School started back the end of August in Binh Chau, but due to the coronavirus it's all online for now. With 8 school age children in our orphanage/love house this poses a problem with having enough computers for them all. We have one for the orphanage/love house and Pastor Tu is letting us use his for a few hours each day. Plus, we have asked Pastor Tu to try to purchase another used computer.Two of our children (picture below) are in the same class and can share computer time. Our housemother, Loan, keeps an eye on the children to make sure they are paying attention to their teacher.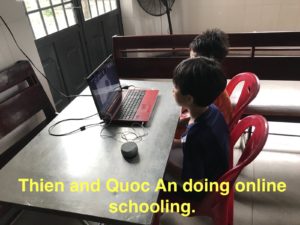 School times are staggered in Vietnam according to your grade level. This really helps in sharing the computers. Plus, the youngest students have shorter classes and then workbooks to fill out. We are blessed to have our older students like Thien Y pictured below willing to help the younger ones with their homework.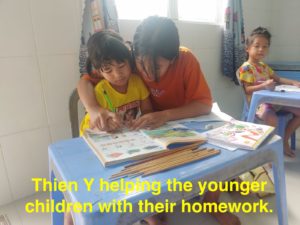 We thank God for providing the tools needed for our children to continue their education online during this lockdown. Many families in Binh Chau, Suoi Bang, and other rural areas of Vietnam do not have computers for their children to school online. Please pray the lockdown will be lifted soon and all the children will be able to return to school.
SPIRITUAL GROWTH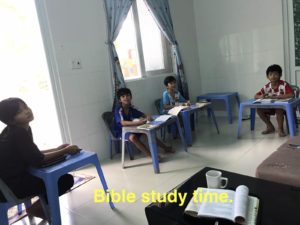 While we take care of the physical needs of our children in our orphanage/love house and stress to them the importance of getting a good education, our most vital responsibility is to teach them the truth found in God's Word. We do this by starting their day with a time of prayer and a short devotion and ending it with reading 3 chapters of the Bible and a time of prayer. Plus, Pastor Tu has assigned them a Bible study to complete each day with questions to answer. He also gives them Scriptures to memorize each week. Our desire is to instill God's Word in their heart at a young age so as the become adults they will always seek to follow the Lord and His teachings as to how He wants them to live their lives.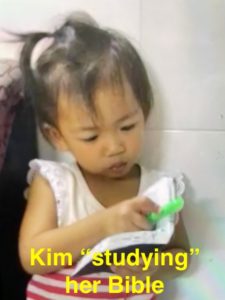 "These commandments that I give you today are to be upon your hearts. Impress them on your children. Talk about them when you sit at home, and when you walk along the road, when you lie down and when you get up." Deuteronomy 6:6-7
PRAYER REQUESTS
Please pray the precious blood of Jesus will form a hedge of protection around the children in our orphanage/love house, Pastor Tu and his family, Kim and her family, and all our brothers and sisters in Binh Chau and Suoi Bang to keep them from getting the coronavirus.
We shared with you a prayer request for Ngoc to move back to Binh Chau to serve as the Spiritual housemother to our children living in our orphanage/love house. God must have great plans to use Ngoc as Satan has really been attacking her since she agreed to accept this position. She is still stuck in Saigon and experiencing covid for the 2nd time. This time is worst than her first bout with a higher fever and more trouble breathing. Please pray God will heal her completely and open the door for her return to Binh Chau.
The surge in covid cases has delayed the mother of Xuan and Xuan Mai from coming to Binh Chau to file the documents needed for us to take these girls into our orphanage/love house. Please pray God will continue to guide us and give us favor with those needed to enable us to take these 2 precious girls into our orphanage/love house and raise them up knowing Jesus and the truth found in God's Word.
Please pray our brothers and sisters in the Binh Chau church and our Suoi Bang church plant will remain faithful in signing in to Sunday Worship, Children's Church, and our weekly Bible studies to continue to hear God's Word together, even though we can't meet in person.
Please pray for extra strength, energy, wisdom, and good time mamangement for Pastor Tu as he balances doing all the online services, spending extra time teaching the children in our orphanage/love house, reaching out by phone to the congregation each week, and being a husband and father for his family.
Please pray for the virus threat to subside so the Vietnamese government allows incoming international flights and we can return to Vietnam again soon.
Please pray for God to provide the funds for us to replace our 22 year old van with a newer, more reliable one for the church and our orphanage/love house.
"How can we thank God enough for you in return for all the joy we have in the presence of our God because of you."
1 Thessalonians 3:9