by Dennis & Mai Spencer | July 9th, 2021
MERCY FOOD BOX DISTRIBUTION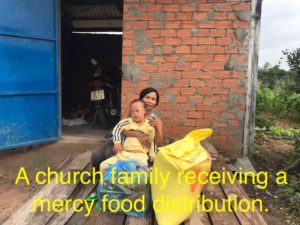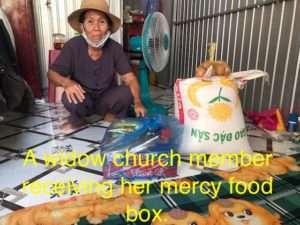 While Vietnam has done a very good job in contolling coronavirus cases in the country, these last few weeks has seen a drastic increase in the number of coronavirus cases in Vietnam. The beginning of June saw the whole country put on lockdown with trips to the market for food the exception. The Binh Chau area, that has been spared any cases previously, now has over 400 cases in that province. All businesses were shut down and remain shutdown as we write this newsletter. This caused much concern and stress for the families of the Binh Chau Church and our church plant in Suoi Bang as most of these families live week by week and even day by day. We praise God and thank our Jesus in Vietnam Focus Team and Lifepoint Church here in Tucson that gave generous love gifts which enabled us to bless 47 families with mercy food boxes. We started delivering to some families (pictures above), but after the lockdown we had them pick up the food boxes at the marketplace (picture below).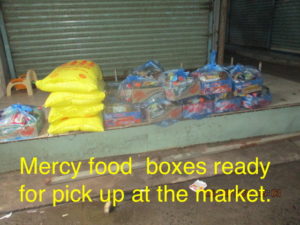 We also gave the members of our Witnessing Teams that go out each week to encourage other church members or to share the Gospel with non-believers extra mercy food boxes. We ask them to share these with non-Christian families in their neighborhood who they know are struggling to provide food for their families during this time. By sharing the love of Jesus with these families, please join us in praying God will open the door for us to share the Gospel with them at a later date.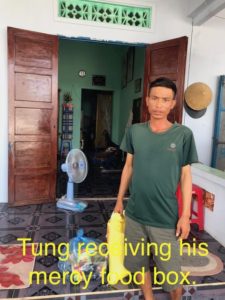 Tung, Mr. Ba Phouc's son, has been battling cancer the last few months. He is a Christian, but doesn't attend church due to the persecution of his wife and her family (devout Buddhists). Please pray by showing this family the love of Jesus, God will soften their hearts and they too will come to accept Jesus as their Savior.
CHURCH SERVICES ONLINE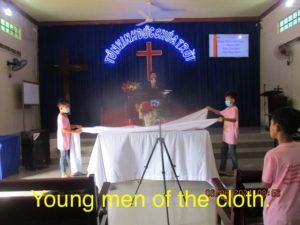 With the current lockdown, we had to go back to having church services online (picture above). Pastor Tu is able to show, not only Sunday Worship online, but also Saturday Children's Church, Wednesday Night Prayer Service, and Friday night small group Bible studies. Everyone (Pastor Tu, his wife and children, our housemother, and the children living in our orphanage/love house) who lives on the church property is still allowed to attend in person. We serve Communion the 1st Worship Service every month, which presented a problem of no men to uncover the Lord's Table. God put it in Pastor Tu's heart to have 2 of the boys (Thien and Quoc Anh) living in our orphanage/love house to uncover and fold the cloth so he could then serve Communion. What a blessing it was to receive the above picture seeing these young boys serving the Lord.
MORE MERCY MINISTRY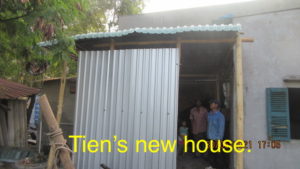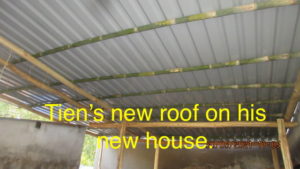 In our last newsletter we shared with you the story of Tien, an alcoholic from Suoi Bang, who had given his life to Jesus. We also shared a picture of his "house", which basically consisted of poles holding up a series of small tarps. Through our Mercy Ministry, we were able to build Tien a more stable and secure place to live. Tien has a son (with 2 children) who is not very happy to see his father become a Christian. Please pray God will soften his heart and provide a Divine appointment to share the Gospel with him.
GOD'S BLESSINGS FOR AN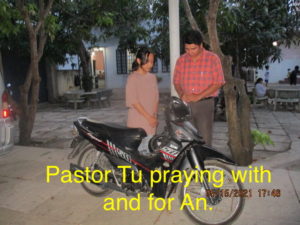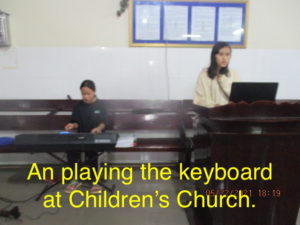 5 years ago God opened the door for An to come live in our orphanage/love house. We have been blessed to see An grow from a very timid, frail little girl of 10, who did not know the Lord, to now a high school student who loves and serves the Lord. An plays the keyboard at Children's Church and Sunday Worship. What joy we have had, and continue to have, in seeing how she has grown, not only physically, but more importantly her spritiual growth in the Lord. An is a shining example of how God has used your prayers and support for His precious children in Vietnam. Now that An is in high school (7 miles away in another town), we gave her use of one of the church's motorcycles to ride back and forth to school. An was so excited to receive this blessing, but God had an even bigger blessing in store for An. Three weeks ago Pastor Tu took An to the hospital in Ba Ria (about 45 minutes from Binh Chau) with severe stomach pain, vomiting, and fever. The doctors suspected she was having an appendicitus attack. They checked her into the hospital to run tests and keep her under observation. The tests came back showing, not appendicitis, but a tumor on one of her ovaries. More tests were conducted to see if the tumor was benign or malignant. Praise the Lord it turned out to be benign. The doctors stated they felt the tumor could be dissolved through medications. After a couple more days in the hospital, An returned home and is now doing well and recovering. We thank God His hand of protection was on An and He will heal her completely. Chua La Toc Lanh (God is good) Muoi Luc Muoi Noi (All the time)!
MORE CHILDREN OF PROMISE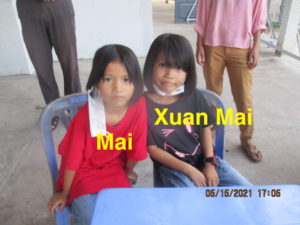 We have been asked to take 2 sisters, Xuan Mai (9 years old) and her younger sister, Mai (6 years old) into our orphanage/love house. They have been staying with their grandmother in Binh Chau for the last 2 years and attending Children's Church. However, their grandmother is in poor health and caring for several more of her grandchildren now. Their mother is in Saigon, but still unable to provide for them. She knew of our orphanage/love house and asked us to take them. We agreed and started the paper process to make it happen, but the lockdown has slowed things down. Their mother is not able to travel to Binh Chau at this time to file the required paperwork with the local officials.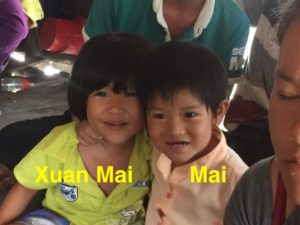 When we first met Xuan Mai and Mai (picture above) in Tan Hung (a 7 hour van ride from Binh Chau close to the Cambodian border) about 4 years ago, they were running around by their house next to the river, barefoot, and their little teeth were almost black. We immediately fell in love with them. Their grandmother later moved to Binh Chau and started attending the Binh Chau Church. We were so excited when we heard Xuan Mai and Mai were coming to stay with her. However, Xuan Mai wasn't very happy the first time her grandmother dropped her off at Children's Church. She didn't want to be there and made that very clear. In fact, she ran out the front gate and started walking home as her grandmother lives close to the church. Mai (Spencr) ran, caught her, and brought her back to the church. Then Mai sat the 2 girls down to talk with them and asked if she could pray with them. God instantly did an amazing turn around with Xuan Mai. From then on every time Xuan Mai and Mai came to church they would find Mai and say "can we pray now?"
PRAYER REQUESTS
With the recent surge of coronavirus in Vietnam and the order to quarantine, we have moved our VBS Camp scheduled for July 12-15th to August 16-19th. Please pray the lockdown will be lifted and we can have our VBS Camp at that time.
Please pray that God will grant us a safe environment to hold our VBS Camp in and give the children and their parents peace in allowing their children to attend.
Please pray that all the Christian children who attend our VBS Camp will be drawn closer to Jesus, grow in their walk with the Lord, and will be eager to share their experience and Jesus with their family and friends.
Please pray God will give the non-Christian
Children who attend our VBS Camp understanding He is the one, true living God, their need for a Savior, and to ask Jesus into their heart as their Lord/Savior.
Please pray God will continue to guide us and give us favor with those needed to enable us to take Xuan Mai and Mai into our orphanage/love house and raise these 2 precious girls up knowing Jesus and the truth found in God's Word.
Please pray for the virus threat to subside so the Vietnamese government allows incoming international flights and we can return to Vietnam again soon.
Please pray the precious blood of Jesus form a hedge of protection over His precious children in Vietnam from the coronavirus.
Please pray for God to provide the funds for us to replace our 22 year old van with a newer, more reliable one for the church and our orphanage/love house.
We have been praying for God to raise up a spiritual housemother for the children in our orphanage/love house (conduct Bible studies, prayer time, Scripture memorization, etc). God reconnected us with a young lady (Ngoc), who grew up in the Binh Chau Church before moving to Saigon for work. After much prayer and conversations with Ngoc, we offered her the position and she accepted. Please pray God will work out all the details, including the funding needed to add Ngoc to our staff. Ngoc would also be able to assist Pastor Tu with Children's Church.
"How can we thank God enough for you in return for all the joy we have in the presence of our God because of you."
1 Thessalonians 3:9