by Dennis & Mai Spencer | June 9th, 2021
VBS CAMP 2021 PREPARATIONS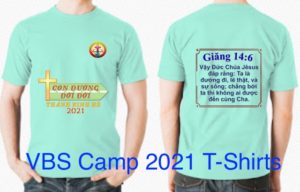 Our 2021 VBS Camp at the Binh Chau Church will take place on July 12-15th. This will be the 14th year for holding our VBS Camp in Binh Chau. As in previous years, the children will spend 4 days at the church (including eating all meals, showering, and sleeping there) being shown the love of Jesus. John 14:6 will be our foundation Bible verse this year as the children will not only be taught about salvation through Jesus, but also how to share the Gospel with their non-Christian family and friends. After averaging over 100 children each year at our VBS Camps, restrictions limited us to 78 children last year. We currently have 59 children signed up to attend this year. Praise God as all but 4 of these children are already sponsored! We normally have 15-20 children who don't register, but just show up the day VBS starts. We are anticipating this to happen again this year with our total attending to be around 75-80. We are doing all our fundraising for VBS this year via emails. If you are led to sponsor a child for VBS ($50), please email us. We will put you on our sponsor list and give you a child as more register or just show up at VBS.
LIFE CHANGING GOSPEL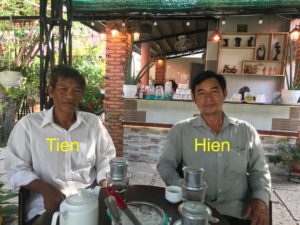 One of the greatest joys we experience serving our Lord in Vietnam is to see how God works in the lives of those who ask Jesus into their heart. These transformations confirm God's Word found in Isaiah 61 "…to bestow on them a crown of beauty instead of ashes, the oil of gladness instead of mourning, and a garment of praise instead of a spirit of despair…" (NIV). We would like to share with you about Tien from Suoi Bang. Tien has struggled with alcohol for many years. About 2 months ago he was befriended by Hien (picture above), whose house our Suoi Bang church plant meets in. Hien invited Tien to church and he came to hear more about Jesus. God opened Tien's heart to the Gospel and he asked Jesus into his heart as his Lord and Savior. Tien then came to the Binh Chau Church to be baptized by Pastor Tu before the congregation.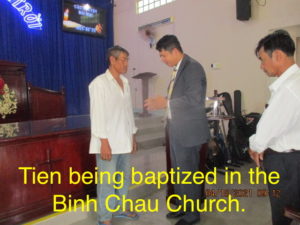 Tien has not only attended church faithfully these last 2 months, but he hasn't had a drink of alcohol during that time. To God be the glory! Plus, recently Tien invited (and they came) 2 of his former drinking buddies to church! Our weekly Witnessing/Visiting Team stopped by Tien's place he calls home (not exactly a house as seen below). It's basically poles with tarps draped over them, plus some rusted-out aluminum siding in the back. Both the Binh Chau Church and Suoi Bang church plant congregations took up a love offering to help Tien. Our Mercy Ministry will add to that offering to give Tien a more stable and safe place to live. Thank you for your faithful prayers and financial support that enables us to reach people like Tien for Jesus and make a difference in their lives for ALL eternity.
EASTER SERVICES 2021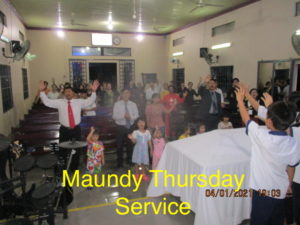 We were blessed with good attendance at both our Maundy Thursday (picture above) and Easter Sunday Services. We have been told church attendance in Vietnam has dropped this past year. We thank God that, not only has our attendance remained steady, God has added to our numbers at the Binh Chau Church and our Suoi Bang church plant.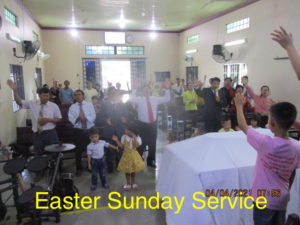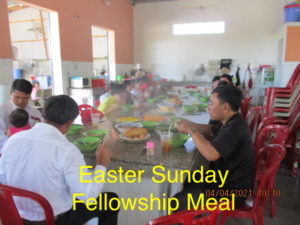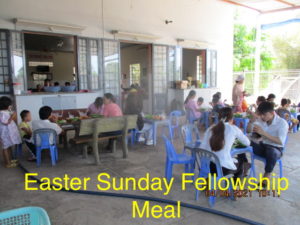 SUOI BANG CHURCH PLANT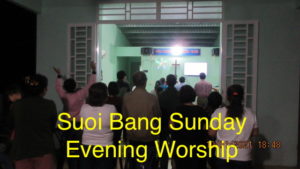 The above picture shows our congregation in Suoi Bang has quickly outgrown Mr. Hien's small house. We thank God for giving us the insight to build Mr. Hien a covering for his patio the end of last year.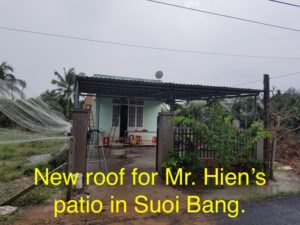 Another issue that surfaced recently was Mr. Hien's small bathroom was not adequate for its increased use. We were able to build a new set of bathrooms with new toilets for our church plant and the Hien's. One of Mai's favorite sayings "Cở nào Chúa chịu cũng được (No matter what, God will provide)."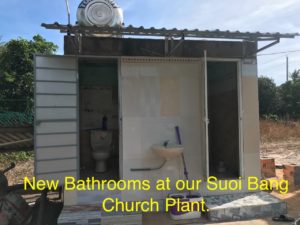 DESIRE OF OUR HEART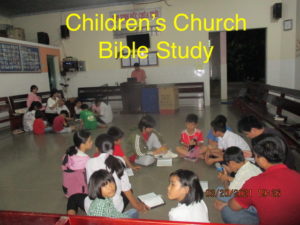 One of the desires God put it our heart from the very beginning was to be able to teach His children His Word as they "grew up" in the church. Then, as adults being strengthened by His Word, they would always have a desire to follow Jesus and tell others about Him wherever God takes them. We have had several of our youth graduate from high school and leave Binh Chau either to attend college or to work in Saigon. They have remained faithful in finding a church to continue their walk with the Lord and attend the Binh Chau Church when they visit relatives here. We are excited that 3 or 4 of these young adults are coming back to Binh Chau to help teach at our VBS Camp this summer. One of these young Christians is Lan who led our Youth Ministry for 2 years until she graduated from high school. She recently visited her father in Binh Chau and attended Children's Church. What joy we have in seeing how God is working in these young people's lives by giving them a desire to teach our younger children about God's love for them.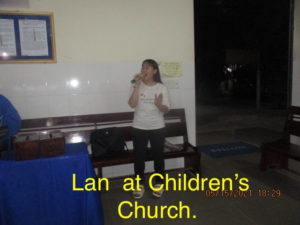 PRAYER REQUESTS
Please pray that God will use this VBS Camp as His instrument to bring non-Christian children and their parents to experience the love of Jesus, understanding of the Goepel, and to ask Jesus into their heart as their personal Lord and Savior.
Please pray that all the Christian children who attend our VBS Camp will be drawn closer to Jesus, grow in their walk with the Lord, and will be eager to share their experience and Jesus with their family and friends.
Please pray for God to open the door for us to return to Vietnam to serve the children at our VBS Camp in July. Please pray for the virus threat to subside so the Vietnamese government allows incoming international flights again.
We may have the privilege of taking 2 more children (sisters age 6 and 9) into our orphanage/love house. Please pray God will guide us and give us favor with those needed to enable us to raise these 2 precious girls up knowing Jesus and the truth found in God's Word.
As the Binh Chau church and our Suoi Bang church plant continues to expand so does the time demands on Pastor Tu. Please pray God will give him the strength and time management to oversee all his duties. Please pray God will raise up godly men in the church to help him.
Our church van continues to break down quite often. Please pray for God to provide the funds for a newer, more reliable van for the church and our orphanage.
"How can we thank God enough for you in return for all the joy we have in the presence of our God because of you."
1 Thessalonians 3:9