by Dennis & Mai Spencer | March 28th, 2021
CHILDREN OF PROMISE
When we first arrived in Binh Chau back in 2004 to seek God's guidance and direction in possibly building a church there, we were immediately drawn to all the children who seemed to be everywhere. God filled our heart with an overwhelming burden to share Jesus with these precious children. We vowed, if you will bring these children to us Lord, we promise to show and share your love with them, teach them the truth of your Word, and disciple them in their walk with you. So, as they grow into adulthood, they will always love you, serve you, and have a heart to tell others about you. Through your faithful prayers and financial support, God has enabled us to keep those promises and impact so many of His children over the years by knowing Jesus as their Lord and Savior. None exemplify this more so than the children living in our Children of Promise orphanage/love house. We praise God for giving us the opportunity to raise these children in a Christian family environment where they are showered with the love of Jesus each day. Even before they can read, they are taught the importance of your Word (picture below) and to always have their Bibles close at hand. We also instill in them a heart to serve at a young age. The picture above shows our 4 youngest children praising God in worship before Bible study while 2 of our oldest play the keyboard and operate the power point.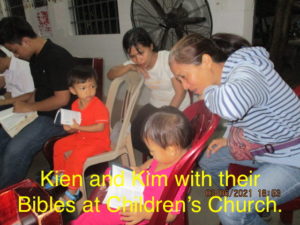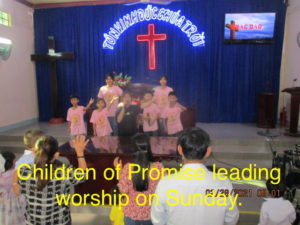 The older children also lead us in worship at Children's Church and Sunday Worship (picture above. Plus, as they mature in their walk with the Lord, our oldest teach Bible studies at Children's Church (Thanh, pictured below).
We thank God for all the joy He has given us in seeing Him at work in these children's lives. If you could meet these children in person, you would truly see the light of Jesus shining brightly in them. To God be the glory!
CHILDREN OF PROMISE SUPPORT
This is the time of year we seek funding to support the children to live in our orphanage/love house for 2021. As the saying goes "It takes a village to raise a child" and God has put that in our heart. We ask for donations to support the orphanage/love house overall. Therefore, you help impact every child living in our orphanage/love house for Jesus. We do have some that give monthly (and we thank you), but the majority of the funding needed for these children living in our orphanage/love house comes in during this yearly request.
The total yearly cost needed is $18,000 and we currently have commitments of $5,400. So we are in need of an additional $12,600 to fully support all the children for 2021. We ask that you please prayerfully consider donating towards helping these precious children of promise. If God puts it in your heart to give, please mail your check to Jesus in Vietnam Ministries, P.O. Box 54, Cortaro, AZ 85652 or you can donate online at our website: jesusinvietnam.com.
We are so blessed, so appreciative, and so humbled by your prayers and support that has allowed us to show and share the love of Jesus to these children every day. Take joy in knowing God is using you to make such a difference in these children's lives for all eternity. All for Jesus!
PASTOR TU AND FAMILY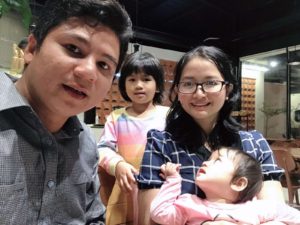 Pastor Tu just completed his first year serving as the pastor of the Binh Chau Church. What a blessing this last year has been having Pastor Tu oversee the church, supported by his family moving to Binh Chau also. His wife, Thoung, is such a humble servant of the Lord and their 2 children (Giang Han 5 years old and Giang Uyen 1year old) are adorable.
Recently Thoung and her 2 daughters had birthdays. When one of our supporters heard none of them had ever had a birthday party, they gave $200 so the family could celebrate all their birthdays (picture above). Pastor Tu and Thuong shared with us being at the Binh Chau Church is their first time not living with their relatives, but they have been shown so much love by the church that it has now become their family.
SUOI BANG CELEBRATION
It's been a year since Mr. Hien opened up his house in Suoi Bang to hold Bible studies, which led to God opening the door for us to plant a church there. Mr. Hien shared they wanted to hold a special Worship Service to celebrate their first year, followed by a fellowship meal (picture below).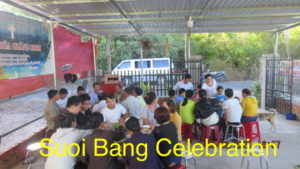 We shared in our last newsletter how God blessed us with a wonderful Christmas Outreach in Suoi Bang and new families coming to the Lord. We are pleased to report those families (and more) have connected with the church, attending weekly Sunday Evening Worship Service.
PRAYER FOR KIM
Our sweet, little Kim is one of our 2 year old twins God brought to our orphanage/love house a little over a year ago. They arrived very small, malnourished, and no hair. This past year they have put on weight and look much healthier. However, Kim has had a tendency to get sick quite often. Recently, she has had trouble breathing (wheezing sound), vomiting, and diarrhea. Loan, our housemother, took Kim to the local urgent care. They said Kim had a lung infection and possibly dehydrated. They gave her some medication and sent her home. We felt that she should have a more thorough diagnosis, so we asked Pastor Tu to rent a car (not to take her on a motorcycle) to take Kim to the hospital in Ba Ria (about 30 miles away). Same diagnosis and sent Kim back home. Given how small Kim is and how sick she was; we didn't quite understand them sending her home. We have asked Kim (Mai's sister) to rent a car to take Kim to a children's hospital in Saigon (about 3 hours away). Please pray for God to heal our precious Kim. And, for God to open the door to see a doctor as they don't take appointments. You just show up, get in line, and hope to see a doctor that day.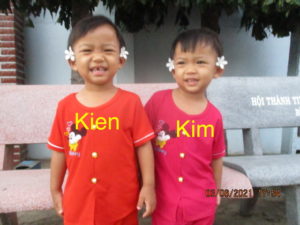 CHURCH GROWTH AND BAPTISMS
Not only have we experienced growth in our Suoi Bang church plant since the beginning of the year, we have had several new believers and baptisms in the Binh Chau Church also. The picture below shows Pastor Tu baptizing 2 ladies (Thanh and Tam) who recently accepted Jesus as their Lord and Savior.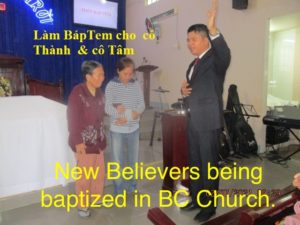 Quang (pictured below) grew up in the Binh Chau Church until he moved to Saigon for work. He recently returned to Binh Chau to visit relatives. Quang brought his girlfriend over to the church to meet Pastor Tu. God gave Pastor Tu the opportunity to share the Gospel and she prayed to ask Jesus into her heart. The next day she was baptized during Sunday Worship.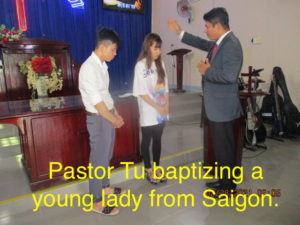 SMALL GROUP BIBLE STUDY
We moved our Friday night small group Bible study to the church almost a year ago due to the pandemic, but last month we started meeting again in different homes. What a blessing it is to be able to witness to surrounding neighbors as we gather to worship (doors/windows open so we can be heard) and study God's Word together.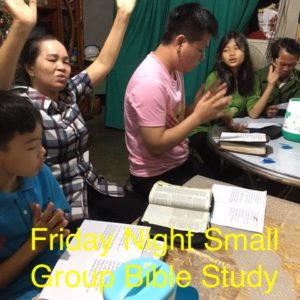 PRAYER REQUESTS
Praise God for answered prayers as we have now received our vaccine shots. Please pray God will open the door for us to return to Vietnam in the near future. Please pray Vietnam will allow international travel from the USA soon.
Please pray for God's protection on the new believers from persecution from family, friends, neighbors, etc.
Please pray God will give them the strength to stand firm in their faith and stay connected to the church so they can grow in their walk with the Lord.
As the Binh Chau church and our Suoi Bang church plant continues to expand so does the time demands on Pastor Tu. Please pray God will give him the strength and time management to oversee all his duties. Please pray God will raise up godly men in the church to help him.
We are starting to ask children to sign up for this summer's VBS Camp. Please pray God will direct the children who attend Children's Church to invite their non-Christian friends to attend so they might hear the Gospel and experience the love of Jesus.
At Pastor Tu's request, we are now teaching 4 different weekly Bible studies (via Zoom) to either the children in our orphanage/love house or some of the women in the church. Please pray God will grant us a deeper spiritual understanding of His Word so that we might all be encouraged and strengthened in our walk with the Lord.
Please pray for God to provide the funds for a newer, more reliable van for the church and our orphanage.
Please pray God will open the door and provide the funding for us to build a 2nd story to our existing orphanage so we might be equipped to take in more children and separate the boys from the girls as they grow into their teen years.
"How can we thank God enough for you in return for all the joy we have in the presence of our God because of you."
1 Thessalonians 3:9