by Dennis & Mai Spencer | November 22nd, 2019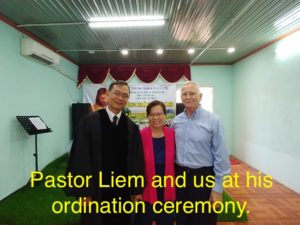 ANSWERED PRAYER
We are excited to announce we now have a pastor for the Binh Chau Church after over 2 years with interim pastors preaching. Last December a Vietnamese pastor we know introduced us to a pastor/professor from a Presbyterian Bible College in South Korea. They wanted to discuss the possibility of coming to the Binh Chau Church to teach discipleship classes. During our meeting it was mentioned we were currently looking for a pastor for the church. They stated they might be able to help us, as part of their ministry outreach to Vietnam was the training of pastors to plant churches here in Vietnam. In March a group of pastors (including the president of the Bible College) came to Binh Chau to finalize the timing of the discipleship classes to be held in July after our VBS. The beginning of October they recommended to us Pastor Liem. He was a recent graduate from their Bible College and they were coming to Vietnam to perform his ordination ceremony that month. We were invited to attend (picture above). Pastor Liem is married and they have one child (a college student in Saigon). We have been working with Pastor Liem this past month and he has been well received by the Binh Chau Church, especially the children. He has a strong musical background working with children and has already improved the skill of our musicians and Worship choir (picture below). We have found Pastor Liem to be well educated, very humble, and with a heart to work together in serving our Lord. We have more info (sensitive) to share, but will do so after we return to the USA. Please pray God will use Pastor Liem to strengthen the Binh Chau Church in their walk with the Lord and to grow the church as he reaches out to lost souls with the Gospel all for God's glory.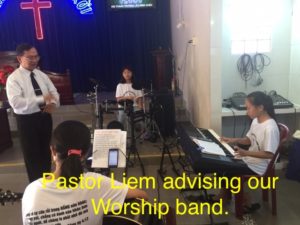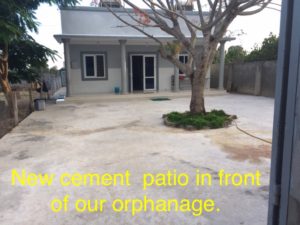 CONSTRUCTION PROJECTS
Our orphanage/love house sits in the back of the church property with lots of sand between it and the back patio of our kitchen. With the amount of rain we receive here, it was nearly impossible to keep the kids from tracking sand and mud into the house. Plus, our 2 church dogs loved to dig in it. We recently laid concrete (picture above) over the entire area, resulting in a much cleaner area for the children. We also started to construct a raised curb in front of the church to eliminate the waste from the truck wash depositing in front of the church, but we're stopped by local authorities. Please pray God will provide a different solution to this problem.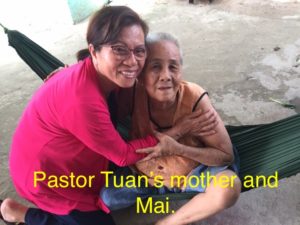 LOVE AND APPRECIATION
After Pastor Liem's ordination ceremony ended, another pastor asked us to stop by his house to see the church he pastored. When we arrived we were greeted by an older woman sitting on a hammock. Pastor Tuan introduced us to Hau, his 85-year-old mother (picture above). As we went to shake her hand we noticed she had one leg amputated at the knee. Hau asked Mai if I was an American. When Mai said yes, Hau started praising how much she loved Americans (which is not the norm here in Vietnam). She then shared her husband had been an officer in the South Vietnamese army and worked alongside American soldiers. One day she stepped on a mine planted by the enemy and shrapnel severely damaged her legs. Hau said the American soldiers took care of her wounds, carried her to safety, took her to their hospital, ended up having to amputate one of her legs, and cared for her afterwards. She stated Americans were so kind and caring and she just loves Americans. On Hau's behalf, we thank those American soldiers (and all veterans) for the kindness and compassion shown to Hau and people like her. Your sacrifice was not in vain as God allowed me to see (and pass on to each of you) through the eyes of this sweet, sweet lady some 50 years later. More importantly, we thank our Heavenly Father for drawing Hau and her family to faith in Jesus and established a church in their home. What an amazing and awesome God we serve!
PRAYER REQUESTS
Please pray for our youth as they have begun practicing for our Christmas Outreaches. They will perform a play about the birth of Jesus and sing in the choir. Please pray all the children will be able to attend all the rehearsals, and as they perform, people will be able to see the light of Jesus shining through them.
Please pray for the children living in our orphanage/love house as they are surrounded by non-Christians at school. Pray God will use them to influence others for Jesus.
We are excited Pastor Liem will be going out with our witnessing/visiting teams each week. Please pray for Divine appointments to build relationships and share the Gospel.
Please pray for travel mercies for us as we travel back to the USA on Dec 4/5.
HAPPY THANKSGIVING DAY!
We have so many things to be thankful for, none more important than our Lord and Savior, Jesus Christ. We sincerely thank Him for each of you and all the joy we receive by being His servants here in Vietnam on your behalf. May God bless you abundantly for all you do for His glory.