by Dennis & Mai Spencer | August 9th, 2019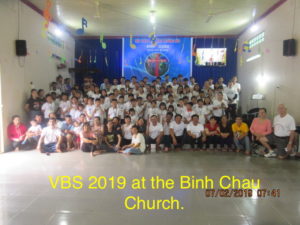 VBS CAMP 2019 PRAISE REPORT
We praise God as He blessed us with another wonderful VBS Camp, our 12th annual, with 112 attending (87 children and 25 adult volunteers). The children were shown and shared the love of Jesus over the 4 days with teaching from God's Word on our theme Bible verse of Acts 4:12 and showing them that Jesus IS God. Each morning, afternoon, and evening session started with group Worship, a Bible devotion, and then breaking into age group Bible studies. In addition, throughout each day there were plenty of games and crafts for the children to play. Plus, they were fed 4 meals a day (children here want a bowl of soup before bedtime) and plenty of snacks throughout the day. We give a special thanks to the ladies who volunteered in the kitchen preparing/serving all these meals. The highlight (as always) of our VBS Camp was when 13 children came forward to either ask Jesus into their heart or rededicate their life to Jesus. We thank God as several of them have been attending Children's Church since VBS ended. TO GOD BE THE GLORY!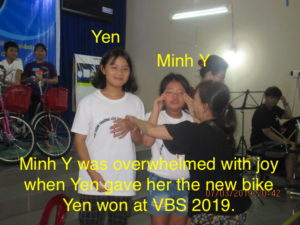 SHARING THE LOVE OF JESUS
Each year one of the most exciting times at our VBS Camp is when children are rewarded new bicycles for Scripture memorization. This year was no exception and God provided us a heartwarming story to share with you that demonstrates how He is using each of your faithful prayers and support to change His children here to be more like Jesus. Minh Y is an 8-year-old granddaughter of one of the members of the Binh Chau Church. She lives in another town, but spends part of the summer with her grandmother here. Minh Y is such a sweet girl and seems to always be in such a joyful mood. You just want to give her a hug every time you see her. Minh Y was excited about the possibility of receiving a new bike at VBS. She studied her Bible verses and had memorized all of them. We randomly select names and Minh Y was very disappointed when her name was not drawn. Yen, who has been attending our Children's Church for 10 years and lived in our orphanage/love house since it was built almost 5 years ago, stepped forward and gave Minh Y the bike she had won earlier. Minh Y was overwhelmed with tears of joy (picture above) as we were too. What an amazing example Yen gave of Jesus' love to all the other kids (and adults) who witnessed her act of kindness. We have said this before, but it's worth repeating: Please take joy in knowing what an impact your prayers and financial support is having on God's children here in Vietnam.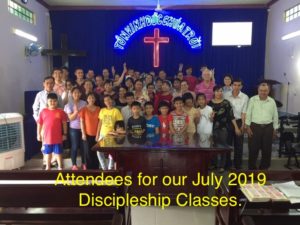 JULY DISCIPLESHIP CLASSES
Besides holding our VBS Camp the first week of July, later in the month we hosted a pastor from South Korea, who taught discipleship classes for a whole week on the Gospel of John. This pastor (name withheld due to security reasons) has a church in South Korea and is also a professor at a Presbyterian Bible College there. We were praying for at least 20 people to attend and were thrilled to have 35 or more each day (picture above). We had many positive comments from members of our congregation how much they learned through these discipleship classes. We praised God for the passion, heart, and spiritual understanding He has given this man to teach His Word. We joked he only had 65 more books to teach and he responded that he would be blessed to come back soon. In order for our housemothers to attend, Mai did all the cooking (with the help of a hired non-believer) each day. Not only were we blessed with the teaching, but his ministry paid for all the food!
A FUTURE MISSIONARY
We also hosted for a week Bram, a 23-year-old Vietnamese-American from Michigan. He discovered our ministry through our website and contacted us about coming to Vietnam to see how "we do missions" here as God has been tugging at his heart to go into the missionary field. Bram was surprised at all God has allowed us to do here and wants to return next summer with some of the youth leaders from his church in Michigan.
PRAYER REQUESTS
Please continue to pray God will give us wisdom, discernment, and clarity for any long term decisions to be made concerning Pastor Tuan and his family serving in the Binh Chau Church.
Please pray God will provide a spiritual housemother for our orphanage house.
Please pray God's protection on the children who asked Jesus into their heart during VBS as they face persecution from non-believers.
Please pray God will give each of His children (young and older) a strong desire to read, study, and meditate on His Word each day.
Please pray God will give us favor with a local contractor/officials as we explore adding a 2nd story to our orphanage.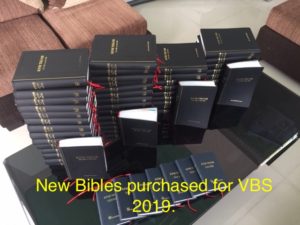 PRAISE REPORT
We praise God for another fruitful VBS and thank each of you who prayed, supported a child, and/or purchased Bibles (picture above) or bikes for our VBS Camp.
"How can we thank God enough for you in return for all the joy we have in the presence of our God because of you." 1 Thessalonians 3:9