by Dennis & Mai Spencer | June 9th, 2019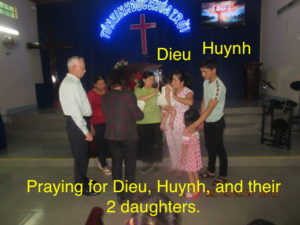 FAMILY IN NEED
One of the first children to attend the Binh Chau Church back in 2005 was a young girl named Dieu. She attended Children's Church faithfully for about 3 years and was part of the youth witnessing and visiting teams that went out once a week in hopes of sharing the Gospel. Around age 16/17 (like so many young people in rural areas of Vietnam), Dieu left to go work in Saigon. Her grandmother and other relatives remained in Binh Chau and have attended the Binh Chau Church and Children's Church. However, we haven't seen Dieu since she left Binh Chau. Recently, Dieu called Mai to ask for prayer for her youngest daughter, who was sick. After praying Mai learned that Dieu was now married and they had 2 daughters. Mai asked Dieu if she and her family attended church? Dieu told her many times she wanted to, but something always came up to prevent them from going. Mai was able to explain that was the work of Satan and she just needed to make the commitment to go and break that hold on her life. That following Saturday afternoon Dieu and herfamily surprised us by arriving at the Binh Chau Church after making a 4-hour trip by motorcycle (all 4 on 1 motorcycle) because they couldn't afford bus tickets for the whole family. They spent the weekend here with us at the church. Dieu's husband, Huynh, asked Jesus into his heart and Dieu rededicated her life back to the Lord (picture above). We also were able to pray for their sick daughter during Sunday Worship. Their daughter has been in and out of the hospital since she was born and they have a borrowed debt of close to $1,000 for her hospital expenses. In Vietnam you have to pay your hospital bill in advance. Both Dieu and Huynh work, but 70% of Dieu's check goes to childcare so they sruggles from week to week. They expressed a desire to move back to Binh Chau to be closer to Dieu's 75-year-old grandmother and be able to attend church as a family. We would like to help this family to pay off the money they borrowed to pay their hospital debt and help them get a fresh start in Binh Chau. This would consist of paying their rent for a few months and helping them with monthly food baskets until they get their feet on the ground here in Binh Chau. In order to do this, we would need around $1,800. If God puts it in your heart to help this precious family, you may donate online at jesusinvietnam.com or send a check to our home address at 8821 N. Silver Moon Way, Tucson, AZ 85743.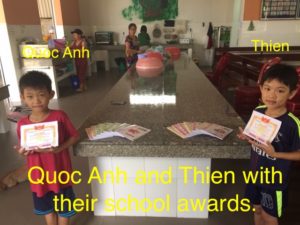 ONE CHILD AT A TIME
In this case, 2 children at a time. When Thien and Quoc Anh (picture above) came to live in our orphanage/love house almost a year ago, neither had ever attended school (both 7 years old). Even though the school system here in Binh Chau did not originally want to enroll them, God gave Kim and the church favor due to all the children the church sponsors to attend school each year. Quoc Anh and Thien recently graduated from 1st grade and received awards as 2 of the top students in their class. Thank you Jesus! And, thank each of you for praying for/financially supporting these children. God is truly using you to make a difference in their lives all for His glory!
PASTOR TUAN AND FAMILY
Pastor Tuan, his wife Anh (sorry last newsletter I called her Nga), and their 2 daughters (Tam 15 & Lien 13) spent a couple of weeks here in Binh Chau with us. We are very encouraged so far as God has revealed to us they have a true desire to serve Him and share the Gospel with others. They will return in June to serve with us for the next 2-3 months. They have attended the same church in Saigon for the last 19 years. Pastor Tuan is 1 of the 3 pastors there. They have been praying for the last few years as to whether God had a different ministry for them or if they were to remain where they were. Please pray God will give all of us clarity if Pastor Tuan is the one He has chosen to lead the BC Church.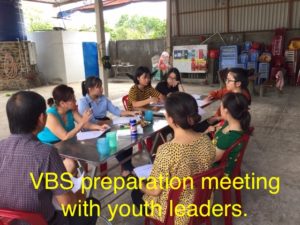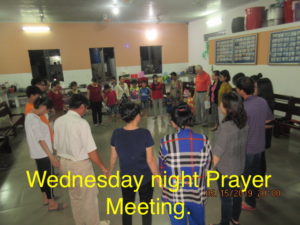 PRAYER REQUESTS
Please pray God will use Pastor Tuan and his family to strengthen/encourage the congregation, while also providing many Divine Appointments to share the Gospel with non-believers.
God has brought us 3 more children to live in our orphanage/love house with 4 more coming by July. Please pray God will raise up sponsors for these additional children (more info later).
Please pray for a spiritual housemother for our orphanage/love house to teach God's Word to them each day.
Please pray for Dieu, Huynh, and their 2 daughters, especially for healing for their youngest daughter. Please pray God will open the door for Huynh to find employment in Binh Chau as a motorcycle mechanic and enable Dieu to stay home with their 2 daughters.
Please pray God will draw many children to attend our VBS on July 1-4 and many will ask Jesus into their heart.
"How can we thank God enough for you in return for all the joy we have in the presence of our God because of you." 1 Thessalonians 3:9