by Dennis & Mai Spencer | April 17th, 2019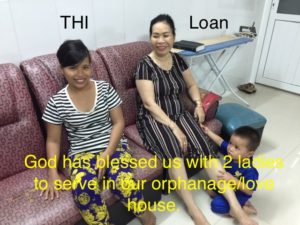 ANSWERED PRAYERS
"This is the confidence we have in God: that if we ask anything according to His will, He hears us. And if we know that He hears us—whatever we ask—we know that we have what we asked of Him." 1 John 5:14-15
We praise God and thank you for praying He would provide a new housemother for our orphanage/love house. Our Heavenly Father has provided, not 1, but 2 ladies to serve. Loan will serve as our housemother and Thi will be her assistant helping with the cooking and cleaning. Thi has a 2-year-old son (Thanh Tin, picture above) and a 3-year-old daughter (Nhu Y) who will also be staying in our orphanage/love house. Mai led Loan to Christ about 2 years ago, but she has been working in another town and only able to attend church periodically. Thi comes from a Montagnard village in central Vietnam. Thi and her 2 children were staying in an orphanage, but but living in a very difficult situation. A pastor from Saigon was aware of her situation and removed her from that orphanage. This pastor had heard of our orphanage/love house and contacted Mai to see if we could take in Thi's 2 children. Being out on her own with very little education, Thi was not in a position to support them. After meeting Thi and her 2 children, God put it in Mai's heart, not only to take in her 2 children, but to offer Thi a position as our assistant housemother. We praise God for opening the door for this precious family to stay together.
ENCOUNTER WITH JESUS
When Loan first came to the orphanage/love house, she admitted she hadn't grown much in her walk with the Lord since asking Jesus into her heart 2 years ago. She knew it was important to attend church, but really not the reason why. She asked Mai to teach her the Bible. Mai started a Thursday morning Bible study with Loan, and 4 weeks later, 7 people are attending. Recently Loan became sick and developed a very high temperature. Mai offered to take Loan to the hospital in Ba To (about 20 miles way), but Loan wanted to rest and see how she felt in the morning. Mai prayed for God to heal Loan and take the fever away from her. Loan told Mai the next morning that she had a dream where a man in a white robe visited her, touched her face with his hand, and told her she would be okay. She immediately woke up and her fever was completely gone. Mai says Loan has been on "fire" for the Lord ever since. Praise God!!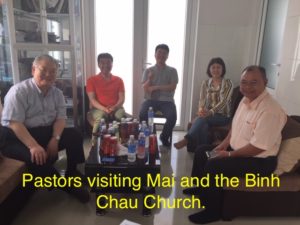 GOD OPENING DOORS
A positive of not having a Lead Pastor for the Binh Chau Church the last few months has been God opening doors for us to meet many pastors from around Vietnam and even outside of Vietnam. In January before we left Vietnam we were introduced and met in Binh Chau with a pastor (also a professor at a Bible college) from another country. He asked if he could come to Binh Chau for a week to teach leadership/discipleship classes to the congregation. Last week her returned to Binh Chau with other pastors (picture above), including the president of the Bible college. We confirmed a date for them to return to Binh Chau this summer where they will conduct classes for 5 days. We are not listing their names or country to protect their work in Vietnam.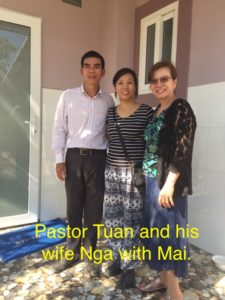 Our friend, Pastor Duong, recently brought Pastor Tuan and his wife, Nga (picture above), to Binh Chau to meet Mai and learn more about the Binh Chau Church. Mai said they had a very good discussion and she stated both Tuan and Nga seemed to have strong servant hearts for the Lord.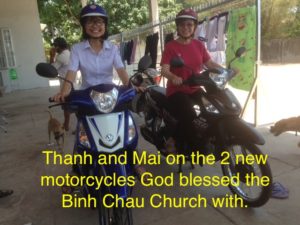 GOD CONTINUES TO PROVIDE
We needed a motorcycle to take the younger children in our orphanage/love house to school (Long had an accident a few weeks ago with the church motorcycle). Plus, Thanh needed one to ride the 7 miles to high school. Thank you to those who gave to meet this need.
PRAYER REQUESTS
Please pray God will provide us a Lead Pastor who has a heart for lost souls and a deep spiritual understanding of His Word.
Please pray God will give our new housemothers favor with the children as they show them the love of Jesus and give the children a spirit of obedience.
Please pray God will give us wisdom and discernment in all decisions to be made concerning His work, especially in the selection of a new pastor.
Please pray God will grant Mai strength, energy, along with needed rest as she serves Him in many areas of the Binh Chau Church.
Please pray God will bless our summer teaching series and many will be able to attend.
I will be leaving on May 7th (before you receive our next newsletter) and would appreciate your prayers for travel mercies and a safe return to Vietnam.
"How can we thank God enough for you in return for all the joy we have in the presence of our God because of you." 1 Thessalonians 3:9