by Dennis & Mai Spencer | December 3rd, 2017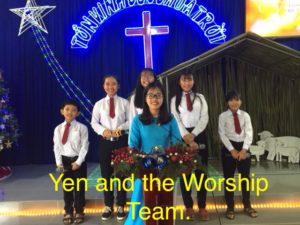 ANSWERED PRAYER
When we first came to Binh Chau in 2004 and noticed all the children here, God immediately put it in our heart to focus on them. Our prayer was asking God to give us some of these children for a few years to show and share the love of Jesus with, instill in them the truth of His Word, and have them grow up to serve Him and tell others about Him. God, in His faithfulness, has certainly answered our prayers in our sweet Yen (pictured above). Her parents and Yen accepted Christ 8-9 years ago and Yen faithfully attended Children's Church. Later, her younger sister and brother accepted Christ also. Yen has such a humble, sweet spirit about her and a heart for the Lord. As a teenager, Yen became one of our youth leaders until she left for Saigon last year to attend college. God led her to a church in Saigon close to the college. She stays at the church with a group of other college students. Yen has been very active in the youth group at her church in Saigon. Yen speaks quite a bit of English and God also blessed her with a job tutoring children in English to provide her with funds to attend college.Yen was in Binh Chau last weekend, attended Children's Church, and spoke to the children how God has worked in her life. She thanked God for her church (the Binh Chau Church) teaching her God's Word and showing the love of Jesus to her. Yen then shared that she belonged to a Christian Youth Club who had been given permission to meet once a week on her college campus to share the Gospel with any freshmen students who wanted to come hear their message. Praise God as 40 students attended and 23 asked Jesus into their heart. We thank God for answering our (yours/ours) prayers and giving us such joy to see Him working in the lives of Yen and His other children in the Binh Chau Church all for His glory.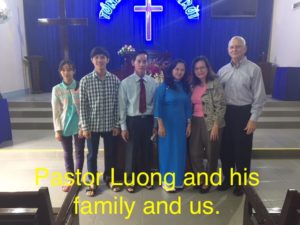 POSSIBLE NEW PASTOR
One of several pastors that have come to preach at the Binh Chau Church over the last 5 months is Pastor Luong (picture above). He and his wife, Huong, recently spent a couple of weeks with us here so we could get to know them better. Last week the Binh Chau Church leadership voted to extend Pastor Luong an offer to serve here for a 6-month trial period, which he accepted. Pastor Luong (59 years old) stated he was trained in EE many years ago and has a heart to share the Gospel (as does his wife). Please pray God will give us wisdom, discernment, and clarity so as to make the right decision about Pastor Luong during/after this period of evaluation.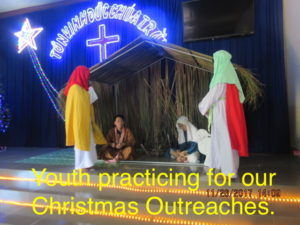 CHRISTMAS EVANGELISTIC OUTREACHES UPDATE
Our youth have been working hard each Sunday afternoon practicing their play (picture above) and songs they will perform at our Christmas Evangelistic Outreaches this year. It's been such a joy to see the energy, enthusiasm, and fun they have serving together. They are excited to have this opportunity to express their love for Jesus during our Christmas Outreaches. Our Children's Outreach will be 12/23 with the Adult/Family Outreach on 12/24. We are sending out over 300 invitations to non-believers this week. Please join us in praying God will fill the church to overflowing for both Outreaches and to bring many to saving faith in Jesus. Our sponsors have already given our church children Christmas gifts and we are hoping to give another 100 non-believing children Christmas gifts also (last year we actually ran out of gifts). We will also serve a fellowship meal after both Christmas Outreaches. We are in need of around $2500 to fund these Evangelistic Outreaches. If God puts it in your heart to help with these expenses this year, you may donate online at jesusinvietnam.com or send a check to 8821 N. Silver Moon Way, Tucson, AZ 85743.
We thank God for each of you and are humbled and so grateful for all your faithful prayers and support that enables us to show and share the love of Jesus with His children (young and old) here in Binh Chau. To God be the glory!
PRAYER REQUESTS
Please pray God will draw over 300 people to our Christmas Outreaches with 70 asking Jesus into their heart.
Please pray God will raise up many more "Yen's" among our youth and give them a heart to tell others about Jesus.
Please pray God will give Pastor Luong and his wife, Huong, favor with the congregation and use them mightily to bring many to faith in Christ.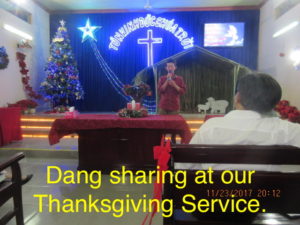 PRAISE REPORT
We had a Thanksgiving fellowship meal followed by a Worship Service where many gave moving testimonies of how thankful they were for God's blessings. Dang (picture above) shared he lived and worked in another town for 12 years and didn't have a cent to his name. He then moved to Suoi Bang last year, asked Jesus into his heart, and started attending the Binh Chau Church. Now God has provided him a good job to support his family and the church helped him build a house, which he never thought he would have. Through tears of joy Dang praised the Lord!
"How can we thank God enough for you in return for all the joy we have in the presence of our God because of you." 1 Thessalonians 3:9