by Dennis & Mai Spencer | October 30th, 2016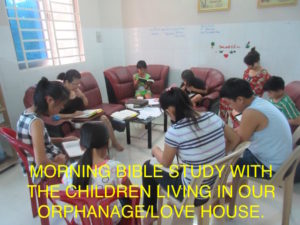 CHILDREN OF PROMISE
God gives us many opportunities in different areas to serve Him each time we come to Vietnam by showing and sharing the love of Jesus. He has given us great joy these last 5 months serving as the house grandparents for the Children of Promise orphanage/love house children. Shortly after we arrived the end of April, God increased the number of children living at the orphanage/love house from 3 to 7. He then answered our prayers and sent us a wonderful, young woman (Han) to serve as our house mother. Han and the last 3 children (An, Loc, and Uyen) God brought to us were not Christians. Praise God as He gave Mai, at different times, the opportunity to share the Gospel with them and all 4 asked Jesus into their heart (Mai sharing with An in picture below). The children range from 8 years old up to 15 years old (5 girls and 2 boys). Our joy comes from witnessing each day how God is working in each one of these precious children's lives for His glory. Having all come from broken home environments, these children now experience the love of Jesus each day in a Christian family environment based on God's Word.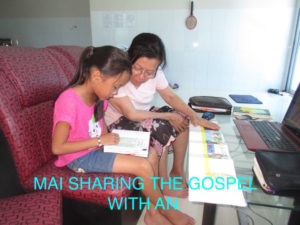 They are all up at 5am to get ready for school and have a morning prayer time and a daily Bible study (6 days a week). We told them they didn't have to get up until 5:30 am, but the children voted to get up at 5 am so to have more time in study. Cam On Chua! We are teaching Han to lead the daily Bible study (she truly has a hunger to learn God's Word) when we leave and Lan (the oldest girl at 15) oversees the other children in learning their weekly Bible memory verses. Lan is one of our strongest youth leaders, while all the other children serve in some capacity each Saturday at Children's Church. Plus, they each attend Wednesday evening Bible study, Thursday Prayer Night, and Friday small Group Bible study. It's not surprising that these children stand out in their walk with the Lord from the other children at Children's Church with God's Word a daily part of their life. We wish each of you could be here to see what an impact your prayers and support of God's work is having in these children's lives. Each time God brings a new child into the orphanage/love house there is a short time of adjustment for everyone. However, it's been truly amazing to see how all the children have so quickly bonded together as a family. They all get along really well and are quick to help each other with chores. Please pray these children will always remain strong in the Lord and be part of His next generation to boldly tell others about Jesus.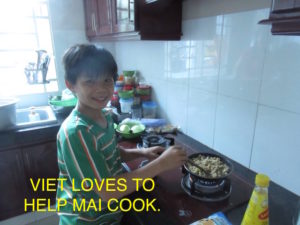 ALL FOR THE GLORY OF GOD
We want to highlight one of the children living in the orphanage/love house each month. We are starting with Viet (pictured above) because God used him many years ago to plant the vision in our heart to someday build an orphanage/love house for kids like Viet. What a loving God to bring Viet as one of the first children to live there. Viet comes from a broken home where his mother left an abusive, alcoholic husband. Viet's father, being a fisherman, was out to sea most of the time. Viet was left with his grandfather, who offered little supervision. Viet was left to wander the streets at the age of 8 and quickly developed a street smart attitude along with the cursing, anger, and tough guy mentality. Viet, who started attending Children's Church when he was 3 years old, would come to church periodically (usually when the church went looking for him). In God's sovereignty, He opened the door for Viet to come live here about a year ago at the age of 11. Today, Viet is well mannered, polite, has a keen sense of humor, and a joy to be around. He is doing very well in school and likes to help Tam do repairs around the church. In a recent Bible Drill at Children's Church, Viet scored the most correct answers for his team. People can't believe Viet has changed so much so quickly. We give God all the glory as it has been His love, His mercy, and His grace at work in Viet's life. Thank you for your prayers and support for Viet and the other children.
PRAYER REQUESTS
Please pray God will raise up a person with a heart for evangelism to serve in the Binh Chau Church to help Pastor Nhan.
Please pray God will strengthen our brothers and sisters here to stand firm in their faith amidst all the persecution they constantly receive from their family and neighbors.
Please pray for Mr. Hai Soi, a member of the Binh Chau Church, who is gravely ill and not expected to live much longer.
Please pray for Godly wisdom and discernment for the Binh Chau leadership as they evaluate all the current ministries of the church and make changes as led by the Holy Spirit.
PRAISE REPORT
The new classrooms are so close to being completed. Hopefully, we will have our first Sunday School class in them before we leave. Praise God for providing most of the funds to finish these classrooms (picture below).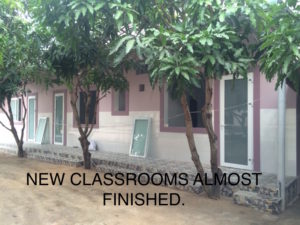 "How can we thank God enough for you in return for all the joy we have in the presence of our God because of you." 1 Thessalonians 3:9