by Dennis & Mai Spencer | June 20th, 2016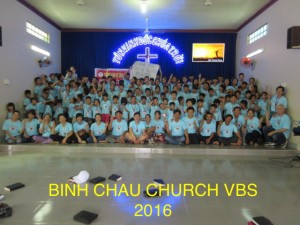 VBS 2016 PRAISE REPORT
We praise God and thank all of you who prayed and supported this year's VBS. What a blessing to be here to see God's love showered on His precious children. Our Lord truly gave us our best VBS yet (we say every year, but it's the truth). We had 125 children attend (picture above) along with almost 30 adult volunteers. God blessed us in every way, even with the weather. The monsoon season started about a week before VBS and we had rain almost every day, but during the 3 days of VBS we had not a drop of rain during the day. God is so good! We thank God we experienced no illnesses and just a couple of minor accidents. There was such a spirit of unity among all the adult volunteers as we had the joy of serving all these children for 3 days and showing/sharing the love of Jesus. A special thanks to all the ladies who labored so tirelessly in the kitchen preparing 4 hot meals a day for everyone. Each day started out with a time of prayer and worship together, followed by group activities and Bible studies. We had 4 different age groups with 2 teachers per group. This was our first year we didn't have to bring teachers from Saigon to help at VBS. We had trained 5 of our youth leaders to lead each class along with help from Pastor Nhan, Kim, and Phuc. They all did an excellent job in teaching God's Word to the children. It was such a joy for us to see how God has worked in these youth leaders over the years they have been attending Children's Church to be able to teach the other children. One of the highlights for the kids are the bikes given away for Scripture memorization. We gave away 20 bikes (5 for each age group) and this is such a joyful time to see God reward His children for their obedience in studying His Word (picture below). We also gave away another 7 bikes the days after VBS to children God put in our heart. One example being that of a Hiep, a 10-year-old boy who has a learning disability that hinders him memorizing Scripture.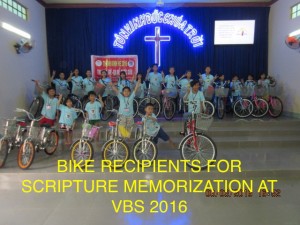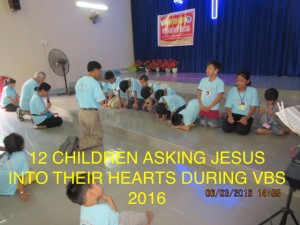 As much we are blessed by the bike give away, we are even more blessed by the immeasurable joy our Lord gives us as He brings these children to faith in Jesus. On the last day of VBS, we had 12 children come forward and ask Jesus into their heart as their Lord and Savior (picture above). Cam On Chua! Plus, 7 mothers of non-believing children prayed to receive Jesus during VBS when they came to see about their children. God gave Mai the privilege of sharing the Gospel with 5 of these ladies (picture below) one afternoon and all 5 ladies prayed to ask Jesus into their heart. God is good! All the time!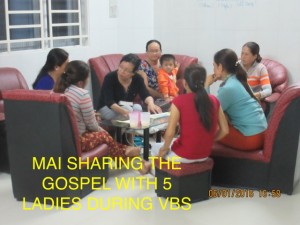 ORPHANAGE/LOVE HOUSE UPDATE
This week our gracious Father brought another child to live in our orphanage/love house. Her name is An and she is 10 years old. An comes from a broken home and being left with non-believing relatives. Her father is partially bedridden from a stroke, but still drinks and is verbally abusive when drunk. We thank God for His protection on An, for in spite of her disruptive family situation, she is such a sweet, sweet girl. She is quiet and very thin, but we know showing her the love of Jesus will open her up and Mai's cooking will certainly put some meat on her bones. Praise God as Mai shared the Gospel with An today and she asked Jesus into her heart as her Lord and Savior. We may have another child (a 13-year-old boy) next week start staying with us too. This would bring our total to 6 children living here in our orphanage/love house. We are so blessed to be acting house parents (grandparents) for the kids at our orphanage/love house while we are here. It's so joyful to see how God is working in their young lives to draw them closer to Him. Not many children get up at 5am for daily prayer and Bible study, but these do. They all get along with each other so well and each has a servant's heart already. Everyone who knows the first 3 kids God brought to us are truly amazed at the changes in them in such a short time. We only need to shower them with the love of Jesus and God will do the rest. What an Awesome God we serve!
PRAYER REQUESTS
Please pray God's protection from persecution will be on the children and adults who accepted Jesus during VBS and God will give them a desire to grow in their walk with Him by attending Children's Church/Sunday Worship.
Please pray God will give us wisdom in making any decisions about a potential house mother (Han) for the orphanage/love house who will start on a trial basis next week.
Please pray for unity, strength, and endurance for the Binh Chau Church leadership.
SPONSORS NEEDED
We are in need of sponsors for the last 3 children God has brought to live in our orphanage/love house. One child is partially funded and the other 2 have no current funding. We are in need of a total of $375 a month ($2,250 for the remainder of this year) to have these 3 children fully funded. We stepped out in faith in taking these 3 children in without funding trusting God to raise up sponsors. We will be sending out more info on the children next week. Please pray God will provide this funding, and if God touches your heart to help, please let us know. Any amount would be much appreciated by us and by these precious children.