by Dennis & Mai Spencer | March 16th, 2015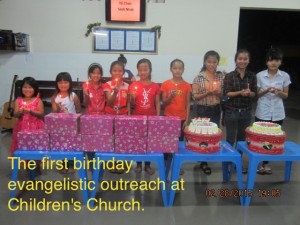 EVANGELISTIC OUTREACH
In thinking of ways we can draw more children from Binh Chau to Children's Church on Saturday, we held our first "Birthday Evangelistic Outreach" on February 28 at Children's Church. We celebrated the birthdays of 9 of our children (picture above) and we asked each child to invite some of their non-Christian friends to church that day to help them celebrate their birthday. Because of short notice in getting this word out only 4 of the children ended up inviting a friend. Praise God as 2 of the 4 children invited prayed to ask Jesus into their heart as their Lord and Savior (picture below). Han is the girl in the white blouse while Thuy is the girl in the dark jacket with white stripes. Han and Thuy are both 15 years old. The Binh Chau leadership was very excited to see God working in the heart of these 2 girls and the future possibilities of God using this program to bring more children to faith in Jesus. All the children really loved the birthday celebrations, especially the cakes. The birthday kids also each received a gift (provided by their sponsor here in the US), but Han and Thuy received the most precious gift!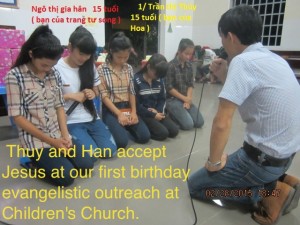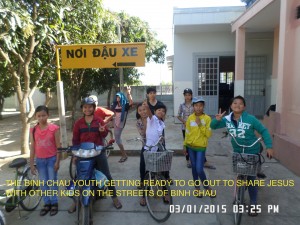 YOUTHFUL & FAITHFUL SERVANTS
From the very beginnings of the church in Binh Chau, God put it in our hearts to focus much of our efforts towards the children. We thank God that people in Binh Chau now refer to our church as "the Children's Church". God has given us favor with Caesar and the neighbors surrounding the church as they see the love and attention that is given to all the children we feed and minister to. We thank God for all the children that have professed Jesus as their Lord and Savior through the Binh Chau Church, the house church in Suoi Bang, and the outreach into Tan Thang and other hamlets in the area. We especially thank God for the group of 10-14 of our youth who serve Jesus so faithfully each and every Sunday. Most kids in Binh Chau go to school 6 days a week with Sunday their only "day off" to play/relax. However, this group chooses to spend most of the day serving their Lord. They attend Sunday Worship, stay after and prepare their own fellowship meal, have a Bible study, take about an hour nap, and then practice their presentations on how to share the Gospel. Then, they get on their bikes (picture above), ride around the neighborhood looking for children playing along the roads, and as the Holy Spirit leads them, stopping to share Jesus. What an inspiration and encouragement they are to us. They are one example of how God is using your prayers and financial support to make a difference in so many lives all for His glory.
2015 VACATION BIBLE SCHOOL
It seems like yesterday we were in the middle of the 2014 VBS, and now, we find ourselves only 3 months away from our 2015 VBS. Our 8th Annual VBS will be held on June 9-10-11 of this year. We are in the initial planning stages with the Binh Chau Church leadership. The last 3 years we have had attendance of around 125-130 kids each year, which is about the maximum we can accommodate since they spend 3 complete days/nights at the church. Please join us in prayer asking God to bless us again this year with 130 kids. We will be seeking sponsors for the kids starting next month and contacting those of you who sponsored kids last year to see if you would like to sponsor your child/children again this year. The cost will remain at $50 for each child. VBS has been a very effective tool in bringing non-Christians kids to the church to experience the love of Jesus.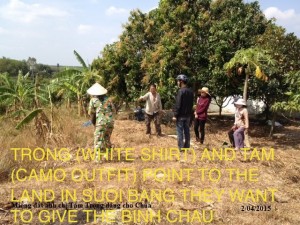 MORE SUOI BANG BLESSINGS
We are still being blessed by the new families from Suoi Bang God drew to last year's Christmas Evangelistic Outreach at the Binh Chau Church. Trong and Tam (husband and wife pictured above) who recently gave their hearts to the Lord donated a small piece of their land (15 feet wide by 150 feet deep) to the Binh Chau Church. Please pray God will give us wisdom and discernment on how the church might use this land in order to expand God's kingdom in Suoi Bang.

PRAYER REQUESTS
Please pray for several of the Binh Chau youth who have been under the attack of the enemy recently. Pray for Nghia, Khanh, Quang, Long, Ky, Thuong, and Tien.
Please pray God will use the monthly birthday celebrations to bring more kids to the church to experience the love of Jesus and God will give them understanding and belief in His Son.
Please pray God will fill the Binh Chau Church for the Easter Sunday Service and evangelistic fellowship meal afterwards.
Please pray for the Binh Chau Church leadership as they select the youth leaders to serve in the Youth Ministry for this coming year.
God has brought us together with the same Vietnamese couple (Hung and Mat) in Vietnam on 3 different occasions over the last 2 summers. They have agreed to come and serve with us in Binh Chau for 3 months this summer. Please pray God will give us wisdom and discernment, through the leading of the Holy Spirit, to see clearly if His plans are for them to serve together with us, specifically in Suoi Bang as local church planters.