by Dennis & Mai Spencer | October 17th, 2011
THE HARVEST IS PLENTIFUL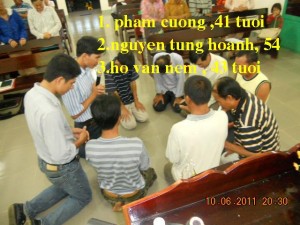 The Binh Chau church is now experiencing the fruits of obedience from the summer VBS, the EE clinic, and the children's school sponsorship program. God is opening many doors and hearts for people, young and old, to hear about the love of Jesus. Many are coming to Christ (picture above shows a group of men recently accepting Jesus at the church) and getting connected to different ministries in the church. Of the 20 people who prayed to receive Jesus last month, 15 are now attending church. The more mature church members are ministering to the new believers.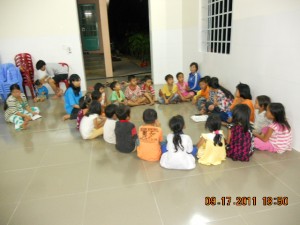 The smaller children's group has grown so much (one pictured above) that it had to be split into 2 smaller groups. Weekly Bible Discipleship classes have increased from 2 up to 6, with classes held both day and night. There is a revival going on in Binh Chau!
"So the churches were strengthened in the faith and grew daily in numbers." Acts 16:5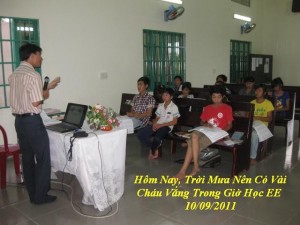 EVANGELISM EXPLOSION
Since the EE clinic for adults was held at the Binh Chau church last July, there is truly an explosion of evangelism going on in the hearts of those who attended. 2 (sometimes 1) teams of three go out every Thursday (all day long) to share the Gospel and God has given them many divine appointments. These men and women are "on fire" to share about Jesus.
Last July, 3 of the youth attended the EE clinic, and now Elder Nhan has recently started to train some more of the youth (high school) in EE (picture above). They meet for class every Sunday afternoon and then go out on OJT visits afterwards. God has blessed them with many divine appointments also. The middle school kids (already trained in Children's EE by Kim) are always out looking for opportunities to share the Gospel. It's so exciting to see what God is doing in the hearts of these children/adults and then to see them experience the joy of the fruit of their obedience.
We thank God that the training we received in EE at Catalina Foothills Church years ago has now overflowed into the hearts of His people in Binh Chau for His glory.
"And this Gospel of the kingdom will be preached in the whole world as a testimony to all nations, and then the end will come."
Matthew 24:14
MINISTRY UPDATES
In another answer to prayer, God has opened the door for Elder Tu to join the church leadership team. Previously, he served in a house church in Saigon. Elder Tu is now in Binh Chau and will take over the Youth Ministry (the kids have really connected with him and love him) and assist Elder Nhan and Kim in many areas.
Kim has gathered all the information requested by Caesar, but they have not come by the church to pick up yet. However, Binh (head of religious matters in Binh Chau) has recently been transferred. His replacement, Mr. Sang, has visited Kim at the church and asked her many, many questions about the church.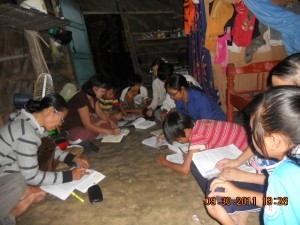 Small group Bible studies are growing (one picture above); They will be studying the Gospel of John shortly. Elder Nhan is teaching the book of Matthew now to the Wednesday night large group Bible study.
God has put it in Mai's heart to return to Binh Chau to work with the church. She will leave on Oct 27 and return home on Dec 19. She will work with the church leadership in reassigning duties with the addition of Elder Tu, help implement the Gospel of John Bible study, and assist in any other work God has prepared for her. Mai will also meet with Pastor Dat (MTW connection) in Saigon during this trip.
PRAYER REQUESTS
*Please pray that God will give the church favor with Mr. Sang and God will humble his and other Caesar official's hearts and they will come to fear the Lord.
*Please pray that God would provide the funds to purchase 100 Bibles, 500 EE tracts, and 500 Gospel of John tracts to be given to the new believers He is preparing to enter His Kingdom.
*Please pray that God will raise up an evangelist to plant a house church in the village of Tan Thang.
*Please pray that God will give Mai wisdom and discernment to be in His perfect will as she returns to work with the church. Please pray for traveling mercies.
*The growing church has a need for 20 pews for the sanctuary. Please pray God will provide the funds before the Christmas Outreach.
PRAISE REPORT
We recently had the opportunity to go to Floyd, Iowa to visit Pastor Paul and Dixie (who wrote Mai's book) Phillips and the congregation of the Gospel Lighthouse Church. We were so blessed as Mai spoke at the Lady's Tea, we spoke to the kids at their Christian school, and shared with members of their congregation the work God is doing in Binh Chau. The Gospel Lighthouse Church has faithfully prayed for and financially supported our ministry these last 3 years and they are now praying about forming a Jesus in Vietnam Focus Team.