by Dennis & Mai Spencer | August 20th, 2012
JESUS IN VIETNAM MINISTRIES
INVESTING IN OUR YOUTH
Several of our youth attended a Youth Camp (picture above) in Ho Coc (about 15 miles from Binh Chau) last month, along with Elder Nhan and Elder Tu. They were invited by Pastor Tung, who has a church in Ba To. 500 youths from different churches attended. They experienced 3 days of fellowship, worship, Bible studies, and games together at a resort on the beach. They came back "on fire for Christ" being energized, encouraged, and strengthened to see how God is working through the youth of the church to spread the Gospel. Shortly after this, Elder Tu, Hieu, and Ky attended a 3 day Bible study class in Saigon. Then 10 of our youth will attend another Youth Camp in Saigon for 2 days on August 24-25. We will rent a van for them to go and they will stay at the host church in Saigon. Elder Tu told us the youth are excited to be able to attend these camps and come back to Binh Chau even more willing to serve in the church. God is using your/our prayers and financial support to train these young men and women to be the generation to spread the Gospel throughout Vietnam.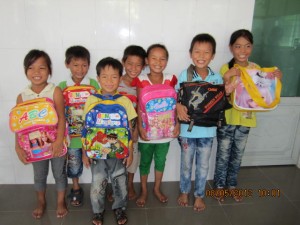 SCHOOL SPONSORSHIPS
Kim, Mai's sister, has been very busy this last month getting 60 kids registered for school. She has stood in line countless hours at many different schools to make sure these kids are ready for their first day of school. Plus, she has purchased backpacks, school supplies, and uniforms for each child. The picture above shows some of the Tan Thang kids with their new backpacks. Just look at the smiles on their faces as they are so excited at the opportunity to go to school We only have 4 or 5 kids left that still need sponsors. We thank God for each of you who sponsored a child/children to attend school. We pray through educating these precious kids they will be able to understand God's Word more and escape the bondage of poverty their families are now in.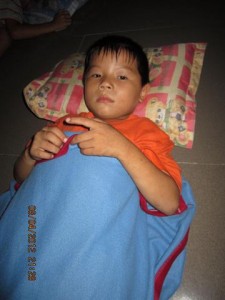 ORPHANAGE UPDATE
Last month we shared with you the vision God has put in our heart to build an orphanage on the church property in Binh Chau to reach out to the many kids, like Viet (pictured above sleeping at the church), whose parents are unable or unwilling to care for. Viet is currently staying with his grandfather, but roams the streets most of the day. Viet is only one of many children in need. Thao and Hang, the Tan Thang kid's parents, have 6 children, but take care of their 4 grandchildren whose father was killed in an accident at sea and their mother works in the fields, returning only for brief stints.  Thao and Hang have big hearts, but it is extremely difficult for them to take care of 10 children. Thao works at sea and Hang works on a farm leaving the kids by themselves much of the time. They have stated before that if the Binh Chau church had a place to take in their grandchildren, they would gladly give them over to the church as they can see so much improvement in their kids since they have attended Children's Church.
We praise God as He has touched the heart of someone to pledge a very generous donation to start the Binh Chau Orphanage Building Fund.
We pray that this will be the first of many that will enable us to build this orphanage and reach the "Viets" of Binh Chau all for God's glory.
PRAYER REQUESTS
Please pray that God will open the door for an orphanage to be built on the church property to meet the physical and spiritual needs of so many hurting children.
Please pray that God will provide the funds to construct another building to be used for classrooms now and dorms for the orphanage in the future.
Please pray that God's protection will be on Elder Nhan and the church as they seek to share the Gospel and for wisdom and discernment in dealing with Caesar.
Please pray that God will raise up more people willing to serve in the Binh Chau church.
Please pray that God will open the door for house churches to be planted in S.B. and T.T. in His perfect timing.
WOMEN IN THE CHURCH TRAINING
A Women's Ministry from Saigon will hold a conference for the women in the Binh Chau church on August 18-22 teaching on the responsibilities of women as wives, mothers, and in the church. Some women from Pastor Tung's church in Ba To also have been invited.
Please pray this will be a time of sweet fellowship/learning for the ladies involved.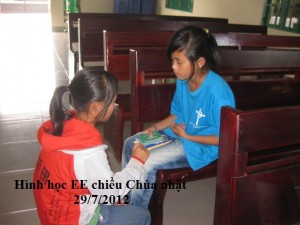 NEED FOR PRAYER
When the youth go out of EE visits on Sunday afternoons, they give out the little 2 question EE tracts (picture above). Someone took some of these tracts to Caesar complaining the church brought them to their house and they didn't want the church bothering them. Caesar contacted Elder Nhan (whose name and telephone number was stamped on the back of the tracts) threatening to deport him from Binh Chau if he is caught breaking their law of not evangelizing outside the walls of the church.  Please keep the EE program in your prayers.