by Dennis & Mai Spencer | March 26th, 2012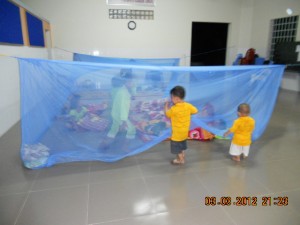 THE BLESSING OF JAMES 1:27
What a blessing the kitchen is to God's work in Binh Chau. Not only does it give the women a clean, sanitized place to prepare food, but it has served well as a multi-purpose room. Children's church classes meet there on Saturday night. Discipleship classes meet there on Sunday mornings and other days. It provides shelter on rainy days. The Tan Thang children sleep there on Saturday night (picture above).  Now God has been tugging at our hearts for another purpose: a daycare/orphanage.
Recently, 2 church families have experienced hardships; one the mother left with another man and one where the mother went to another town for work. Both situations left their children (7 years old and below) completely on their own during the day. They stay home all alone, wander the streets, or hang out at the market looking for food. Please join us in prayer that God will open the door for this kitchen to be used as a safe haven for children like these where they will be fed, cared for, taught the Word of God, and mostly, showered with the love of Jesus. This could also provide work for some of the ladies in the church.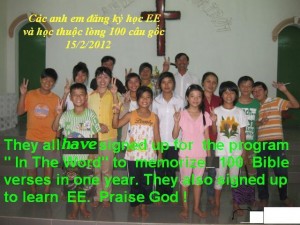 IN THE WORD
"I have hidden your word in my heart that I might not sin against you."  Psalm 119:11
The more we study, meditate, and memorize God's Word, the closer we are drawn to God and the less likely the enemy can deceive us. God has put it in our heart to instill this in the Binh Chau congregation so that they will be able to stand firm when temptation comes. With this in mind, we have increased the number of discipleship classes being held and focused on the importance of Wednesday night Bible study, Friday night small group Bible studies, and individual Bible study. Now God has given us a new program, which we have entitled "In the Word." If a person memorizes 100 scriptures in a year (in groups of 25), they will be rewarded with a small Christmas tree, fully decorated. Then, if they memorize 25 more scriptures the next year (plus retain the original 100), they can trade their tree in for a larger one, and the same for the following year. The trees they turn in will be used to start others on the program. We asked our supporters to send us in their favorite Bible verses and we received 100's of them. We now have 17 people (3 adults and 14 children) signed up (picture above). Please pray that God will give these people endurance to stay the course and be good witnesses to others as they grow in their walk with the Lord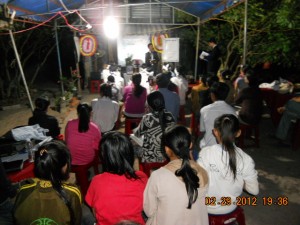 IN THE ARMS OF JESUS
Last month God called Mrs. Sang home to spend eternity with Him. This presented the church with their first opportunity to hold a Christian funeral in Binh Chau. Vietnamese culture calls for the funeral to be held in the family's house. This presented a few obstacles since they live in a house (built by the church a few years ago) about the size of a very small bedroom over here. The church rented a canopy to install in front of the house. Plus, only motorcycles can get back to their house so every thing had to be carried to and from (including the casket).  The love of Christ shown by the church was a little overwhelming to their neighbors as 85 people attended the funeral. Elder Nhan did a great job in presiding over the funeral (picture above) and giving the Gospel message. Mr. Sang and his family were so grateful for so many standing with them in their time of sorrow.
VBS 2012
We are now preparing for our 5th annual VBS to be held on June 5-7. God has blessed us with a total of 10 people going with us this year to help show the love of Jesus to these precious children.  Please join us in prayer for at least 130 children to attend this year and many to give their heart to Jesus.
"Train a child in the way he should go, and when he is old he will not turn from it."  Proverbs 22:9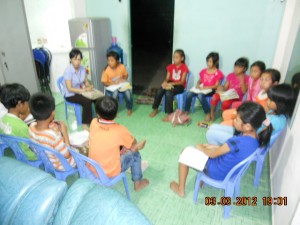 PRAYER REQUESTS
Please pray that God will raise up people to plant a church in Tan Thang.
Please pray for Mai as she leaves 3 weeks beforehand on April 30th to "go prepare a place" for the larger group to follow to help with VBS.
A GROWING CHURCH
We praise God as CFC has given us church plant funds again this year. We used these funds to purchase the rest of the land behind the church (where the kids now play) for future church growth. In fact, we are in need of more classrooms now. The picture above shows the middle class meeting in Hiep's house next to the church on Saturday night, but this house may not always be available to us.  We have petitioned Caesar to build additional classrooms on this property in the future, but they initially have said no. We feel they are fearful we might grow too big. Please pray that they will come to fear the Lord and God will soften their hearts to allow construction of more classrooms in the future.
PRAISE REPORT
We thank God for using Dennis Peceniak, and Dan and Nancy Lupo so powerfully at the CFC Missions Focus Team Night to share the love we all have for God's children in Binh Chau and the awesome things Jesus is doing there.
CAM ON CHUA!! (PRAISE THE LORD!!).