by Dennis & Mai Spencer | February 28th, 2012
JESUS IN VIETNAM MINISTRIES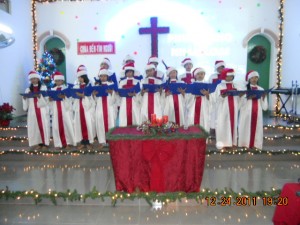 CHRISTMAS OUTREACH 2011
The Christmas Outreach Service was held on Christmas Eve at the Binh Chau Church. Elder Nhan was able to tell the true story of Christmas followed by sharing the Gospel through an EE presentation. Praise God as 3 people came forward to accept Jesus as their Lord and Savior. Then, on follow up visits, 4 more asked Jesus into their hearts. All 4 choirs, adults, high school, middle school (picture above), and the little ones, proudly sang in there newly made choir robes. We watched the service via skype and they all looked and sounded great. After the service was over Gospel tracts were handed out and sandwiches and drinks were served to all. We thank you for your prayers and financial support that allows us all to do what Jesus commanded us to do.
"All authority in heaven and on earth has been given to me. Therefore go and make disciples of all nations, baptizing them in the name of the Father, the Son, and the Holy Spirit, and teaching them to obey everything I have commanded you….."   Matthew 28:18-20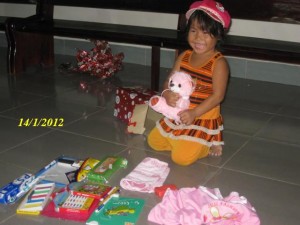 CHRISTMAS GIFTS
We were blessed to be on the list of Samaritan's Purse Operation Christmas Child to receive 60 boxes this year. However, no child who received a box from them last year would be eligible to receive one this year. This meant most of the boxes would go to non- believers this year, which is great. We still wanted to give gifts to the kids in the Binh Chau church who would not receive an Operation Christmas Child box this year. Mai and Kim put some sample gift boxes together based on age/gender. Then, under the direction of Dennis and Fay Peceniak, families here who sponsor kids for school in Binh Chau where asked to purchase a gift box for their child/children. The response was overwhelming and every child received a gift (picture above).  The kids were so grateful and appreciative. They wanted us to let all of their sponsors know how much they love each of you. Thank you for making such a difference in these precious children's lives
WOMEN'S RETREAT
Mai met with Elder Nhan's mother in law, who has a ministry to women. Mai invited her (she accepted) to come to Binh Chau in March to hold a 5 day Women's Bible Study. She will teach classes on how to be a good mother, how to be a good and helpful wife, how to serve in the church, and how to obey God.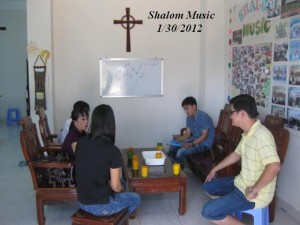 MUSIC SCHOOL 
Khanh and Ngoc (picture above) started music school in Saigon this week. Both are so excited to start this journey. They will be evaluated after one month. If they show potential in this area, they will stay another two months and be evaluated again. Passing this, they would stay for a whole year to learn how to play the keyboard in order to go back to serve in the Binh Chau church. Please pray that God will bless them with a gift for music and provide the funds for them to stay the whole year ($100 per month per student which includes lessons, room and board). We currently have funds for the first 3 months. Please pray for Khanh and Ngoc as this is the first time they have been away from their families and living in a school environment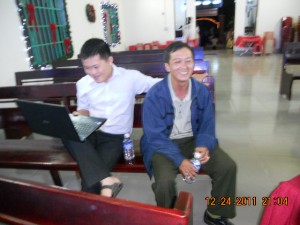 CAESAR VISITS
Two weeks before Christmas 4 Caesar officials visited the church to wish them Merry Christmas and present them with a bouquet of flowers. Minutes after the Christmas Outreach Service had ended, 2 more officials, Mr. Sang and Mr. Tung (picture above), stopped by the church to see how things went. We still happened to be on skype and they wanted to talk to Mai. They were very sweet and polite. We thank all of you who have prayed for these officials as God is softening their hearts towards Christians.
PRAYER REQUESTS
Please pray that God will open the door for a house church to be planted in Tan Thang and He will provide the right person to oversee it.
Please pray that God will provide the funds to build additional classrooms behind the church to accommodate the current growth of the church.
Please pray that God's protection will remain on the Binh Chau church.
Please pray that Caesar will come to fear the Lord and be drawn to Him.
Please pray for the house church that now meets in Hiep's house in Saigon and that God will provide a person to oversee it.
PRAISE REPORT
Pastor Mark has invited Elder Nhan to come to CFC to participate in our Missions Conference on March 4-11th. Elder Nhan will ask permission to come here for a full month. Please pray that God will open this door.
John Tabor from Crisis Pregnancy Centers is putting together a trip for some of his supporters to visit Cambodia, Thailand, and Vietnam later this year. He would like to take this group to visit the Binh Chau church. Please pray that God will open this door also