by Dennis & Mai Spencer | December 15th, 2011
EQUIPPING TOMORROW'S LEADERS
The newly elected youth leaders (picture above) are: 
(1)     Giang Sinh – President (3rd from left)
(2)     Tan Ky – Vice-President (5th from left)
(3)     Huyen- Secretary (2nd from right)
(4)     Hoa – Treasurer (2nd from left)
(5)     Yen – Member (far right)
(6)     Khanh – Visitation leader 4th from left)
(7)     Tien – EE leader (far left)
(8)     Thao – Assistant EE leader (3rd from right)
These youths are so excited about being called to serve our Lord by leading Children's Church, training in youth EE, making home visits, and equipping other youths to follow in their footsteps all for the glory of God. Please pray that God will use them mightily to expand His kingdom by showing the love of Christ in all they do.
ANSWERED PRAYER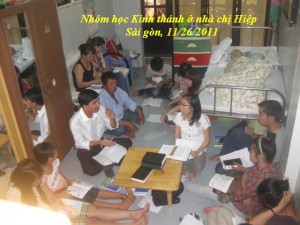 Pastor The (Elder Tu's future father-in-law) came to visit Mai and the Binh Chau church this past Friday. Pastor The has quite a stirring testimony, which he shared with them. Mai said he was very open with them about himself, which is the opposite of most church leaders she has talked with. Pastor The was trained by a CMA pastor and has pastored a house church in Saigon for many years. He has about 30 people who attend his house church, which is quite large for house churches there (8-15 average attendance). Pastor The stated Binh Chau is probably one, if not the biggest, house church he knows of in Vietnam. Praise the Lord! On Saturday morning, the Binh Chau church leadership traveled back to Saigon with Pastor The and took him to the Bible study at Hiep's house (picture above), which has grown to 18-20 people now. Pastor The has agreed to hold Worship and Bible Study classes at Hiep's house at the beginning of next year. This is an answer to prayer that will keep Elder Nhan and Elder Tu in Binh Chau where they have plenty of work to do.
Another answer to prayer has been the relationship God has formed between Elder Nhan and Elder Tu. Mai said they work so well together (like brothers). They are the best of friends united in their work for the Lord.
MINISTRY NOTES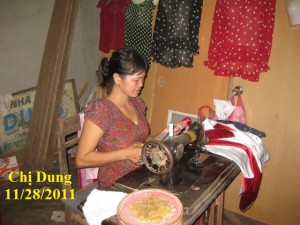 Even the smaller house church choirs in Vietnam have robes it seems like. These robes can be very expensive to buy. However, the church took up an offering ($2-3 per family) and added additional funds to buy fabric. Now Mrs. Dung (picture above) is in the process of sewing the robes for the adult, youth, and children choirs. They are so excited. Mai modeling (picture below).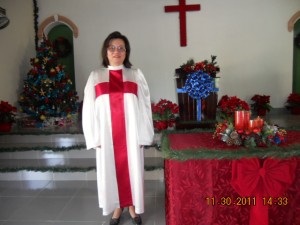 We have 3 youth (Ngoc, Tung, and Khanh) who want to learn how to play the keyboard for the church. Early next year we will send all 3 to Saigon to attend Pastor Thien An's (Pastor Khai's son) Music School for one month. Then Pastor Thien An will let us know who he feels shows the most potential. We will then commit to sending that youth to music school for one year. If 2 show potential, we could send both if God provides the funds.
Mai has attended several Discipleship classes conducted by Elder Nhan, Elder Tu, and Kim. Mai said they all do a good job, but Kim is the best (she sticks to the text and doesn't preach).
They have all made a commitment to disciple the new believers day or night, even if it's one family/person at a time.
Hien got baptized last month and has NO brain damage from the attack. Cam On Chua!!
PRAYER REQUESTS
Please pray for healing for our niece, Hue, who was just diagnosed with breast cancer. Please pray for her husband, Theo, that God will give him the strength to stop drinking.
Please pray for favor with Caesar in response to our not re-petitioning for the sign.
Please pray that God will bring many to the church to hear about the birth of our Savior and the saving grace of the Gospel at the Christmas Outreach on December 24.
PRAISE REPORT
Two Caesar officials came to see Mai at the church. They were very cordial and friendly, but at the same time suspicious, asking many questions. Mai was able to explain to them what the Christian life consisted of: love God and love others. We are not rebellious, but try to help society. Mai ended up fixing lunch for them.
Mai said the attitude towards Christians in Binh Chau has gone from one of persecution back in 2004 to one of praise in 2011.  People recognize how much we love the children by feeding them, sending them to school, and teaching them to help others. We give God all the glory, honor, and praise. "When a man's ways are pleasing to the Lord, He makes even his enemies live in peace with him." Proverbs 16:7