by Dennis & Mai Spencer | November 10th, 2020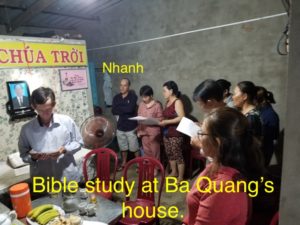 GOD'S PROMISES AT WORK
"And we know that in all things God works for the good of those who love him, who have been called according to His purpose." Romans 8:28
God's ways are not our ways and we don't always understand His timing or purpose when something happens in our lives that bring us sadness and pain. But, as Christians, we know God's promises and it's exciting, encouraging, and comforting when we see them come to life. God took our beloved Mr. Ba Quang home at an unexpected time, but He's already using this to fulfill His promises. The Ba Quang's oldest son Nhanh (who lives in a house next to them) never would have anything to do with the Ba Quang's love for Jesus. In fact, Nhanh was antagonistic towards the Gospel and the church meeting in his parent's house. He made it clear he wasn't interested in knowing about this Jesus. However, God has used the death of his father to soften Nhanh's heart. Three weeks ago we started back holding weekly Bible studies at the Ba Quang's house. Praise God as Nhanh (picture above) and his wife have attended each one! Plus, one of the Ba Quang's daughters, her husband, and family (who are Christians, but had drifted away from church recently) have attended also. Please pray God will comfort the Ba Quang family during their time of grieving, draw them closer to Him, and bring Nhanh and his family to saving faith in Jesus.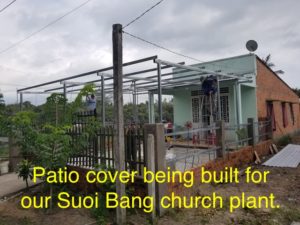 SUOI BANG CHURCH PLANT
Mr. Hien's house in Suoi Bang (picture above), is where we hold worship every Sunday evening. The room dedicated for the church is very small and we are limited in the number of people that can sit inside. Mr. Hien does have a patio where people could sit, but with 40 inches of rainfall per year, this is not an ideal alternative. We were able to assist Mr. Hien last month in constructing a covered patio for his house. This will give us room as the church grows for people to sit outside and provide shelter for their motorcycles from the rain. Plus, we are planning to hold a Christmas Evangelistic Outreach in Suoi Bang this year. This will give us a space to set up additional chairs for the outreach and then tables for the fellowship dinner afterwards. Please pray God will bring many non-believers to our Christmas Outreach to hear the true meaning of Christmas.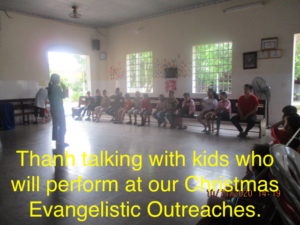 CHRISTMAS OUTREACHES
Preparations are already underway for this year's Christmas Evangelistic Outreaches. A group of our youth from Children's Church (picture above) are excited about the privilege of singing and performing a play during the outreaches. We will be holding 3 Christmas Outreaches this year. Our one for children only will be held on December 22 and another one for families (especially non-Christian) will be held on December 24. In addition, we will be holding one at our Suoi Bang church plant on December 27. Please pray God will draw many non-believers to our Christmas Outreaches to hear the Gospel and bring them to saving faith in Jesus.
MINISTRY NEEDS
2020 has been a year of many challenges on so many levels for all of us. This makes us so much more appreciative of your continued prayers and financial support for God's work in Vietnam. As this year winds down, we are in need of funding for our Christmas Outreaches ($2,000) and a much newer, more reliable van ($23,000 as even used vehicles in Vietnam are very expensive) for the church and orphanage. As you plan your year-end giving, we would ask that you prayerfully consider our/your ministry in helping us meet these needs after you have given to your local church.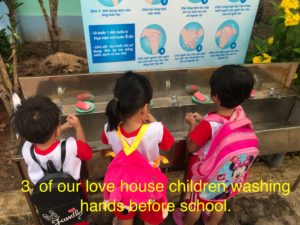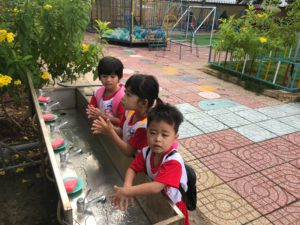 PRAYER REQUESTS
Many of our church members have relatives living in the central highlands of Vietnam which has just experienced their worst floods in decades. Please pray for God's protection for their relatives and all the families affected by these massive floods.
Please pray each member of the Binh Chau Church congregation and Suoi Bang church plant will invite a non-Christian relative or friend to attend one of our Christmas Outreaches and God will give them a heart to attend.
Please pray God will give Pastor Tu favor with the local authorities and they will officially approve him as pastor of the Binh Chau Church.
Please pray for God to open the door for us to add a 2nd story to our orphanage love house. Please pray God will give us favor for a fair bid from a contractor and favor with the local government to build.
"How can we thank God enough for you in return for all the joy we have in the presence of our God because of you." 1 Thessalonians 3:9