by Dennis & Mai Spencer | October 5th, 2020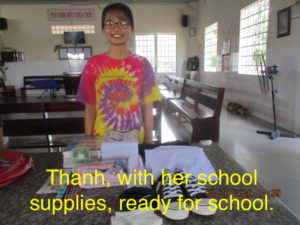 SCHOOL SPONSORSHIP 2020-21
We praise God and thank each of you who sponsored a child through our School Sponsorship Program this year. We have 43 children this year attending school because of your generosity. Your support of $125 pays their registration fees, books and supplies, 2 school uniforms, shoes, and a health insurance plan (while they are on school property). Thanh (picture above) is shown with her school supplies. We first met Thanh when she started attending Children's Church when she was 8 years old. At 10 years old she shared with us (with tears running down her cheeks) that she was fearful her mother might abandon her because she didn't have enough money to support Thanh and her little brother. We prayed with Thanh that day assuring her if that ever happened we would make sure she was taken care of. Unfortunately, 2 years later Thanh's fears came true, but God used it for His glory. In 2015 we were able to take Thanh into our orphanage/love house. Today she is our oldest child in our orphanage/love house and a high school senior this year. Thanh is an excellent student and our youth leader for our Children's Church. She is very musically talented, singing and playing the keyboard and guitar. Thanh also teaches the middle school Bible study at Children's Church and sometimes the high school class. She has such a servant's heart and always demonstrates such a joy for the Lord. We recently received an email from Thanh requesting her desire to attend college in the future to study music and English. Her desire is to serve the Lord by teaching children these 2 subjects while still serving in the church. Please join us in praying God will open the door after Thanh finishes high school for her to attend college and provide her the needed funds to do so.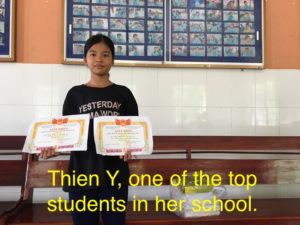 MORE SHINING LIGHTS
God brought Thien Y to live in our orphanage/love house about 2 years ago. She is pictured above with her 2 awards she won in school last year designating her as one of the top students in her school. Thien Y is very smart and already has a heart to serve the Lord. At 11 years old she sings in our Worship choir and is the first to memorize her weekly Bible verses given to our kids living in our orphanage/love house. We had 2 other children, Thien and Quoc Anh (both 10 years old) living in our love house who also received awards for top students in their class. We praise God for the work He is doing in these precious children's lives through your for your prayers and support. To God be the glory!
HOME WITH THE LORD
We have shared many stories over the years of God's work in the lives of Mr. and Mrs. Ba Quang. When God drew Mr. Ba Quang to faith in Jesus 9 years ago, he was separated from his wife. Mai prayed with Mr. Ba Quang for God to restore his marriage. Mr, Ba Quang told Mai, "you can pray anything for me, but don't pray for that as I don't want her back." Halleluiah that God had a different plan. Because of the drastic changes Jesus made in Mr. Ba Quang's life, Mrs. Ba Quang returned home and gave her life to Christ. What an Awesome God we serve! God used the both of them to bring several families to Christ and eventually we were able to plant a house church in their home in Suoi Bang (20 miles from Binh Chau). It is with sadness, but also joy we share that God to Mr. Ba Quang home to heaven last month. In Vietnam the funeral services are held in the family's home over 2 or 3 days. This gave Pastor Tu (picture above) many opportunities to share the Gospel with non-Christian family and friends. Please pray for Mrs. Ba Quang (who has health issues of her own) and her children and grandchildren as they grieve the loss of a husband, father, and grandfather.
ON A PERSONAL NOTE
We thank and so appreciate all the prayers that were lifted up for our grandson, Corey, and our family. Corey went to be with his Lord and Savior on September 30th.
PRAYER REQUESTS
Please pray God will give Pastor Tu favor with the local authorities and they will officially approve him as pastor of the Binh Chau Church.
Preparations have already started for our Christmas Outreaches. Please pray each member of the Binh Chau Church congregation will invite a non-Christian relative or friend to attend to hear the true meaning of Christmas.
We are now meeting at Mr. Hien's house in Suoi Bang each Sunday evening for Worship. Please pray God will give us favor with the authorities as we seek to make this house church an official church plant of the Binh Chau Church.
Please pray for God to open the door for us to add a 2nd story to our orphanage love house. Please pray God will give us favor for a fair bid from a contractor and favor with the local government to build.
"How can we thank God enough for you in return for all the joy we have in the presence of our God because of you."
1 Thessalonians 3:9