by Dennis & Mai Spencer | August 18th, 2020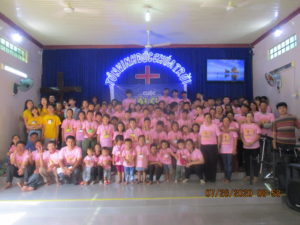 VACATION BIBLE SCHOOL 2020
"Put your hope in God, for I will yet praise Him, my Savior and my God." Psalm 42:5b
With all the uncertainty this year has brought, we didn't know if we would be able to hold our VBS camp this summer or not. Would there still be a lockdown? Would the children still be in school to make up the time lost earlier in the year? Would parents feel safe to send their children? After many discussions with Pastor Tu and Kim, God put it in our hearts to move forward with our plans for VBS trusting in Him to remove any obstacles and give us a window of opportunity to show and share the love of Jesus to His children through our 13th annual VBS. As always, our Heavenly Father took our plans and guided us each step of the way. First, the lockdown was lifted and we had permission to meet together again. Next, the extended school year ended one week before our scheduled VBS. Then, the Scripture Union Bible teachers and Pastor Hai's Worship Team (who initially weren't going to travel this summer) both agreed to come to Binh Chau to serve again at our VBS. Most importantly, God drew 78 children to attend plus over 20 adult church volunteers (picture above). What an Awesome God we serve! He even gave us 4 days of dry weather in the middle of monsoon season (heavy rains the day after VBS ended). Even though almost every child attending this year was a Christian, Pastor Tu shared the Gospel (picture below) using our Eternal Way program. We praise God that 2 children asked Jesus into their heart. In addition, 3 adults during this time accepted Jesus as their Lord and Savior. We praise God for giving us another wonderful VBS where His children were strengthened in their walk with the Lord. We thank each of you who faithfully prayed and sponsored these precious children to attend. God is using each of you to impact His children for Jesus. We have posted around a 100 pictures of VBS on our website (jesusinvietnam.com) if you would like to see more details of our VBS.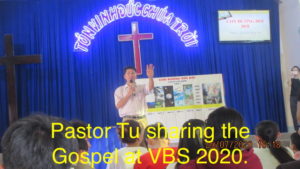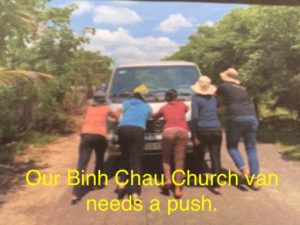 CHURCH VAN BREAKDOWNS
Our 25-year-old church van has been breaking down a lot these last few months, most recently transporting our VBS kitchen volunteers and food to the beach. The ladies had to get out to push (picture above). Please pray God will open the door and provide the funds for a more reliable van.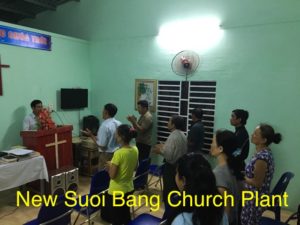 SUOI BANG CHURCH PLANT
Many of you will recall a few years ago God opened the door for us to plant a house church in Suoi Bang, a farming community about 20 miles from Binh Chau. We started out holding a weekly Bible study in Mr. and Mrs. Ba Quang's house in a 6' by 9' room. It wasn't long before this little room was packed with people yearning to know more about Jesus. Many times there were more people sitting outside than could fit inside. Although some attended the Binh Chau Church on Sunday morning, others could not because of work. They asked us if we could hold church in the Ba Quang's house on Sunday evening, which we did for several years. God was bringing many to Jesus and satan was not happy. He brought strife between some of the members and divided the church (which unfortunately happens quite often with house churches in Vietnam) a couple of years ago. One man in particular caused much damage to God's work there, including attacking Mr. Ba Quang personally and stirring up trouble with the local authorities. These circumstances, combined with health issues for the Ba Quang's, caused us to have to suspend Sunday evening services in Suoi Bang. We were able to continue our Bible studies, but not on a weekly basis. We have been praying for God to restore His church in Suoi Bang and He has answered those prayers. Before God brought Pastor Tu back to the Binh Chau Church, he was invited to preach to a small group of families meeting each week in Mr. Hien's house in Suoi Bang. Recently, this group asked to come under the guidance and leadership of the Binh Chau Church. We were excited for this new door God seemed to be opening, but we also wanted to stay true to the Ba Quang's. After much prayer and several meetings, God blessed us with a solution. Pastor Tu will hold a Sunday night Worship Service at Mr. Hien's house (picture above) and then a weekly Bible study every Thursday evening at the Ba Quang's house. The 2 houses are about 6 miles apart. Satan worked hard to destroy our 1 location, but our Heavenly Father now has blessed us with 2 locations where His Word will be taught. God is so good!
DISCIPLING FROM ABROAD
The night before we left Vietnam last year God gave Mai the privilege of leading a young lady (Tho) to the Lord in Saigon. Mai has been discipling her each week via Viber. Please pray God will give Mai the opportunity to share the Gospel with her husband (Thanh) also.
PRAYER REQUESTS
Please pray for God to silence all the negative talk and disruption from Mr. Sau Canh towards our new house church plant in Suoi Bang. We usually don't list names, but we strongly feel the need to ask you to pray specifically for this man. Not only that he would have no influence over our brothers and sisters in Suoi Bang, but God would reveal Himself to Mr. Sau Canh.
Please pray for God's protection for our children and their teachers as they start back to school next week. The flooding in China a few weeks ago brought many Chinese to seek refuge in Vietnam. With that the Covid-19 cases are on the increase. A major concern is some of these people have been diagnosed with it and told to quarantine, but they run and hide from the authorities.
Please pray for God to open the door for us to add a 2nd story to our orphanage/love house so we can have the much needed room to take in more children as God brings them to us. We have sent our blueprints to Kim to seek bids. Please pray God will give us favor for a fair bid from a contractor and favor with the local government to build.
Please pray for God to raise up a spiritual housemother for our orphanage who can teach our children God's Word and guide them daily in their walk with the Lord. Pastor Tu is currently doing this, but his plate is already pretty full. Our current housemother does an excellent job caring for the physical needs of our children, but she is a relatively new believer.
We have asked the congregation to befriend a non-Christian over the next few months and then invite them to our Christmas Outreach. Please pray God will lead them to the right person.
"How can we thank God enough for you in return for all the joy we have in the presence of our God because of you."
1 Thessalonians 3:9