by Dennis & Mai Spencer | July 13th, 2020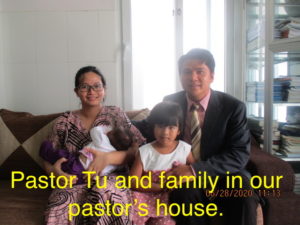 PASTOR TU AND FAMILY IN BINH CHAU
We are so excited to now have Pastor Tu, his wife Thuong, and their 2 daughters living on the church property now (picture above). Our orphanage/love house kids and housemothers appreciate having a male presence there also, especially at night. Plus, it allows him to spend more time helping Thuong take care of their new baby. When we are in Vietnam we conduct morning prayer and Bible studies with the children living in our orphanage/love house before they go to school and 3 evenings a week (when we don't have church programs) we get together to read 3 chapters of God's Word and end the night in prayer. We explained this to Pastor Tu and he eagerly said he would continue with this spiritual guidance for these precious children. We praise God and thank Him for giving Pastor Tu favor with the congregation as our numbers have increased at both Children's Church and Sunday Worship from where they were before the halt of meeting together. Please pray God will continue to add to our numbers and give many more a desire to know Him.
EE GRADUATION
As shared before, one of our priorities was to ask Pastor Tu to retrain members of the congregation on how to share the Gospel. He wanted to start with our orphanage/love house children first. The children enthusiastically embraced the training, practicing every week after Sunday Worship under Pastor Tu's guidance. All 9 of our children who participated learned the Evangelism Explosion (original training format) Gospel presentation. Pastor Tu held an EE graduation ceremony for them (picture above) recently. They are excited to start going out on visitations after our VBS Camp ends. Please pray God will give them many Divine appointments to share the Gospel. Next, Pastor Tu will be working with the adults in retraining them to be able to share Jesus with their non-Christian relatives, friends, etc.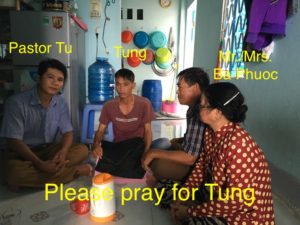 NEEDED PRAYER FOR TUNG
We recently talked to Mr./Mrs. Ba Phuoc and were told their son, Tung (picture above), has been diagnosed with terminable liver cancer and given 3 months to live. God gave Mai the privilege of sharing the Gospel with Tung and his wife 3 years ago. Tung asked Jesus into his heart, but his wife was not ready as she and her side of the family are strong Buddhists. This prevented Tung from coming to church. They have a 3-year-old son. Please pray for Tung and his family.
VBS 2020 CAMP UPDATE
God continues to bless us as we finalize plans for this year's VBS. The Scripture Union teachers we use hadn't plan to travel this summer, but accepted our request for them to help us again this year. Then, Pastor Hai and his youth worship team from Dalat agreed to come lead us in Worship at VBS again this year. Double blessings from our Lord. Mai always says in Vietnamese "Co nao Chua chieu cung duoc" (No matter what, God will provide)! We now have 71 children signed up to attend and 59 sponsored already. Praise the Lord! This leaves us with 12 children still needing to be sponsored. 7 of these children need sponsored for our VBS Camp only ($50 each). Besides VBS, the other 5 children also qualify for our school program ($225 total, which includes VBS, school, Christmas gift, birthday gift). Due to the coronavirus we will not be having our tables at CFC this year. If God puts it in your heart to bless one of these precious children to attend our VBS or school in the fall, please email us and we will send you their information. Our VBS starts in less than 3 weeks.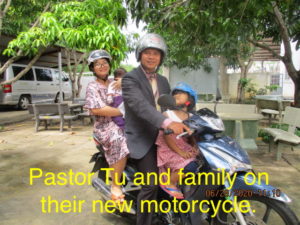 FAMILY TRANSPORTATION
We discovered Pastor Tu's motorcycle was very old, unreliable, and not big enough to accommodate his growing family. God blessed us with our stimulus check funds to present him and his family with a new motorcycle (picture above).
PRAYER REQUESTS
Please pray God will use Pastor Tu mightily to strengthen the congregation and bring new families to saving faith in Jesus.
Please pray God will draw many non-believing children to our VBS and give them understanding that He is the one, true living God and belief in His Son.
We have asked the congregation to befriend a non-Christian over the next few months and then invite them to our Christmas Outreach. Please pray God will lead them to the right person.
Please pray for God to raise up a spiritual housemother for our orphanage who can teach our children God's Word and guide them daily in their walk with the Lord.
Please pray for God to open the door for us to add a 2nd story to our orphanage/
love house so we can have the much needed room to take in more children as God brings them to us.
"How can we thank God enough for you in return for all the joy we have in the presence of our God because of you." 1 Thessalonians 3:9