by Dennis & Mai Spencer | June 16th, 2020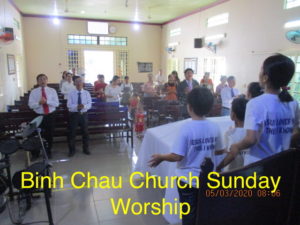 WORSHIPPING TOGETHER AGAIN
After 6 weeks of lockdown the Binh Chau Church was allowed to gather as before on May 3 (picture above). We were also able to resume meeting for Children's Church that weekend (picture below). We had around 35 attend each service. We trust God will increase our numbers as people feel safe to gather together again. We praise God that Pastor Tu was able to stream all the church services online via Face Book during the 6 weeks the church was not allowed to meet together. God certainly brought Pastor Tu back to the Binh Chau Church at the right time for this to be possible. God is so good! Besides his technical knowhow, Pastor Tu has brought a lot of energy, enthusiasm, and passion with him. We have received a lot of positive feedback from the congregation and everyone is excited to have Pastor Tu back. Pastor Tu, his wife Thuong, and his 2 daughters will be moving to Binh Chau to live in the Pastor's house on the church property the first of June. What a blessing it will be to have Pastor Tu full time at the church supported by his family.
ABSENT, BUT STILL CONNECTED
Even though we are unable to return to Vietnam at this time as international flights are still prohibited, we are blessed to work with Pastor Tu each week via Viber or Skype. We have been reviewing with him the different programs of the past and discussing what our path going forward will be. We talk with Pastor Tu 3 or 4 times a week as he has asked us to mentor him as we serve together to strengthen and expand God's work in Binh Chau and the surrounding towns. A top priority is to have Pastor Tu retrain the congregation on how to share the Gospel through EE (Evangelism Explosion) and the Eternal Way presentation God gave Mai years ago. Pastor Tu has already started with the youth living in our orphanage/love house (see picture below). Another priority is for Pastor Tu to reorganize our visiting/witnessing teams, which will allow us to reach more people, both existing members, past members, and non-Christians. Please pray for God to give the teams many Divine Appointments to share Jesus.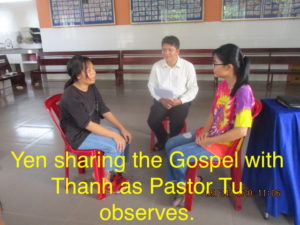 FUN ON THE BEACH
After 3 months at home, the children were anxious to get back to school (well, maybe just to get out and about by some:) and see their friends. Pastor Tu, Kim, and Mr. Ba Phouc took about 30 children down to the beach for a picnic and a day of fun in the water before school started back on May 4th.
VBS 2020 SCHEDULED
We have been delaying setting a date for this summer's VBS until we received information about the children's revised school schedule. It was announced just a few days ago that the children's school year will be extended until July 15 in order to make up the 3 lost months of school due to their lockdown. They will then have 4 weeks off and return for the new school year around the middle of August. In discussions with Pastor Tu, we have set July 21,22,23 for our VBS. We praise God as this will be our 13th year in a row He has blessed us to hold our VBS. We will be working with Pastor Tu and Kim in the next weeks to finalize our VBS plans. We already have around 60 children signed up so far. We will be sending sponsorship information out via email in the next couple of weeks for those of you who would like to give these children an opportunity to attend our VBS and be shown and shared the love of Jesus.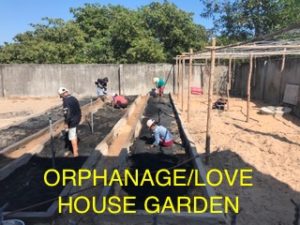 CHILDREN OF PROMISE GARDEN
Like here in the USA, the price of food in Vietnam has risen sharply. We suggested to Kim and the children living in our orphanage to plant a garden. They were excited to do it and went to work immediately (picture above). They are now enjoying the fruits of their labor with a harvest of mints, greens, and different types of squashes and vegetables. We praise God for His provision!
PRAYER REQUESTS
Please pray God will use Pastor Tu mightily to strengthen the congregation and bring new families to saving faith in Jesus.
Please pray God will give the congregation (young and older) the desire, strength, and boldness to share Jesus with others, even in the face of persecution they may receive.
Please pray God will draw many non-believing children to our VBS and give them understanding that He is the one, true living God and belief in His Son.
Please pray for God to raise up a spiritual housemother for our orphanage who can teach our children God's Word and guide them daily in their walk with the Lord.
Please pray for God to open the door for us to add a 2nd story to our orphanage/
love house so we can have the much needed room to take in more children as God brings them to us.
"How can we thank God enough for you in return for all the joy we have in the presence of our God because of you." 1 Thessalonians 3:9