by Dennis & Mai Spencer | April 30th, 2020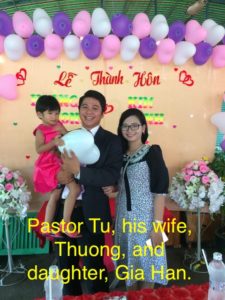 GOD'S SOVEREIGNTY
After 4 months of serving as pastor of the Binh Chau Church, we received a resignation email from Pastor Liem the first week of March. Since his family had not moved to Binh Chau, Pastor Liem was splitting his week between Binh Chau and Saigon. God put it in his heart that his serving in Binh Chau was not to be for the long term.This took us by surprise, but not our Heavenly Father. We would like to share a story that speaks to God's sovereignty and His hand upon His church in Binh Chau.
When we were in Vietnam last November we had a long time member, Nhan, pass away unexpectantly. Pastor Liem was nervous about performing the funeral as he had never done one before and didn't know Nhan or his family. As we gathered at Nhan's house for the funeral, we were reconnected with Tu, who had served as the Youth Pastor in the Binh Chau Church for 3 years (2011-2013). He knew the Nhan family very well and had come to comfort Nhan's wife and children. Even though we hadn't seen Tu in 6 years, as we talked we quickly were reminded why we and the Binh Chau congregation (young and old) loved him so much. Tu is a very humble young man with an uplifting spirit that attracts people to him. As we talked and Tu became aware of the situation, he offered to help with the funeral if needed. Pastor Liem was very grateful and Tu gave a wonderful message of love, grace, and hope. We even had some members of the congregation ask us if we could bring Tu back. We (Mai and Dennis) began to pray and wait patiently upon the Lord to clarify and confirm to us if it was His will to bring Tu back.
After Pastor Liem's resignation email, God put it in our heart to call Tu and discuss with him the reason we parted ways back in 2013 (different view on repentance). Tu stated he was young back then and fell into a group who, as he grew in his study of the Bible, was not teaching biblically on repentance. He said he repented long ago and apologized for not realizing back then we were teaching biblically. After hearing this, we shared with Tu the current situation in the Binh Chau Church and our need for a pastor. When we asked Tu if he might consider serving with us again on a short or long term basis, he became very emotional. He shared with us since he studied God's Word and was ordained as a pastor a few years ago, he had turned down opportunities to pastor churches because he always had a heart for Binh Chau. Tu said he has spent much time in prayer asking God to open the door for him to return to Binh Chau. At this point we realized why God had reunited us back in November as He was preparing us for what lie ahead. What an Amazing God we serve!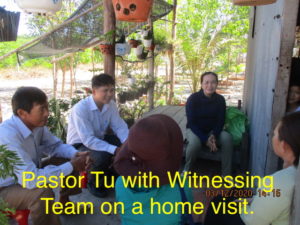 Pastor Tu preached his first sermon at the Binh Chau Church on March 15. Since he last served with us Pastor Tu married and they have a 4 year old daughter (picture above left). Plus, they just had another daughter (Gia Quyen) the end of March. Currently, Pastor Tu and his family are living in Ba Ria (about 45 minutes away) with his parents until June 1 so they could help with the newborn baby, as is Vietnamese custom. On June 1 Pastor Tu and his family will be moving to the pastor's house next to the Binh Chau Church.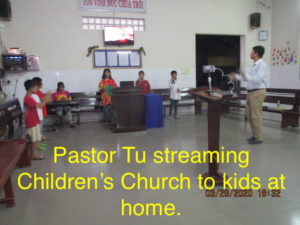 Restrictions due to health concerns went into effect on churches in Vietnam the end of March also. This presented us with another look at God's perfect timing as Pastor Tu is very tech savvy. He quickly established/instructed members how to view live Wednesday Prayer, Friday Bible Study, Saturday Children's Church, and Sunday Worship via FaceBook broadcasts as he still holds these live for the 15 people living on the church property (2 house mothers and 13 children in our orphanage/love house). The children and adults in the Binh Chau Church are excited to have Pastor Tu back and so are we. We are so blessed, so humbled, and so thankful God has allowed us to be a part of His work in Binh Chau as He builds His church one child/family at a time.
PRAYER REQUESTS
Please pray God will use Pastor Tu mightily to strengthen the congregation and bring new families to saving faith in Jesus.
Please pray God's protection on the Binh Chau Church, especially the children, as they face the threat of this virus. As you pray for them, please know they are praying for all of you also. The news they get is the USA has been struck very hard and we get emails asking us if we are all ok over here.
Please pray God will use this health crisis to draw many to Him and give us
all Divine appointments to share the hope we have in Christ to those in need of a loving Savior.
Please pray for God to open the door for us to add a 2nd story to our orphanage/
love house so we can have the much needed room to take in more children as God brings them to us. Please pray for a fair bid/cost from our contractor and favor with the local authorities.
"How can we thank God enough for you in return for all the joy we have in the presence of our God because of you." 1 Thessalonians 3:9