by Dennis & Mai Spencer | March 15th, 2020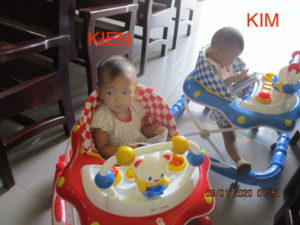 BABIES WITH BIBLES
"These commandments that I give you today are to be upon your hearts. Impress them on your children. Talk about them when you sit at home and when you walk along the road, when you lie down and when you get up." Deuteronomy 6:6-7
The vision God put in our hearts from the very beginning of serving Him in Vietnam was to teach the children His Word, have them memorize His Word, and ask God to give them the desire and strength to apply His Word in their lives. Every child who has ever attended Children's Church or VBS has been given a Bible and encouraged to, not only bring it to church with them, but to read it throughout the week at home. We believe it's never too early to put God's Word in a child's hand. What joy we felt when we received this precious picture above of our 2 newest and youngest additions God has brought to live in our orphanage/love house at church last week. Use your imagination. Doesn't it look like Kien is listening intently to the message being taught and then checking her Bible to see if it lines up with God's Word? And, Kim looks like she's praying over her Bible asking God to reveal His Word to her. They might not be able to read God's Word yet, but we fully believe God is already working in these 2 babies' hearts. What an Awesome God we serve! Even though we are back home in Tucson, we still stay deeply involved with the children living in our orphanage/love house via Skype or Viber each week. We are able to hold Bible studies with them and have them recite their memory Bible verses with us each week. They are awarded points for how well they do, which they can redeem for rewards later. Most importantly, we are blessed to pray with the children and encourage them in their walk with the Lord.Thank you for your faithful prayers and support that enables us to show and share the love of Jesus with these precious children.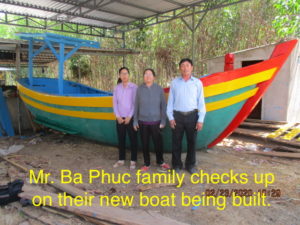 MR. BA PHUOC'S NEW BOAT
The picture above shows Mr. Ba Phouc and his wife and daughter standing in front of their new boat under construction. The outside is almost complete with work being down on the inside now, including putting in a new engine. We were able to talk to Mr. Ba Phuoc recently and he is so excited for God's provision of his new boat. Pictures and a thank you note to follow when everything is completed. God is so good!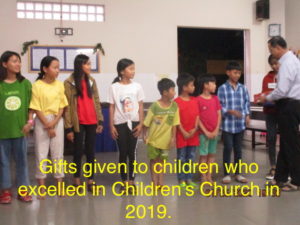 ORPHANAGE/LOVE HOUSE FUNDING
Praise God as He increased our number of children living in our Children of Promise house now to 13 children, ages 1 to 16. This is the time of year we seek funding for all the kids to live here for 2020. We have received some funding, but are still in need of $18,000 to meet the yearly cost. The majority of these funds go for food (around $4 a day per child) and mandatory school tutoring ($15 to $40 a month per child). Please pray for God to provide these needed funds for the children. If God puts it in your heart to bless these sweet children, please send your donation to JIV, 8821 N. Silver Moon Way, Tucson, AZ 85743 or you can donate online at our website: jesusinvietnam.com. We praise God and thank you for enabling us to raise His children in a Christian family environment filled with His love, mercy, and grace.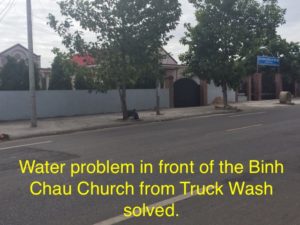 ANOTHER ANSWERED PRAYER
We have shared with you the flooding and stench created in front of the church due to the water from the truck wash close to the church. This happened because the front of the church property was about 2 feet lower than street level. God provided the funds for us to fill in this area with sand and gravel. Then, we poured cement along the entire front of the church (picture above) higher than the street. This allows the water to run past the church and down the street, keeping the area in front of the church clean and looking good.
PRAYER REQUESTS
Please pray God will grant us wisdom and give us discernment as we seek a new pastor in lieu of Pastor Liem's recent resignation (more to come next newsletter).
Please pray God's protection on the Binh Chau Church, especially the children, as they face the threat of this new virus.
We have started a new Scripture memorization program with the children living in our orphanage/love house. Please pray God will instill His Word in these precious children where they will always love Him, seek to serve Him, and tell others about Jesus.
Please pray for God to open the door for us to add a 2nd story to our orphanage/
love house so we can have the much needed room to take in more children as God brings them to us. Please pray for a fair bid/cost from our contractor and favor with the local authorities.
"How can we thank God enough for you in return for all the joy we have in the presence of our God because of you." 1 Thessalonians 3:9