by Dennis & Mai Spencer | January 22nd, 2020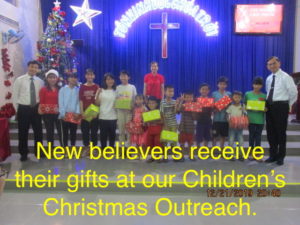 CHRISTMAS OUTREACHES 2019
We praise God and thank each of you who prayed and financially supported our Christmas Evangelistic Outreaches last month. We held our Children's Christmas Outreach on December 21st and our Christmas Family Outreach on December 24th. We were able to share the true meaning of Christmas with 150 children and adults combined. Most of the program was performed by our church youth as they presented a play about the birth of Jesus (picture below), sang in the choirs, and gave out Christmas gifts to all the children that attended. They even decorated the church/church grounds. As always, the most exciting part of our Christmas Outreaches happened when Pastor Liem gave the 2 altar calls and a total of 14 children and adults came forward to ask Jesus into their heart as their Lord and Savior (children pictured above). After receiving the greatest gift of all in Jesus, they each received a Christmas gift from the church too. Please pray God will draw these new believers close to Him and give them the desire to get connected to the church.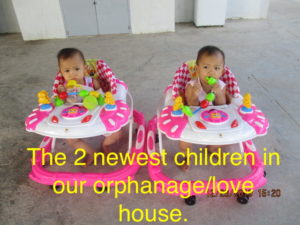 A CHRISTMAS BLESSING
About a week before we left to come back home to Tucson for Christmas we received a phone call from a Vietnamese pastor who has preached in the Binh Chau church a few times and was familiar with our orphanage/love house. Pastor Trang knew a single mother who had one-year-old identical twin girls she was going to give to a Buddhist temple to raise because she could no longer support them. Pastor Trang shared with her about our orphanage/love house and how we, not only provide for their physical needs and education, but we teach them the Word of God as we raise them in a family Christian environment. The mother then agreed to ask us to take her daughters into our orphanage/love house. After all the proper paperwork was completed, Pastor Trang brought the mother and her 2 daughters to Binh Chau the day after Christmas. They are so adorable (picture above). What a Christmas blessing for our orphanage/love house and for us personally. Many of you know we were blessed with twin daughters over 43 years ago. However, Brenda and Michelle were born a month premature and Michelle weighed less than 2 pounds. God took Michelle home to be with Him at the age of 9 months. Now all these years later, God has given us the joy of helping raise these twin girls. What a loving, compassionate, and amazing God we serve! Thank you for your prayers and support that enables us to show and share the love of Jesus with them.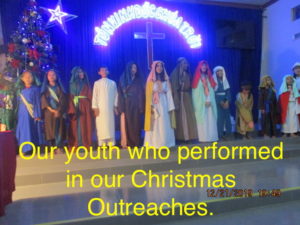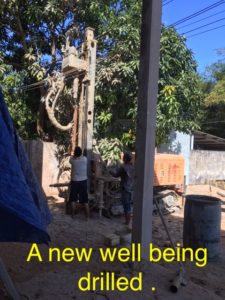 NEW WELL DRILLED
In our November newsletter we shared how God sent a missions team from Puerto Rico to Binh Chau with some men who "happened" to be in construction. After hearing of our water issues, they were able to solve our water supply problem in less than 3 hours. However, we discovered the previous company had installed a water softener system, not a water filtration system. Therefore, we still need to install a water filter system, but they showed us where/how to do it. Plus, since our old well was only drilled down about 20 meters, it had become contaminated over the years. We still needed to drill a deeper well to reach a clean water source. God led us to a company that had the equipment to drill much deeper and through rock if necessary. They ended up drilling down through rock (picture above) to reach a clean water source around 130 meters. We praise God for answering our prayers for a solution to our water problems in a way for only Him to receive the glory. God is so good!
CHILDREN OF PROMISE UPDATE
Praise God as we now have 13 children living in our orphanage/love house and another 5 who are there part-time. They live with their grandmother about 100 yards from the church and spend most of their time with our children at our orphanage/love house, playing and eating their meals together. Thank you for your prayers & support for these precious children.
PRAYER REQUESTS
Please pray God's protection will surround those who asked Jesus into their heart at our Christmas Outreaches as they face persecution from non-believing family and neighbors.
Please pray God will give Pastor Liem favor with the congregation and use him to strengthen their walk with the Lord.
Please pray God will give the congregation the strength and desire to stand firm in their faith as they interact with many non-believing during the Chinese New Year. Please pray God will use them to be good witnesses of His love and mercy through His Son Jesus.
Please pray for God to open the door for us to add a 2nd story to our orphanage/
love house so we can have the much needed room to take in more children as God brings them to us.
Please pray God will raise up a Youth Pastor to help lead/mentor/train our youth leaders.
"How can we thank God enough for you in return for all the joy we have in the presence of our God because of you." 1 Thessalonians 3:9