by Dennis & Mai Spencer | September 11th, 2019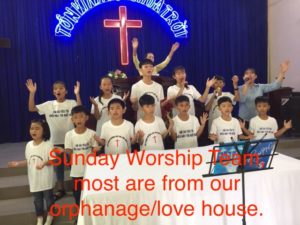 HEARTS TO SERVE
"Make a joyful noise unto the Lord, all ye lands. Serve the Lord with gladness; come before His presence with singing." Psalm 100:1:2
One of the many prayers we have for the children living in our orphanage/love house is for God to instill in their heart a desire to love Him, serve Him, and grow up to tell others about Him. Besides teaching them God's Word on having a servant's heart, we provide opportunities for them to demonstrate what they have been taught. One way is to sing in our Worship Choir at Sunday Worship (picture above). Those who have wonderful singing voices were eager to do so and others were more reluctant. However, after they heard me (Dennis) singing in Vietnamese, they realized the truth in God's Word to "make a joyful noise" Lan (in blue blouse) and Thanh take turns leading our choir each Sunday. One leads while the other plays the keyboard. What a joy it is to see God working in these precious children's heart and answering our prayers.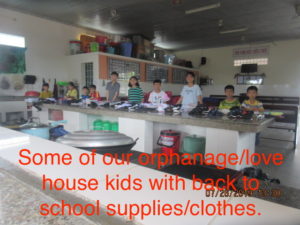 BACK TO SCHOOL PROGRAM
In 2011 we implemented our School Sponsorship Program with a handful of children sponsored. Over the last few years God has raised up many of you to sponsor as many as 72 children each year to attend school here in Binh Chau, Suoi Bang, or Tan Thang. School started back in session around the middle of August and Kim registered 52 children for school this year, including 12 of 13 children living in our orphanage/love house (picture above). School sponsorships include their registration fees, 2 sets of uniforms, school supplies, and health insurance (while on school grounds). We thank each of you sponsors for enabling these children to have an opportunity to receive an education and be taught God's Word (requirement for sponsorship is attendance at our Children's Church).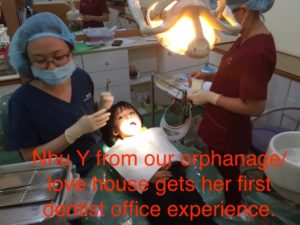 DENTAL VISITS
Good local dental care is lacking in rural areas like Binh Chau so we recently took the 5 girls living in our orphanage/love house to Saigon for dental work at the dentist office we go to. All 5 had their teeth cleaned, 4 had cavities filled, and 2 had root canals (ouch) done. This was Nhu Y's first visit at 4 years old to the dentist (picture above) and she did really well until they put the water suction tube in her mouth, as the noise scared her. The dentist did an excellent job of calming her down and we played funny dog videos on my cellphone to distract her while 2 cavities were filled.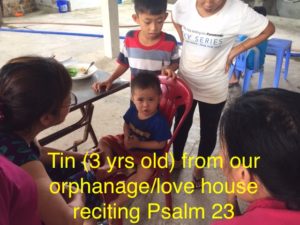 TEACH THE LITTLE ONES
Whether it's at Children's Church, VBS, or our Bible studies with the children in our orphanage/love house, we have always stressed the importance of memorizing God's Word. The children in our orphanage/love house just finished memorizing in order all 66 books of the Bible, with the exception of our 2 youngest, Tin (3 years old) and his sister Nhu Y (4 years). Their mother, who stays at our orphanage/love house also, has been studying and memorizing Psalm 23. We were amazed a few days ago when little Tin (picture above) recited Psalm 23 from memory to us! He had been listening to his mother recite it and wanted to learn too. God is so good!
PRAY FOR A NEW PASTOR
Unfortunately, as we worked with our new pastor the last few weeks some concerns started to surface. They didn't seem to have a heart for the children, which God has put in our heart to focus on from the beginning of our ministry. We prayed asking God to clarify our concerns and He did in a way that made it clear this pastor was not the one to shepherd the Binh Chau Church over the long term. He and his family have returned to Saigon. So we are back to seeking a senior pastor for the church. We know God will provide us with His servant He has selected according to His perfect will and timing. Please pray for God to grant us patience as we wait upon Him to provide us with a new senior pastor.
PRAYER REQUESTS
Please pray God will provide a man of God who has a heart for lost souls, the children, and a deep spiritual understanding of God's Word to be the pastor of the Binh Chau Church.
Please pray God will give us wisdom, discernment, and clarity to recognize who He has selected to be our new pastor.
Please continue to pray for God to provide a solution for our water issues here on the church property. We have been given some good advice in response to our urgent call for prayer a couple of weeks ago. We are now in the process of doing research to determine the right solution. We thank all of you for your prayers and please continue to pray God will give us wisdom in making the right decision in God's will and in His perfect timing
Please pray God will provide a spiritual housemother for our orphanage/love house children to help them grow in their walk with the Lord.
"How can we thank God enough for you in return for all the joy we have in the presence of our God because of you." 1 Thessalonians 3:9