by Dennis & Mai Spencer | March 11th, 2019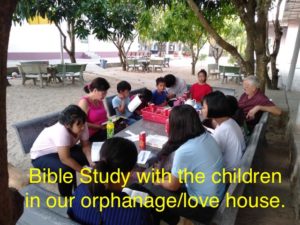 BLESSINGS FROM ABOVE
"Every good and perfect gift is from above, coming down from the Father of the heavenly lights, who does not change like shifting shadows." James 1:17
From the very first time we arrived in Binh Chau in 2004 to see if God might use us to build His church here, God put it in our heart to focus on the children. We observed the many children on the streets and soon learned of the large number coming from broken homes. With their only parent or grandparent at work all day long (many times 7 days a week), these children were on their own with little or no supervision throughout the day. We praise God for the favor He has given us over the years in ministering to some of these precious children through our Children's Church, VBS Camps, School Sponsorship Program, Christmas Evangelistic Outreaches, and now through our Children of Promise orphanage/love house. When we arrived in Binh Chau last summer we had 5 children living in ourorphanage/love house. Shortly after VBS ended God doubled our number of children to 10. What a blessing to be able to share and show the love of Jesus to these precious children each day and give them the opportunity to grow up in a Christian family environment. God has used our daily Bible studies (picture above) and prayer time to instill a love of the Lord and His precious Word in their hearts. From the youngest to the oldest, they are developing a heart to serve the Lord. What joy it brings us to see how God is working in each of their lives as He draws them closer to Him. They are truly "shining lights" for Jesus.
With the increased number of children comes the need for more funding. We have 3 of the 10 children funded for 2019, but still need to raise $12,600 for the remaining 7 children. We ask that you prayerfully consider helping our children living in our orphanage/love house. Any amount would be greatly appreciated. If God puts it in your heart to bless these children, you may donate online through our website, jesusinvietnam.com, or mail a check to Jesus in Vietnam Ministries, 8821 N. Silver Moon Way, Tucson, AZ 85743.
Please join us in praying God will use these children to be a part of a new generation that will grow up to love Him, to serve Him, and tell others about His love, mercy, and grace through His Son Jesus all for His glory.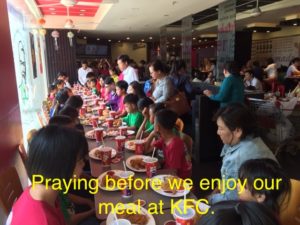 FAITHFUL REWARDS
As a part of Children's Church each week, we have a Bible Drill program. The children are given a chapter to read/study for the week. Then the next week we have a competition of what teams can answer the most questions concerning that Bible chapter. In January we rewarded 40 children who all excelled in this program by taking them to the KFC in Ba Ria about 30 miles from Binh Chau. They all had a great time and ate plenty of delicious chicken (picture above).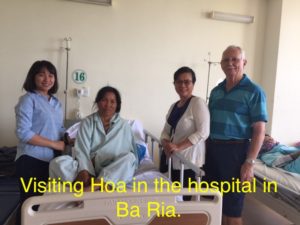 MERCY MINISTRY
God gives us many opportunities to reach out to His children with the love of Jesus. The picture above shows us visiting Lan and her mother (Hoa) in the hospital. Hoa was involved in a motorcycle accident and suffered a broken collarbone. We were able to pray for/with Hoa and also help pay for some of her medical expenses. We praise God and thank you for enabling us to be able to help His children in need. Please pray for a speedy recovery for Hoa.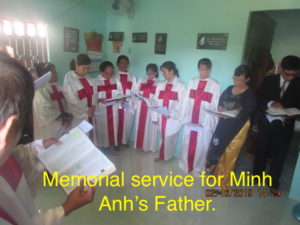 Minh Anh grew up in the Binh Chau church and was one of our youth leaders until moving to Saigon for work about 4 years ago. Her father, a fisherman, was lost at sea recently. The picture above shows the church holding a memorial service for Thu at his home. Please pray for Minh Anh and her family as they grieve the loss of their father.
PRAYER REQUESTS
Please pray God will provide a pastor for the Binh Chau Church and give us wisdom/ discernment/clarity to know the man He has chosen to serve here.
Please pray God will provide a new housemother for our orphanage/love house. Plus, a lady to help with the cooking and cleaning.
Please pray for Lan and Thanh as God seems to be preparing them to be our new youth leaders at Children's Church.
Please pray God will raise up more people to serve on our weekly witnessing and visiting teams.
Mai has arrived back in Vietnam safely. Please pray God will give her strength, energy, and health to keep up with all children in our orphanage/love house and fulfil all her other responsibilities as she serves the Lord in the Binh Chau church. I will be joining her in Vietnam on May 7th after taking care of some personal items such as taxes, etc.
"How can we thank God enough for you in return for all the joy we have in the presence of our God because of you." 1 Thessalonians 3:9