by Dennis & Mai Spencer | October 19th, 2018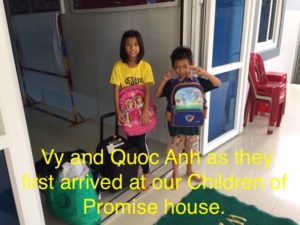 PRAY FOR VY AND QUOC ANH
Some you have already been praying for Vy and Quoc Anh (picture above), but knowing the power of prayer, we wanted to ask all our JIV supporters to join us. Vy (11) and her younger brother Quoc Anh (8) were brought to us last month by a pastor we know from a town about an hour drive from Binh Chau who knew about our orphanage/love house. Vy and Quoc Anh's father died when they were very small and their mother disappeared with no one hearing from her for since. Vy and Quoc Anh were left to be raised by their grandfather. The grandfather was very old and really not able to take care of them. He ended up giving them to a large orphanage for a period of time. Then a pastor and his wife became aware of the situation and took both Vy and Quoc Anh out of the orphanage and into their home, where they have lived for the last year. However, the wife came to us saying she couldn't take care of them anymore because Quoc Anh couldn't get along with her children and Vy had a very stubborn, rebellious spirit. She asked us to please take Vy and Quoc Anh into our orphanage/love house. We agreed to take them for one week while she promised to get us the needed documentation from their grandfather. 2 weeks passed and we absolutely fell in love with these 2 precious children and them with us. The pastor's wife had spoken to us very negatively about a strong rebellious spirit each of them had and not able to get along with other children. However, praise God, as we haven't seen any of that negative behavior from Vy or Quoc Anh. They have been obedient, respectful, follow the rules, and get along well with the other children. In attending our daily prayer time and Bible studies, we can already see God working in their heart to draw them closer to Him.
We also discovered Quoc Anh had never attended school and Vy was briefly home schooled. This creates an additional challenge as it's almost impossible to get a child in school here if they don't start when they are supposed to. When going on the 3rd week we still hadn't received the documents for them to stay with us, we had to take them back to the pastor and his wife. This broke our heart, but we couldn't keep them without these documents. Vy and Quoc Anh didn't want to go back, but we gave them our phone number and promised we would come get them as soon as we could. After another week, still no documents so God put it in our heart to contact their grandfather directly. Since he lives 12-14 hours away from Binh Chau, Kim sent him the documents he needed to fill out, have them notarized, and then travel to Binh Chau to meet with local officials to turn in the documents. We spoke to the grandfather by phone and he agreed to help us by doing so.
We ask for your prayers for protection and safety for both Vy and Quoc Anh while they are away from us, for wisdom/discernment in any future decisions to be made concerning these precious children, favor with the grandfather to provide the needed documentation for them to return to our orphanage/love house, to find a teacher to home school Vy when she returns, and favor with the local/province officials as they see the heart we have to help these sweet, sweet children.
 We truly appreciate your prayers and support for God's precious children here in Vietnam (and us), especially in times like this where only our Heavenly Father can open the many doors needed to be opened so He might receive all praise, honor, and glory.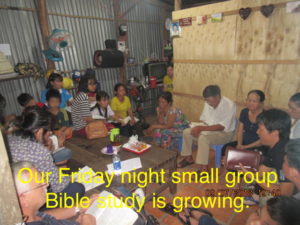 SMALL GROUP BIBLE STUDIES
We meet very Friday evening in a different member's house and sometimes space is a challenge. Picture above shows about 20 of us crowded into Lan/Teo's house with another 6-7 sitting outside. Praise God as our group continues to grow and God gives us a sweet time of studying and discussing His Word and fellowship.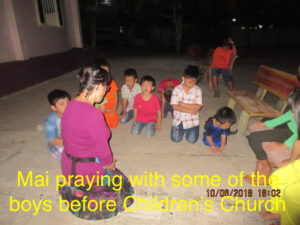 ALWAYS TEACHING
Some of the boys at Children's Church got a little rambunctious leading to some angry words spoken. Mai stepped in and asked them what Jesus would want them to do. They said "say we're sorry". Mai said "yes, but we could also pray, asking for God's help to control our temper/words." They all knelt and Mai led them in prayer (picture above).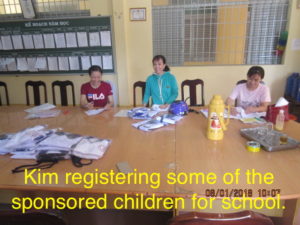 PRAISE REPORT
Kim had a very busy few weeks registering all the children for school (picture above), but she did an amazing job getting them all in school. We want to thank all of you who now (or in the past) sponsored a child to attend school. God is using you to make such a difference in their lives all for His glory. We praise God and we thank you for giving these precious children the opportunity to receive an education.
PRAYER REQUESTS
Please pray God will give us wisdom and discernment as we seek to find a new pastor for the Binh Chau Church.
Please pray God will provide a Youth Pastor/Leader for Children's Church.
"How can we thank God enough for you in return for all the joy we have in the presence of our God because of you." 1 Thessalonians 3:9