by Dennis & Mai Spencer | July 8th, 2018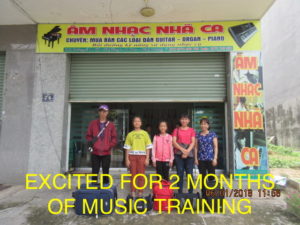 PREPARING OUR YOUTH TO SERVE
We sent Thanh and Loc to Saigon last summer for 2 months to learn to play the keyboard for the church. Loc has since quit school and moved to Saigon for work, leaving Thanh as the only one to play the keyboard at Children's Church, Sunday Worship, and the different Bible studies. Plus, Thanh has a gift for singing and loves to sing with our Youth Choir (which she can't while playing the keyboard as she needs to concentrate on her playing). God has opened the door for us to send 5 of our youth back to the music school in Saigon for the months of June and July (except they will return to Binh Chau to attend VBS the first week of July). They are staying at the music school with other students. While there, they will learn to play the keyboard (basics), receive voice lessons, and learn how to lead Worship. The picture above shows Phuc, Yen, An, and Lan (left to right) with Kim (far right) as she took them to Saigon. Thanh joined them later after she finished her school tests. We thank God for the heart He has given each of these children to serve Him.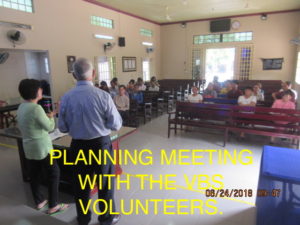 VBS 2018 UPDATE
First, we want to thank everyone for all your prayers for our safe travels back to Vietnam as everything about our trip went perfectly. This included arriving in Saigon on time (at 10:30 pm) accompanied by all our luggage/boxes. God gave us favor at the Saigon Airport as we went smoothly through customs with all our luggage. We arrived in Binh Chau around 2 am. Since then, we have mostly been preparing all the things that go in to having a successful VBS. We met last Sunday with the adult volunteers who will be serving at VBS (picture above). We have about 20 volunteers from the Binh Chau Church, plus another 3 or 4 coming with the children from Tan Hung who are attending VBS. We thank each of you who sponsored a child for VBS as all children have a sponsor. Plus, Praise God as we have 61 children sponsored for school this coming August. Chua La Toc Lanh (God is good) Muoi Luc Muoi Noi (All the time)!
PRAYER NEEDED FOR TAM
Tam, our church maintenance man and church van driver, fell off a ladder while he was trimming some trees in prep for VBS. He dropped the machete type blade he was using and ended up hitting it when he landed. He received nasty cuts above and below his left eye. He needed 10 stitches to close the cuts. We thank God for protecting Tam's eye. Please pray for Tam's quick healing with no infection or complications from his injuries.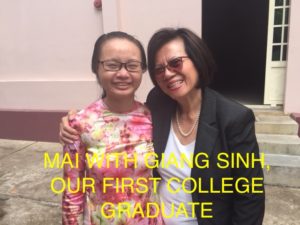 SCHOOL PROGRAM SUCCESS
Over the last 6 years, our school sponsors have given an average of 65-70 children in the Binh Chau Church the opportunity to attend school. Some sponsors have sponsored the same child or children from middle school through high school. Such was the case for Giang Sinh (picture above). Not only did she graduate high school as the first to do so who "grew up in the Binh Chau Church", but she did so well she went on to attend a college in Saigon. In addition, she connected with a church in Saigon and served in their youth leadership while in college. She recently graduated, majoring in language, and now works with a company as a translator of Japanese. Please join us in praising God for using Giang Sinh for an example to the other children at Children's Church (and their parents) the value of an education, and most importantly, living your life for Christ. We are deeply appreciative of all our school program sponsors. God is using you to impact these children for ALL eternity.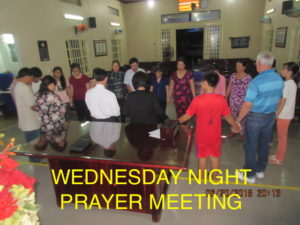 TIME OF FASTING AND PRAYER
We have Prayer Night each Wednesday (picture above) for an hour and a half. Last week we extended that to 24 hours to pray for the needs of the church as the body of Christ and individual prayer requests. We were excited when 24 people attended. What a blessed, sweet time of fellowship and prayer we experienced with our Heavenly Father.
PRAYER REQUESTS
Please pray God will draw all the children signed up for VBS (and some that didn't sign up) to come to our VBS Camp so they might experience the love of Jesus during our VBS.
Please pray God will give each non-believing child attending VBS under-
standing that He is the one true living God and belief in His Son Jesus.
Please pray the precious blood of Jesus will form a hedge of protection around each child and adult volunteer at VBS.
Please pray God will raise up more youth leaders from among the high school students attending Children's Church and give them a heart for sharing the Gospel.
Please pray God will grant us wisdom and guidance about the possibility of taking 2 more children into our orphanage/love house from Tan Hung after VBS is over.
"How can we thank God enough for you in return for all the joy we have in the presence of our God because of you." 1 Thessalonians 3:9