by Dennis & Mai Spencer | September 18th, 2017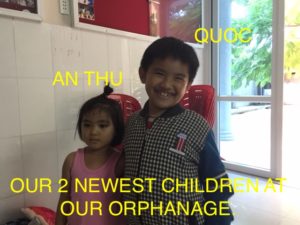 DOUBLE BLESSING
God has given us a double blessing of 2 more children to come live in our orphanage/love house. They are 8 year old Quoc and his 5 year old sister, An Thu (picture above). They are both so adorable. Little An Thu talks a mile a minute and asks question after question. Their father died about 3 years ago and their mother works in Saigon while also taking care of her very ill father in a very small one room place. Not making enough money to support her family, she left her 2 children in the care of her deceased husband's parents on a small farm. Unfortunately, this was not a good situation as the grandparents were gone most of the time and would leave the 2 children locked in the house. We thank God for opening the way for them to come live with us (without a housemother now, we have moved back into our orphanage/love house as the "house grandparents"). More work, yes, but what a special blessing to be able to meet the needs of His precious children and teach them the ways of our Lord. Chua La Toc Lanh (God is good) Muoi Luc Muoi Noi (All the time)!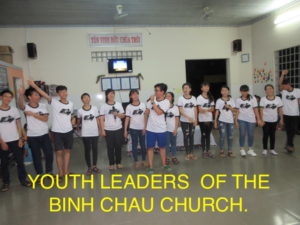 YOUTH LEADERSHIP
The end of July we were able to send 15 of our high school youth from the Binh Chau Church to a 3 day Youth Camp (picture above) at a resort about 30 miles from here. They were able to worship and fellowship with around 500 other Christian youths from all over Vietnam. The theme was the Power of God's Word and serving in your local church. They came back all excited and wanting to get more involved in serving at Children's Church. We recently sent Khanh (one of our stronger youth leaders) to a 3 day conference in Dalat on how to share your faith using EE's Eternity in your Hand. Starting in 2 weeks, Khanh will combine this training with Mai's Eternal Way message (to explain to people in a country where many false idols are worshipped who the one true, living God is) to train the other youth leaders to be able to go out on Sunday afternoons to share the Gospel, not only in Binh Chau, but also in Suoi Bang and Tan Thang (where we have planted 2 house churches).

PASTOR NHAN'S DEPARTURE
With great sadness we share with you, that after 9 years of service, Pastor Nhan is no longer affiliated with the Binh Chau Church. A series of bad personal/moral choices by Nhan, which violated many of the qualifications of elders found in 1 Timothy 3 and Titus, resulted in the Binh Chau Church leadership unanimously terminating his contract last month.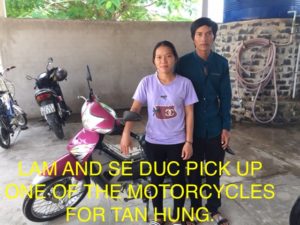 MOTORCYCLES FOR TAN HUNG
Lam and Se Duc (picture above) came to Binh Chau last week to pick up one of the motorcycles to drive back to Tan Hung (a 7 hour drive). Lan and Teo are here now and will drive another motorcycle back next week. These motorcycles will enable more of our new brothers and sisters in Christ to travel to a town 30-35 miles from Tan Hung to attend Sunday Worship. We thank God for providing this need and we thank each of you for praying and providing these funds. God continues to add to our church plant in Tan Hung as another lady asked Jesus into her heart 2 weeks ago.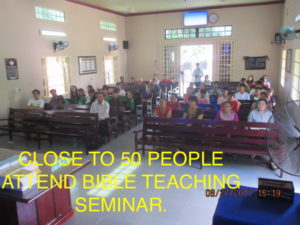 NEW DISCIPLESHIP TRAINING
Last Sunday Pastor Nghia (who's ministry put on the Gospel Outreach concert/play for our VBS this year) held a 3 hour training session at the Binh Chau Church introducing an 18 month discipleship program. Participants will receive one book a month to complete covering 6 different topics. The program is designed to empower believers to grow in their relationship with Christ, understand God's Word more deeply, and seek God's plan for their life. It's also designed as a home study program to help/encourage believers to read/study God's Word daily; to become "every day" Christians, not just "Sunday" Christians. We were excited as almost 50 people (picture above) attended the introduction and training session. Cam On Chua (Thank you Lord)!
PRAYER REQUESTS
Please pray God will send us a new pastor for the Binh Chau Church to lead us into a new season of revival and growth.
Please pray God will provide us a house mother for our orphanage/love house with a heart of love for Him and the children.
Please pray God will provide someone to go to Tan Hung to disciple all the new Christians there in their walk with the Lord.
Please pray God will give us wisdom and discernment so all decisions made concerning His work will bring glory to His name.
Please pray God will give our youth leaders many divine appointments as He uses them as His instruments to bring more kids to saving faith in Jesus.
Please pray God will bring peace and restoration to Pastor Nhan and his family.
"How can we thank God enough for you in return for all the joy we have in the presence of our God because of you." 1 Thessalonians 3:9