by Dennis & Mai Spencer | August 27th, 2017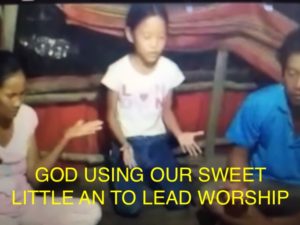 A CHILD SHALL LEAD THEM
Sweet little An (pictured above) first came to our orphanage/love house last year when we were serving as "house grandparents" for 6 months. When An first came she was so shy she wouldn't look up when you talked to her, she talked very little, and seldom smiled. We immediately began showering her with the love of Jesus and An started to open up some. God then gave Mai the opportunity to share the Gospel with her and An asked Jesus into her heart as her Lord and Savior. Cam on Chua (Thank you Lord)! As school started back, An joined the other children living in our orphanage/love house in getting up at 5 am for prayer and Bible study before getting ready for school. We also ended each day in coming together for prayer. An was reluctant to pray out loud at first, but the more love we showed her, the more we could see God working in her heart. Once An broke that first barrier, she really started to blossom. We found out she loves to sing and she started singing with the other children in our youth choir. Her shyness melted away as she started growing in her walk with the Lord through learning God's Word. We rejoiced praying God will use An as she grows older to serve Him and tell others about Jesus. Little did we know God wasn't going to wait that long. We hope you had the opportunity to read our previous email on how God worked in bringing 20 people to Christ in the town of Tan Hung in one glorious week as we visited there and then a group of them came to visit the Binh Chau Church. Before leaving to return back to Tan Hung, they asked us to send someone to teach them God's Word and Lan offered to let us use her house as a church. We all committed to pray asking God to provide this person. Until then, we encouraged them to gather together each week to pray with and for each other, praise God, and read His Word. As they gathered together for the first time in Lan's house, Lan attempted to lead them, but didn't know quite what to do. God provided them direction through sweet little An. An spoke up saying this is how we worship the Lord in Binh Chau: first we pray, then we sing praises to God, then we read His Word, and then we close in prayer. An then prayed and started leading them in worship with her palms uplifted. They asked her why she did that? An replied that's the way we show reverence towards God and submit our heart to Him. Everyone in the group followed An's example. "From the lips of children and infants, Lord, you have called forth your praise." Matthew 21:16b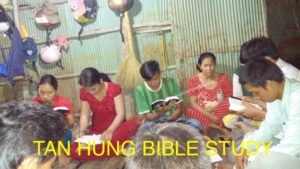 TAN HUNG CHURCH PLANT UPDATE
One evening as our new brothers and sisters in Christ were meeting together at Lan's house (picture above), a young man (Doi, picture below)) came over and quietly sat down. He stayed the whole time, and after hearing God's Word, wanted to accept Jesus as His Lord and Savior too. Since then, he has come every week to worship with them. Plus, another lady started coming to hear about the one true living God. Another family tore down their altars to their false idols in their home. We were also told many of the men either stopped drinking or have drastically cut back. And, they stopped cursing, as they now realize as Christians, they must let God change those things in their lives that do not glorify Him. This has all happened in just the last month. To God be the glory! Until God provides someone to come to Tan Hung to teach them, we encouraged them to go to Sunday Worship at the nearest church, which is about 30-35 miles away. A group of them (12-13) have been going each Sunday by motorcycles, but they don't have enough motorcycles to take everyone. We would like to buy 2 or 3 decent used motorcycles (around $300 each) so everyone who wants to go to church on Sunday will be able to so. If God puts it in your heart to help with this blessing for our brothers and sisters in Christ in Tan Hung, you may donate through our website, jesusinvietnam.com or send a check to our daughter (Cheree) at 8821 N. Silver Moon Way, Tucson, Az 85743.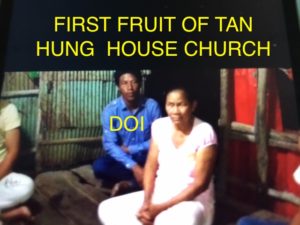 PRAYER REQUESTS
Please pray for God's protection on the church leadership and we might have a spirit of one heart and mind.
Please pray God will give us wisdom, discernment, and guidance as we work through a sensitive church issue,
Please pray God will raise up more people in the church with a heart to serve.
Please pray God will provide a house mother for our orphanage/love house.
Please pray God will provide someone to go to Tan Hung to disciple all the new Christians there in their walk with the Lord.
Please pray for the 5 children (picture below) who live across the street from the church and came to Children's Church last Saturday and then to visit us on Sunday evening (picture top right). Please pray they will give them a desire to come each week so they can know of His love and mercy for them.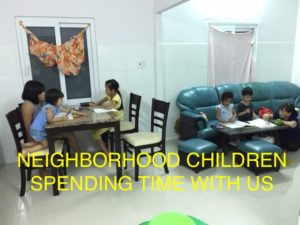 "How can we thank God enough for you in return for all the joy we have in the presence of our God because of you." 1 Thessalonians 3:9