by Dennis & Mai Spencer | April 20th, 2017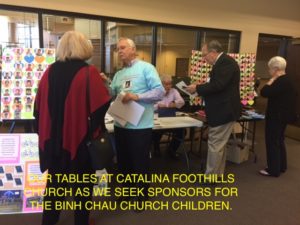 THANKFUL FOR OUR HOME CHURCH
We have been blessed to be a church plant of our home church, Catalina Foothills Church, in Tucson, Arizona. We are so thankful for all the love, encouragement, prayers, and financial support they have showered us with over the last 13 years for God's work in Vietnam. Recently, we held our fundraising at CFC (picture above) for the children in Binh Chau to attend this summer's VBS Camp (our 10th year). Praise God as all 126 of our children were sponsored to attend our VBS Camp. In addition, we received funding for 18 bicycles to be given away during VBS for Scripture memorization and 72 children were sponsored for the next school year starting in August. We thank God for the heart He has given so many at CFC for His precious children in Binh Chau. We thank you for your prayers and support that allows us to go show and share the love of Jesus to these children on your behalf. God is using you to impact these children's lives now and for all eternity. "Train up a child in the way he should go and when he is old, he will not depart from it." Proverbs 22:6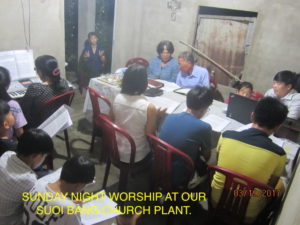 CHURCH PLANT UPDATES
"But the Lord is faithful, and He will strengthen you and protect you from the evil one". 2 Thessalonians 3:3
We praise God for His protection over the last few months for our 2 church plants in Suoi Bang and Tan Thang (both of these towns about 20 miles from Binh Chau in different directions) as they have been under much attack from the enemy. Persecution has come against them in many forms, but God has given us the strength to endure and stay focused on Him by showing the love of Jesus to all our brothers and sisters in Christ, alongside those who have spoken against the church. Pastor Nhinh travels to Suoi Bang each Sunday evening to hold Worship Service (picture above). Mr. and Mrs. Ba Quang (whose house we meet in) and the Binh Chau Church Witnessing Team continue to visit people in Suoi Bang to show and share the love of Jesus. Pastor Nhan continues to go to Tan Thang each Tuesday evening to hold Bible studies in Thao/Hang's house (picture below). Recently, a few of the neighbor children have been attending (and coming to Children's Church on Saturday in Binh Chau).
"So is my word that goes out from my mouth: It will not return to me empty, but will accomplish what I desire and achieve the purpose for which I sent it". Isaiah 55:11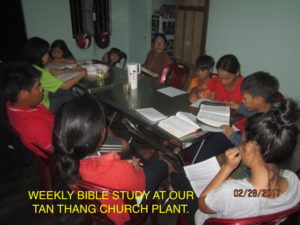 OUR PRECIOUS LITTLE AN
Our featured child from our Children of Promise orphanage/love house this month is sweet little An. God brought An to us this summer when we spent several months as the house grandparents. An is such a small child for her age (she's almost 11 years old). She was very shy when we first met her and would not look you in the eye or talk much. It was also hard to get her to smile. However, as we showered her with the love of Jesus, she quickly began to feel more comfortable and open up to us. God then gave Mai the opportunity to share the Gospel with An and she prayed, asking Jesus into her heart as her Lord and Savior (picture top center). An is very smart and does well in school. She loves to dance with the youth team doing hand interpretations of worship songs at Children's Church. An has been learning how to play the piano and keyboard over the last 4 months too.
Cam On Chua (Thank you Lord) as An smiles very easily now and you can just see the joy of the Lord in her heart. Please pray An will grow up with a heart to serve God and tell others of His love and mercy for them through His Son Jesus.
6 MORE VBS SPONSORS NEEDED
We have had 6 more children sign up to attend VBS this week. If God puts it in your heart to sponsor one of these children ($50), please let us know by email. Donations can be made online at jesusinvietnam.com or checks mailed to us at 8821 N. Silver Moon Way, 85743.
PRAYER REQUESTS
Please pray God will give the Binh Chau Church leadership a spirit of unity, love, and peace, as they have come under the attack of the enemy recently by means of rumors/gossip to try to bring division and dissension among them.
Please pray for Godly wisdom and discernment for us as we mentor the Binh Chau Church leadership through this current attack of Satan.

Please pray God will use this year's VBS to bring many non-believing children to faith in Jesus and give them a desire to attend Children's Church so they might grow in their walk with the Lord.
Please pray for continued good health and strength for us as we prepare to return to Vietnam on June 1st to serve for 3-6 months with the Binh Chau Church.
Please pray God will open the door for us to be able to build the mercy ministry apartments to help needy families in Binh Chau.
"How can we thank God enough for you in return for all the joy we have in the presence of our God because of you."
1 Thessalonians 3:9