by Dennis & Mai Spencer | January 15th, 2017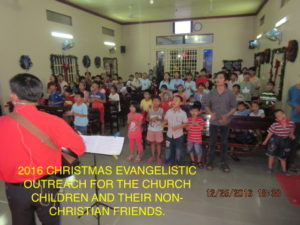 CHRISTMAS OUTREACHES 2016
"Give thanks to the Lord, call on His name; make known among the nations what He has done. Sing to Him, sing praise to Him; tell of all His wonderful acts." Psalm 105:1-2 (NIV)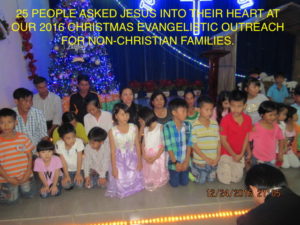 We praise God for blessing us with 2 more wonderful Christmas Evangelistic Outreaches at the Binh Chau Church. We held the first one on Christmas Eve for non-Christian families and the second one on Christmas Day (evening) for our Children's Church kids and their non-Christian friends (picture above). The 250-300 in attendance enjoyed the music from the choirs and a play performed by our Youth Ministry on the birth of Jesus. Then Pastor Nhan shared a message on the true meaning of Christmas. What joy when 25 people came forward (picture below above) at the Christmas Eve Outreach and 9 children came forward (picture below) at the Christmas Day Outreach to ask Jesus into their heart as their Lord and Savior. We thank God for softening their hearts and drawing them all to Him.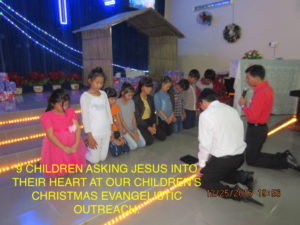 We thank each of you who prayed and gave financially in order for us to hold these Christmas Evangelistic Outreaches each year where so many have heard the Gospel and given their heart to the Lord. This also presents us an opportunity to give out Bibles and Gospel tracts to non-Christians. After the altar call, every child who attended received a Christmas gift and then all joined together to share a fellowship meal (cooked by Lam and other ladies in the church). This was the second year in a row that the outreaches were put on by the Binh Chau Church leadership and our Youth Ministry without any outside help. God rewarded all their hard work and servant's heart with a very fruitful result in expanding God's kingdom all for the glory of God. Several of the children who accepted Jesus came to Children's Church the following Saturday. Plus, 2 of the families (parents and children) attended Sunday Worship the following week. Please pray God will give all those who accepted Jesus at our Christmas Outreaches a desire to get connected with the church so they might grow in their walk with Him.
PRAY FOR HAN (HOUSEMOTHER)
Recently Han's parents & older sister came to visit her and offered to set her up in a business if she would leave the church. Han informed them God has been so good to her and she felt she was where He wanted her to be. Please pray for God's protection on Han.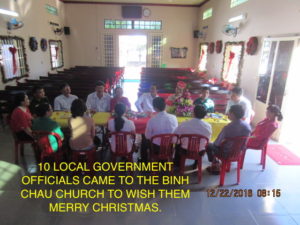 GOD'S FAVOR
A couple of days before Christmas Eve 10 local government officials visited the Binh Chau Church leadership (picture above) to wish them Merry Christmas and present the church with a gift (flower arrangement). Cam On Chua (Thank you Lord)! Several of these same officials returned for our Christmas Evangelistic Outreach. However, they did not sit inside the church as they have done in the past, but instead sat at the tables in front of the church where the fellowship meal would be served. In God's sovereignty, they still heard Pastor Nhan's message on the true meaning of Christmas. While we were in Vietnam last summer, God put it in our heart to install intercoms around the church property so we could have the Bible or Worship music playing throughout the day. Not only were we able to broadcast the entire outreach program to these officials, but also to the surrounding neighbors. Chua La Toc Lanh (God is good) Muoi Luc Muoi Noi (All the time)! We thank God for the favor He has given us with these local officials so His Word may be taught.
HOA BIEN UPDATE
Thank you for praying for Hoa Bien. She is now living at home with her mother (Mrs. Hai Xoi) in Suoi Bang and back in high school. The church is reaching out to them with the love of Christ, including providing food for the family and daily school costs for Hoa Bien through our mercy ministry.
PRAYER REQUESTS
Please pray God will put a hedge of protection around all those who accepted Jesus at our Christmas Outreaches as persecution from family, friends, or neighbors come against them.
Please pray God will grant the Witness and Visiting Teams favor on their home visits as they seek to share the Gospel.
Please pray God will bring unity in spirit and love among the Binh Chau leadership with the addition of 3 new servants to the team (Nhinh, Han, Mai).
Please pray for Godly wisdom for the Binh Chau leadership so all decisions they make in 2017 will glorify Him and further His kingdom.
Please pray for peace for Kim and her son Vu as they have recently come under the attack of the enemy.
Please pray God will open a door for a way Mrs. Hai Xoi can provide for Hoa Bien and herself after her husband went to be with the Lord.
"How can we thank God enough for you in return for all the joy we have in the presence of our God because of you."
                                                                              1 Thessalonians 3:9