by Dennis & Mai Spencer | December 12th, 2016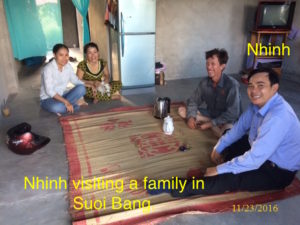 A NEW SERVANT IN BINH CHAU
While in Vietnam this year we went to visit Pastor Binh's church in Long Thang, about 2 hours from Binh Chau. While there we met a young man, Nhan, who plays the keyboard for Pastor Binh's church. When he heard we were looking for someone to serve in the Binh Chau Church and oversee our church plant in Suoi Bang, he told his older brother, Nhinh (picture above), who is a pastor of a house church in a town about 200 miles from Binh Chau. Nhinh contacted us and stated he would love to come to Binh Chau to meet us, and if we would like, share his testimony with the brothers and sisters in the Binh Chau Church. Nhinh told us God had brought many to faith in Jesus through hearing his testimony of how God had worked in his life. We put Nhinh in touch with Pastor Nhan, who then invited Nhinh to speak at the Binh Chau Church that Sunday. After talking with Nhinh and hearing his testimony, we could understand how God had softened so many hearts to put their faith in Him. After we left Vietnam Nhinh came to Binh Chau for a few days to spend with Pastor Nhan and the Binh Chau Church leadership. We reeived very positive reports back on Nhinh's heart to serve. Everyone could see the call on Nhinh's life and the strong desire he had to share Jesus with others. We then talked to Nhinh on Skype several times. After further discussion with Pastor Nhan and the Binh Chau Church leadership, we all agreed to have Pastor Nhan offer him a position serving with the Binh Chau Church. Nhinh will work out of the Binh Chau Church, but his main duties will be to pastor our Suoi Bang house church plant and evangelize the families in that area. He will also work with the children at Children's Church in Binh Chau and assist Pastor Nhan.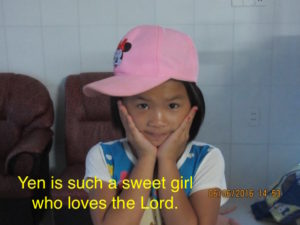 JOYFUL YEN
Yen (picture above) is our youngest (9 years old) child staying in our orphanage/love house. And, she is by far the "ham" of the house. Yen always has a smile on her face and such joy of the Lord in her heart. She walks around the house singing Christian songs, which can't help but lift your spirit if you are having a down day. Yen is a talented artist also. She started drawing us paintings last summer to put on one of our bedroom walls. Soon the other kids in the orphanage/love house followed her lead. By the time we left we had a wall and a half filled with their drawings. We were blessed every time we looked at them. Yen is very smart, does well in school, and loves to be the center of attention. Yen is another shining example of how showing the love of Jesus to these children can make such a difference in their lives. To God be the glory!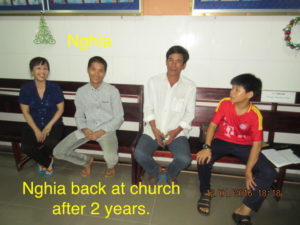 WELCOME HOME NGHIA
Nghia (picture above) attended Children's Church for several years, but fell into the wrong crowd a couple of years ago. He was with a group of boys when one pulled a knife on a man. Because Nghia was with the group, he was put in prison. For 2 years he wasn't allowed visitors and didn't even know how long he would be in prison. About 3 weeks ago they came to his cell and simply told him he was free to go (no food, no money, one set of clothes). Shortly after arriving back in Binh Chau, Nghia came to the church. Even in this time of trial, God was with Nghia protecting him. Just before he was sent to jail, Nghia and his uncle started going out on fishing boats. Later, during a storm the boat sank, killing his uncle and most on board. If not in jail, Nghia surely would have been on that boat.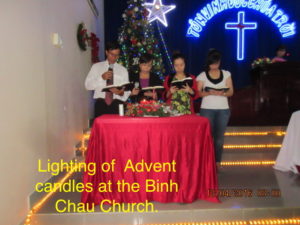 CHRISTMAS JOY
The decorations are up, the choirs are practicing, the invitations to our Christmas Evangelistic Outreaches are ready to be delivered, and there's excitement in the air. What a joyful time of the year when we stop to reflect on the birth of our Savior. The Binh Chau Church really enjoys the lighting of candles during Advent as we celebrate the fulfilled promise of Christ's first coming. Please pray God will fill the church to overflowing during our Christmas Evangelistic Outreaches so many will know the true reason we celebrate Christmas.
PRAYER REQUESTS
Please pray for 2 more children we have been asked to take into our orphanage. Please pray God will work out all the details and provide sponsors for these 2 children.
Please pray many will accept Jesus as their Lord and Savior at our Christmas Evangelistic Outreaches.
Please pray God will use Nhinh to increase our territory and bring many to Christ in Suoi Bang.
Please pray God will bring unity in spirit and love among the Binh Chau leadership with the addition of 3 new servants to the team (Nhinh, Han, Mai).
Please pray God will use Nghia to witness to the other kids at Children's Church in the danger of following the wrong crowd (1 Cor 15:33).
Please pray for Hoa Bien (one of our Children Church kids), who recently tried to commit suicide after her father's death.
"How can we thank God enough for you in return for all the joy we have in the presence of our God because of you." 1 Thessalonians 3:9