by Dennis & Mai Spencer | August 4th, 2016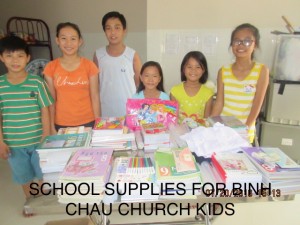 SCHOOL SPONSORSHIPS
Kim has been very busy the last 2 weeks registering all the children for school, which starts back here in less than 2 weeks. We praise God that we will have 68 of our Binh Chau Church children attending school this year sponsored by many of you reading this newsletter. We thank God for the heart He has given you to help these children have the opportunity to get an education. Many of these children would not be able to attend school, or it would create a heavy financial burden for their parents, especially when they might have 2,3, or more children in school. The picture above shows the school books/supplies required (lots of them) Kim purchased for the 6 children living in our orphanage/love house. Each school sponsorship covers these costs, plus 2 school uniforms, health insurance while at school, and "gifts" for their teacher (a very corrupt school system exists here). God has used our School Sponsorship Program not only to give us favor with parents, but also with the local government as they see the love and compassion we have for God's children. To God be the glory!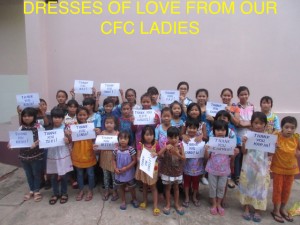 THANK YOU CFC LADIES
We were so blessed this summer to be the recipients of dresses sewed by some of the ladies at our home church, Catalina Foothills Church in Tucson. The dresses were so beautifully made and you could see the labor of love that went into the making of each dress. The girls in the Binh Chau Church were so excited to receive them (picture above). They had a wonderful time trying them on to find one that fit perfectly. Some of our girls were too big for the dresses so they picked out the smaller ones they could wear a blouses with pants or shorts. We thank God and we thank you ladies (Betty, Carmen, Diane, Fay, Karin, Kathy, Kay, Linda, Sandy T., Sandy W., Shirley, and Teri) for including us in your Dress A Girl Around The World participation.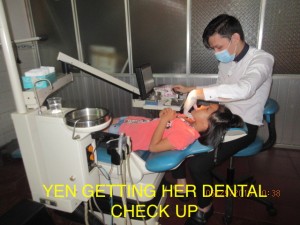 CHILDREN DENTAL VISITS
Good dental hygiene is very much lacking with the average family in rural areas such as Binh Chau. Many of the children have many cavities, even the little ones that still have their "baby" teeth. We recently took a group of children from the Binh Chau Church to the dentist office in Ba To (about 20 miles away) for check-ups, cavities filled, and a couple of teeth pulled. The picture above shows brave little Yen in the dental chair. Amazingly, they were all smiling on the way back to Binh Chau. We thank you for your prayers and financial support that allows us to do these types of mercy ministry on your behalf.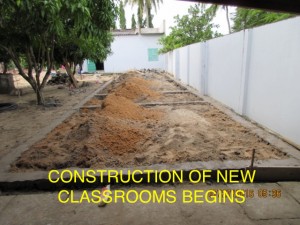 NEW CLASSROOM CONSTRUCTION
Each Saturday night at Children's Church we gather all the children together for about an hour. We worship/praise God with songs, have a time of group and individual prayer, work on Scripture memorization, hear testimonies, and have a devotion on our memory verse for the week. After that time, we break into age group Bible studies of 5 or 6 classes, depending on the number of teachers available. 1 class meets in the church, 1in the kitchen, and 1 in a very tiny room behind the church. The other 2 or 3 classes have to meet outside. Besides the hot and humid weather, the children are distracted by the mosquitoes and bugs the lights attract. A real challenge for the teachers to keep their student's attention. We praise God as He has answered another prayer and provided the funds to build some real classrooms. The construction started this week (picture above). We are using the same contractor that built the church, kitchen, and orphanage/love house for us. He met with Caesar and told them we were building additional rooms for our family and friends to come visit. He said he told Caesar "Of course, they are all Christians". Caesar responded they were ok with it because the contractor and the church had a good reputation with them. Cam On Chua (Thank You Lord)!
"When a man's ways are pleasing to the Lord, He makes even his enemies live at peace with him". Proverbs 16:7
PRAYER REQUESTS
Please pray for God's protection from the enemy's attacks on the church these last few weeks, especially in bringing conflict between some of our brothers and sisters in Christ from our Suoi Bang house church plant.
Please pray for the 4 families in Suoi Bang who have left the church to form "their own church" (which is quite common with house churches here).
Please pray for unity, strength, and endurance for the Binh Chau Church leadership.
Please pray all we do as a church will glorify God and point people to Him.
Please pray Caesar will follow through with their ok for the new construction and it will be completed before we leave in October.
PRAISE REPORT
Thank you for your prayers on the housemother for the orphanage/love house. We have hired Han and she is truly an answer to prayer. The kids love her and she loves them.
"How can we thank God enough for you in return for all the joy we have in the presence of our God because of you." 1 Thessalonians 3:9