by Dennis & Mai Spencer | May 30th, 2016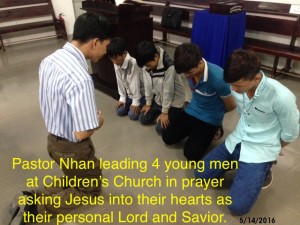 ONE CHILD AT A TIME
From the very beginning of our call to serve our Lord in Binh Chau, Vietnam, God has put it in our hearts to focus on the children. Over the last 12 years we have had the joy of seeing many young boys and girls ask Jesus into their heart as their personal Lord and Savior as God expands His kingdom 1 child at a time. Or, in the case pictured above, 4 young men at one time. Cam On Chua (Thank You Lord)! Since our Christmas Evangelistic Outreaches last year we have had several new high school age kids from Suoi Bang attending Children's Church. These last few weeks, during group Bible study time each week, Pastor Nhan has been sharing with these new kids who God is, the fall of man, and our need for a Savior. He uses Mai;s Eternal Way pamphlet and the EE presentation to share the Gospel. A couple of weeks ago Pastor Nhan gave an altar call and 4 young men stepped forward to ask Jesus into their heart. Please pray for Tuan, Bao, Phuong, and Linh that God will give them a desire to know Him more deeply and to tell others about Him. Please pray for their protection from persecution for becoming Christians.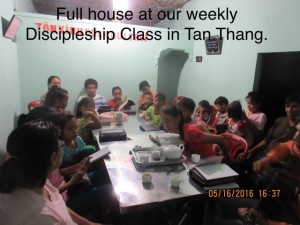 PLEASE PRAY FOR TAN THANG
For several years we held weekly Bible studies at Thao & Hang's house in Tan Thang (about 15 miles from Binh Chau). A few months ago we stopped temporarily due to the lack of someone to go teach the class. However, God recently revealed to us the real reason He stopped us from going there. Hang (the wife) had secretly put up an idol worship area in her bedroom. It was brought to light when a member of the Binh Chau Church went into their bedroom to change clothes for their daughter's wedding. She then relayed what she had seen to us. After confronting Hang (in love) if this was true, she confessed it was, stating it was in fear of persecution from a non-believing son. Hang and Thao took the idols down and repented in front of the church. Last week we resumed our Bible studies in their house with 20 people attending (picture above). Please pray God will give Thao and Hang the strength to stand firm in their faith in lieu of any persecution they might face.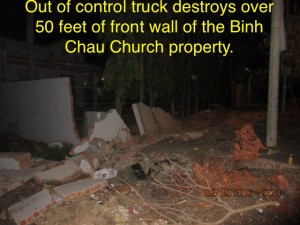 DAMAGED CHURCH WALL
Last week we had a driver of a big truck loaded with rock, and traveling much too fast, lose control and slammed into the front wall surrounding the church property. Over 50 feet of the wall was destroyed (picture above). We thank God it happened on a Thursday when no kids were at the church. We thank God the driver was ok and the owner of the company agreed to pay for all the repairs.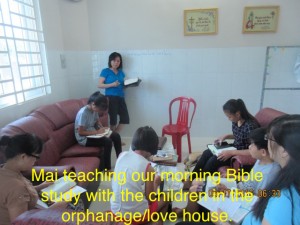 ORPHANAGE/LOVE HOUSE UPDATE
God has brought another child to live at our orphanage/love house. He name is Thanh and she is 13 years old. We will be sending out an email with more info on Thanh. Of the many ways we are able to serve our Lord here, acting as house parents for the orphanage/love house brings us great joy. What a blessing to see how God is working in their lives. We asked them what they wanted to be when they grow up, and the 3 girls said missionaries and the boy a pastor. Each morning the kids are up at 5:30 am so we can have a Bible study (picture above) and a time for prayer before they leave for school. Please pray God will use these children to be part of a new generation to share the Gospel throughout Vietnam.
THE MYSTERIOUS WAYS OF GOD
Mrs. M, whose husband is a government official, recently shared with us how God first started drawing her to Him. Last year she attended a Buddhist conference where a Buddhist monk during his speech stated every one of them was going to hell! He was going to level 10 (top level of hell) because he had done so many good things. The rest of them might be going to level 9,8,7, or even level 1 if you are really bad. He ended his speech by stating, if you want to go to Heaven, you have to become a Christian! Mrs. M then asked her friend, Mrs. Ba Quang, about her being a Christian, which led to Mai sharing the Gospel with her and Mrs. M accepting Jesus.
PRAYER REQUESTS
Please pray God's protection will be on the 31 non-believers signed up for VBS, that they will all attend VBS, and God will give them understanding of the Gospel and belief in His Son.
We have a pastor from Saigon who will be serving at the Binh Chau Church this summer. As we get to know one another, please pray God will give us wisdom and discernment in deciding to extend his time beyond the summer.
Please pray for our house church plant in Suoi Bang as the enemy continues to attack from outside/inside the church. Please pray for unity of love and spirit among the brothers in Suoi Bang.
VBS UPDATE
Preparations for VBS are on schedule, even though we had to move the start up a few days. VBS will now be held on June 1-3rd. We watched the youth leaders practice all day last Sunday and they have a lot of great teaching, skits, and games lined up. They are really excited about having such a large part in teaching at VBS this year. We know the kids will respond well to the youth leaders because they have so much joy and enthusiasm in serving the Lord. We currently have 132 signed up to attend VBS.