by Dennis & Mai Spencer | March 18th, 2016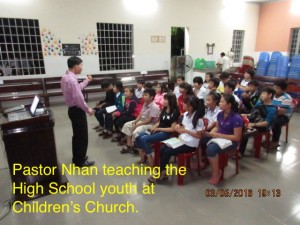 TRAIN UP A CHILD
In the rural areas of Vietnam, job opportunities are limited for most of the youth as they graduate from high school. So they move to Saigon, with a population of over 8 million, to find employment. Many are tempted to quit school before graduating due to pressure to go to work to help their family. This certainly applies to the kids in Binh Chau, but thanks to your prayers and school sponsorship, most of our Binh Chau Church kids do graduate. However, many do move to Saigon afterwards. Our prayer has always been for God to give us these children for a few years to teach them God's Word so if they do move away they will remain faithful in their walk with the Lord. In the last 2 years we have had 9 of these kids (who basically grew up in the church) move away. Praise God as 6 of these kids (Khanh, Giang Sinh, Phuong Tao, Huyen, Tuong, Minh Anh) searched out a church in Saigon (1 in Vung Tau) and are active in their church. Plus, Khanh is going to find a church for 2 others and encourage them to attend. Thank you Jesus for answering our prayers and giving us the joy of seeing You work in these young people's lives.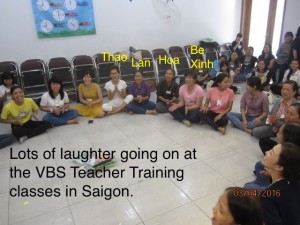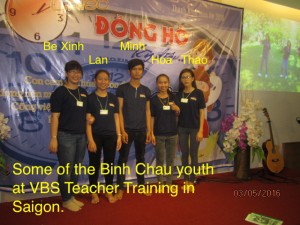 VBS TEACHER TRAINING
Time goes by so fast these days and it's hard to believe we are only about 3 months away from our 9th Annual VBS at the Binh Chau Church. We already have 86 kids signed up! Each year we move to getting more of our older youth in church involved in serving/teaching at VBS. Earlier this month we had the opportunity to send 5 of our youth (Be Xinh, Hoa, Thao, Lan, Minh) to Saigon to attend a 2-day VBS Teacher Training Seminar (pictures above). They were excited to attend (they had to be as they left by bus from Binh Chau at 2 am) and had a great time. There were about 50 people who attended with our 5 being the youngest. It was a fun filled time of fellowship and a great learning experience of how to serve the Lord in VBS by teaching children God's Word through songs, games, and other activities. We thank God for touching the heart of these youth leaders with the desire to serve Him. And, we thank you for your prayers and financial support that gives our youth the opportunity to participate in these events.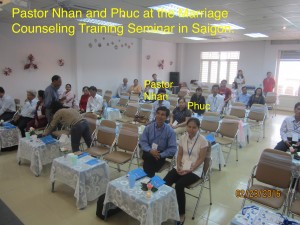 MARRIAGE SEMINAR
Pastor Nhan and his wife, Phuc, recently attended a Marriage Counseling Training Seminar in Saigon (picture above). They joined other couples in ministry on how to strengthen their own marriages and then counsel other husbands and wives in their church when these couples face challenging times in their own marriage.
GOD'S FAVOR
The end of last year while we were attending Sunday Evening Worship in Suoi Bang at Tam Trong's house, 2 local officials showed up. They didn't say anything to us, but later called Tam Trong into their office. Pastor Nhan went along with Tam Trong, but he was not allowed into the meeting. Caesar pressured Tam Trong into signing a letter stating he would not allow his house to be used by the church until they approved it. Plus, they wanted to know who/how many people were meeting there and how many had been baptized. Pastor Nhan helped Tam Trong submit a petition and provide them with the information they requested (even though we didn't have to give them this information), but he never got a response back. Last week Pastor Nhan went to the province level officials with a petition for the church to meet at Tam Trong's house. Pastor Nhan was told he had to first petition the local office in Suoi Bang. When told we had done that, but did not get any response, the province official stated their law requires them to respond back within 2 weeks. He told Pastor Nhan to resubmit his petition to the local Suoi Bang officials and he would give them a call to see why they didn't respond to our first petition. He also stated when he received our petition from the local officials he would approve the church gathering at Tam Trong's house. Cam On Chua! (Thank You Lord!). Chua La Toc Lanh! (God is good!) Muoi Luc Muoi Noi! (All the time!).
PRAYER REQUESTS
Please pray God will provide the needs of a Youth Pastor for the Binh Chau Church, a house mother for the orphanage/love house, and a Vietnamese missionary for our church plant in Suoi Bang.
Please pray God will bring many to faith in Jesus through His work in the Binh Chau Church.
Please pray God will grant us wisdom, discernment, and good health as we pray and plan for our next trip to Vietnam (leaving April 27th).
VBS 2016 SPONSORSHIPS
We will have tables at CFC on Sunday, April 17 & 24, plus May 1, seeking sponsors for our VBS this summer at the Binh Chau Church. The cost to send a child to VBS is $50 as they stay at the church 3 days and 3 nights hearing God's Word taught, leaning Bible verses, hearing the Gospel, playing games/activities, enjoying 4 hot meals a day, plus snacks and prizes. Please pray God will bring 150 children to VBS again this year and many will give their heart to the Lord.
"How can we thank God enough for you in return for all the joy we have in the presence of our God because of you". 1 Thessalonians 3:9