by Dennis & Mai Spencer | November 30th, 2015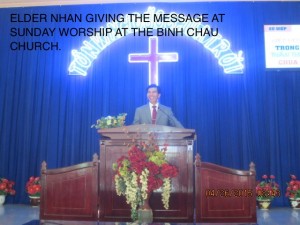 ELDER NHAN to PASTOR NHAN
Since the Binh Chau Church was planted in 2006, God has brought different pastors and elders to serve and lead the church for certain lengths of time. Almost 7 years ago Elder Nhan (picture above) came to serve and oversee our Children's Church. Over the years he took on added responsibilities of teaching Bible studies and preaching on Sunday. Elder Nhan started discipleship classes also in Tan Thang and Suoi Bang during this time. We have prayed for many years for God to provide a senior pastor for the Binh Chau Church. Over the last 2 years we have seen much growth in Elder Nhan's ability to oversee the church. God has made it clear to us He has called Elder Nhan to be our senior pastor of the Binh Chau Church. Please rejoice with us and give thanks to God for His answering our prayers. Several pastors from Saigon, including a previous mentor of Elder Nhan's, have agreed to be a part of the ordination ceremony. This group of pastors will be coming to the Binh Chau Church on December 14 to ordain Elder Nhan as Pastor Nhan. Please pray God will use Pastor Nhan to do mighty things for His kingdom.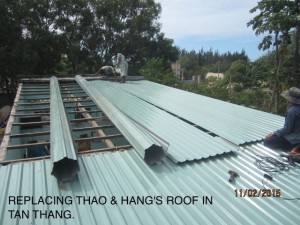 MERCY MINISTRY AT WORK
The picture above shows the roof being replaced on Thao/Hang's house in Tan Thang. This precious family has 10-12 people living in their house, depending on the number of grandchildren staying there. We were notified that the roof was in such bad shape that during rains it was hard to find a spot to keep dry. Since it rains a lot at night here, this meant many sleepless nights for the kids. 4 families back in the US sponsor 8 kids, who live in this house. We let them know of the need and they responded quickly and generously provided the needed funds to replace Thao/Hang's roof. We thank God that He has raised up such faithful sponsors to meet the needs of His children here each time there is a need.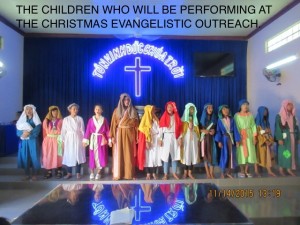 CHRISTMAS PREP CONTINUES
The picture above shows the youth who will be performing during the Christmas Evangelistic Outreach on Christmas Eve. It's such a joy to watch them practice and see the love of Jesus they have for each other. There is a lot of laughter as you can see they really enjoy being with each other. They stay after Sunday Worship, cook/share a meal together, and then practice all afternoon. Besides the skit they will be performing, the kids will sing several songs also. We thank God for giving us so many of our youth with a heart to serve Him. We thank you for showing the love of Jesus to these precious children through your faithful prayers and support that God is using to make such a difference in their lives.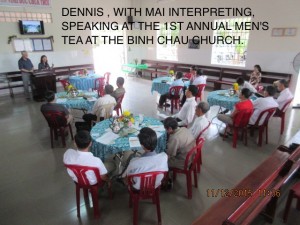 1ST ANNUAL MEN'S TEA
Many churches in the US have Women's Tea events, but here in Vietnam the men, not the women, are the ones who enjoy sitting around talking and enjoying a cup of hot tea. So we followed this tradition and recently held our 1st Annual Men's Tea at the Binh Chau Church. We had 19 men sign up and we were blessed when 15 (picture above) of them took time off from work to attend. We started out in the morning with worshipping the Lord in prayer and lifting our voices in song. Then for the rest of the morning, Dennis (with Mai interpreting) shared what the responsibilities of men as heads of households, husbands, and fathers are according to God's Word. The men then shared a fellowship meal, prepared and served by some of the ladies in the church. In the afternoon we went to the beach for a time of rest and relaxation, later grilling clams on the beach. God gave us a blessed day of bonding together and encouraging each other in our walk with the Lord.
THANKSGIVING IN VIETNAM
We also held our 1st Thanksgiving Day celebration here at the Binh Chau Church. Elder Nhan preached on how in a Christian's life, everyday should be one of thanksgiving for all the blessings God has given us. We then shared a thanksgiving meal of Bun Bo Hue (Vietnamese soup). No turkey here in Vietnam. However, Mai did surprise us (Dennis and the kids at the orphanage/love house) with a turkey dinner from the US.
PRAYER REQUESTS
Please pray God will use the Christmas Evangelistic Outreach to reveal Jesus as the reason we celebrate Christmas and many will ask Jesus into their heart.
Please pray God will give us wisdom and discernment as we seek His guidance in finding a youth pastor to serve at the Binh Chau Church to help Elder Nhan.
Please pray God will provide someone to oversee the Children of Promise as He fills it with His children.
Please pray God will provide a local Vietnamese missionary family to oversee the Suoi Bang church plant.
PRAISE REPORT
God has restored what the enemy tried to steal from Mr. Ba Quang in Suoi Bang. We can all see Mr. Ba Quang has truly repented and is once again bearing good fruit for Jesus. Starting in December we will add his house to the other 3 locations for Sunday Worship, rotating from house to house each week. Chua La Toc Lanh! Muoi Luc Muoi Noi! (God is good! All the time!)

"How can we thank God enough for you in return for all the joy we have in the presence of our God because of you". 1 Thessalonians 3:9