by Dennis & Mai Spencer | October 29th, 2015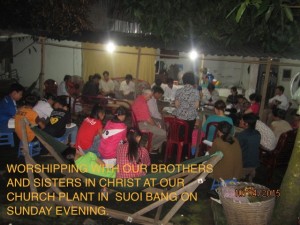 GOD IS FAITHFUL
We arrived back in Vietnam on September 30th and will be here until the end of the year. As always, it was such a blessing to see all our brothers and sisters in Christ here again. They all send you their love, want you to know they appreciate all you do for them, and they pray for you also. One of the first things we were anxious to do was attend Sunday Evening Worship in Suoi Bang. Satan, not being able to stop God's Word from spreading through our house church there, began attacking some of the brothers (mainly Mr. Ba Quang where we met) within the church. We met many times this summer with them and have been praying (along with you) for God to bring peace to this situation. Praise God for His faithfulness! Instead of one house now, we have 3 families who have opened their homes and we rotate each week for Sunday Worship, Tuesday Bible study, and Thursday night prayer. We have attended services at all 3 homes (picture above) and there has been between 25-30 people each time. Plus, God has used this test to strengthen their love for Him and each other. What a joy to be a part of. God is good! All the time!
PRAYER-PRAYER-PRAYER
We believe and always share/teach the power of prayer with our brothers and sisters in Christ here. We continually remind them of the army of faithful prayer warriors God has raised up to intercede for His work here in Vietnam. Over the last 11 years God has answered so many of our prayers and enabled us to do many things here that man said we couldn't do. To God be the glory! Earlier this month we held an all night prayer service starting at 7pm and lasting until 6am the next morning. We were blessed to have 31 people (picture above) attend to pray for the needs of the church, to pray for each other, and to pray for all of you also.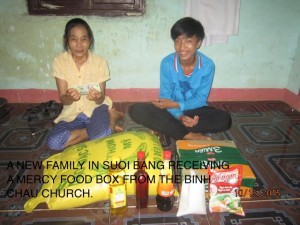 MERCY MINISTRY
Through our mercy ministry program we are able to provide emergency food boxes to families in need (picture above), even though Caesar uses this against the church. They will tell them the church "buys" them by offering them food. We recently had a visitor from Saigon give her testimony at the Binh Chau church stating she first came to a Christian church 4 years ago to get a free bowl of soup because she had no food. God touched her heart by the love of Jesus she felt from the congregation and she accepted Jesus and joined the church. She witnesses to people now that same love of Jesus and invites them to church for a free bowl of soup, praying God will touch their heart like He did hers.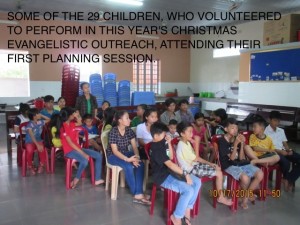 CHRISTMAS PLANNING BEGINS
It's truly hard to believe how fast this year has gone by and we are less than 2 months away from celebrating the birth of our Savior. We had our first meeting about a week ago to start planning for our Christmas Evangelistic Outreach to be held on Christmas Eve. Mai has been here twice to participate in it, but this will be my first time. I am really excited to be here this Christmas to be a part of it. Next to our summer Vacation Bible School, this is our biggest evangelical outreach we do each year. In both 2013 and 2014 we had around 300 people attend. Since the church only holds about 150, we set up tables and chairs outside for the overflow. We even had a local official tell us 2 years ago we needed a bigger church! Our program will be similar to the last 2 years where our youth sing and put on a skit about the birth of Jesus. Then Elder Nhan will give a message from Luke about the shepherds receiving the good news, followed by an Altar Call. Afterwards, we will serve a meal and give out gifts to all the children in attendance. When we asked for volunteers last week who would like to participate in this year's outreach we had 29 kids raise their hands. They met (picture above) to plan and will practice on Sunday afternoons here at the church for the next several weeks. We thank God for giving so many of our youths the heart to serve Him. Please pray God will give us a joyous celebration and bring many to Jesus as we share the true meaning of Christmas.

PRAYER REQUESTS
Please pray God will give us wisdom and discernment as we seek His guidance in finding a youth pastor to serve at the Binh Chau Church to help Elder Nhan.
Please pray God will provide someone to oversee the Children of Promise as He fills it with His children.
Please pray God will provide a local Vietnamese missionary family to oversee the Suoi Bang church plant.
We thank you for your prayers and support that enables us to serve God in Vietnam.

"How can we thank God enough for you in return for all the joy we have in the presence of our God because of you". 1 Thessalonians 3:9
This newsletter covers both September and October, as September was kind of a blur for us. We found ourselves with a lot of things to take care of in preparing for our quick turn around in returning to Vietnam. Plus, we (Mai and I) took our first vacation alone together for the first time since 1986. We were blessed with the use of our dear friends (Ron & Jeri) time-share in Kauai. And yes, we enjoyed every minute of it. God has blessed us more than we deserve and we are so thankful for His love.