by Dennis & Mai Spencer | July 15th, 2014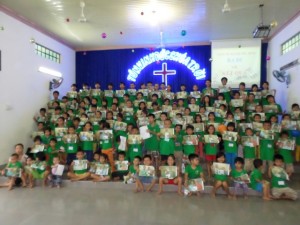 "Binh Chau VBS 2014"
CAM ON CHUA!!
We praise God for giving us yet another wonderful and blessed Vacation Bible School. We stated last year was the best yet, but we can safely say this one was even better. We had 130 kids attend (picture above) with about 115 of them already Christians and connected to the church. With that said we had our smallest group of non-believers in attendance than ever before. It brought joy to our hearts and tears to our eyes to see God soften the hearts and give understanding of His love to 6 of those children (picture below), plus 3 adults, as they prayed to ask Jesus into their heart as their personal Lord and Savior. Plus, we could see the spiritual growth in many, many of our "church kids" from last summer. We truly believe God is raising up a new generation to boldly take His Word throughout Binh Chau, Suoi Bang, Tan Thang, and all the hamlets around Binh Chau all for His glory. "One generation will commend your works to another; they will tell of your mighty acts. They will speak of the glorious splendor of your majesty, and I will meditate on your wonderful works. Psalm 145:4-5.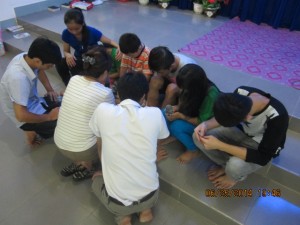 "Kids Accepting Jesus"
MORE VBS PRAISE
We also thank God for the 30 adults who volunteered to serve at VBS. They were a blessing to the children and examples of God's love and mercy. There was a spirit of unity and love in all they did. We especially are thankful for all the ladies that worked so hard in the kitchen preparing all the meals and washing all the kid's clothes. Their worked seemed never ending, but they kept up, never losing their joy of serving.
We praise God for all the answered prayers: plenty of water from the new well to supply all the VBS needs, the new water filter system that provided safe drinking water, the little rain we received was not disruptive, no one got injured and only a couple got sick, no interference from Caesar, our "on it's last legs" generator held in there when the power did go off, and most of all, that He gave us the opportunity and privilege of showing the love of Jesus to every child and adult who attended this year's VBS.
THANK GOD AND THANK YOU
We thank God for touching the heart of each and every one of you who faithfully pray and financially support God's work here. God could do all this without us, but we are so blessed He allows us all to be a small part of His glorious work here in Vietnam.
"How can we thank God enough for you in return for all the joy we have in the presence of our God because of you."
1 Thessalonians 3:9

BICYCLES-BICYCLES-BICYCLES
We thank each of you who contributed for the bicycles to be given away for memorizing Bible scriptures. This is one of the highlights of the VBS as a child's name is drawn, they come forward to recite their given scripture(s), and if successful, are awarded a bike. We can see the hand of God working as He selects each name drawn. What amazing testimonies of God's love comes out of this process. We were able to give 23 bikes away this year (picture above). Plus 2 more after VBS ended; one given to their child by her sponsor when they saw their child upset (because she knew her scriptures and badly needed a bike for school), but her name wasn't drawn, and the second given to a young boy (Tu, 12 years old) in Suoi Bang who actually walks about 3 miles one way to attend Sunday Worship and discipleship classes at Mr. and Mrs. Ba Quang's when no one can pick him up. Thank you for making such a difference in each of these precious children's life all for Jesus.
CAESAR UPDATE
One visit during the first day of VBS. He sat and watched what was going on for a while. Then Mai went over, told him we were too busy to talk, and he left. He came back the second night with 2 others during our food booth contests. They sat around talking with some of the church members. And yes, they did buy several food items from the booths.
We thank God for granting us favor with them.

PRAYER REQUESTS
Please pray God will grant us wisdom in re-petitioning for the new building next week and provide the remaining funds for construction.
Please pray God will give us wisdom and discernment in finding a replacement for Elder Tu. We had 2 young men (ages 37 and 34) who came to help with VBS who might be strong candidates.
MORE PRAISE
**When Kim and Elder Nhan gave the funds we raised from the food booths to Caesar for their school project for needy kids, her response was Cam On Chua or Thank You Lord! This out of the same mouth that spent years persecuting the church. We praise God as He is even working in the hearts of Caesar in His perfect timing.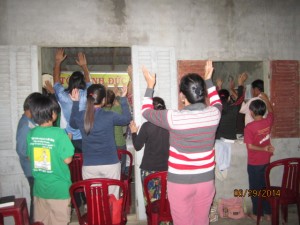 "Outside Standing Room Only"

**We now have 11 families who have accepted the Lord out of 180 families in Suoi Bang or 6.1%. Out of 88 million people in Vietnam only about 1% are Protestants. We thank God for small victories. We had 29 people at Sunday Night Worship (picture above) in Suoi Bang recently with many having to stand outside. One couple had a house church meeting in their home in Binh Chau (2-3 families), but the pastor stopped coming. They moved to Suoi Bang and have started attending our church there.