by Dennis & Mai Spencer | November 22nd, 2013
CHRISTMAS OUTREACH 2013
We have already had several meetings (via Skype) with Elder Nhan, Elder Tu, and Kim planning the Christmas Evangelistic Outreach. This year's outreach will be held on Christmas Eve. It's exciting because during the Christmas season we are able to do more evangelizing in Binh Chau than other times of the year. The government and non-believers are starting to celebrate Christmas, but obviously for the wrong reasons (gifts, lights, etc.), but now many know it's the birth date of Jesus of the Christian church. Over the last few years the Binh Chau church has gained a good reputation/name/respect of showing love/kindness/mercy. This allows us to hand out invitations to the outreach and speak more freely about the Gospel outside the church at Christmas time. We will mostly follow last year's successful outreach (about 250 attended – picture to the left) with 2 changes. Instead of bringing a ministry from Saigon to participate in the outreach our own youth from the Binh Chau church will be performing a Christmas skit. Plus, we will serve a hot meal after the outreach instead of handing out snacks like we did last year. We will need to rent about 25 tables and 200 chairs to seat everyone. The reason for these 2 changes are (1) We have seen tremendous spiritual growth this year in our middle school and high school youth, especially in the area of serving in the church, and (2) Jesus shows us many times the joy of sharing a fellowship meal. What better time to fellowship, interact, discuss, and answer questions than right after the outreach message. We will print invitations to be given out by the church members to their non-Christian relatives, friends, or neighbors. The church will also invite all the neighbors around the church that came to the church this summer for the first time to eat Mai's pho soup. We will also invite the local government officials to attend. Even though they can't have any religious affiliation in their job, they have come to the Christmas Outreach when invited (front row picture above). They might be there for different reasons, but each year they do hear the Gospel. We will open the outreach with prayer, followed by music from the different age group choirs. Then the youth will perform their Christmas skit and Elder Nhan will then give the message of the true meaning of Christmas, followed by an altar call. Please pray that God will give those non-believers attending understanding and belief in His plan of salvation through His Son Jesus.
NEW BUILDING UPDATE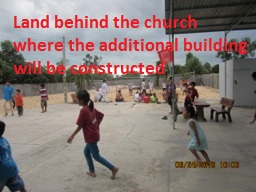 We have been meeting (via Skype) with the Binh Chau leadership and the contractor (who built the church and kitchen for us) about new laws recently implemented by the government concerning new building codes as they refer to non-government sponsored churches. Our petition to construct a 12 x 24 meter building was denied at the province level, but we found out the local Binh Chau officials can ok any building up to 80 square meters without going to a higher level. This means we will probably construct the building in 3 stages (8 x 10 meters each), completing one and then petitioning for the next. We will have to pay a zoning fee of $50 per square meter for each building though We have the land (picture above) for the building and many kids who are in dire need of a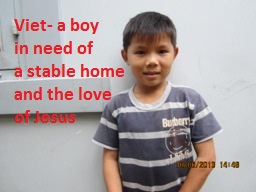 loving, Christian family environment, such as little Viet (picture to left). Viet's mother moved away to escape her abusive husband leaving Viet at home. His father is gone at sea for weeks, months at a time (when home he is drunk most of the time)leaving Viet with his grandmother. However, she has virtually no control over Viet as he roams the streets. Viet attended church for several years, but recently has not due to the influence of his non- Christian friends and lack of parental guidance. We have seen so much growth in Viet and are sad to see him slipping back into old habits. Viet needs love and care that only Jesus can provide.
PRAYER REQUESTS
Please pray with us that God will work out all the details, including the funds needed, so we can begin construction in 2014 of the new building for additional classrooms and to help the "Viets" of Binh Chau.
Please pray for the safety of each child being picked up each week and that God would provide the funds for a van to be purchased.
Please pray that God will raise up more people to serve in the Binh Chau church.
PRAISE REPORT
Many house churches in Vietnam lack order and accountability which can lead to many temptations. We stressed with the Binh Chau leadership this summer the importance of working together as a team and holding each other accountable. We encouraged them to meet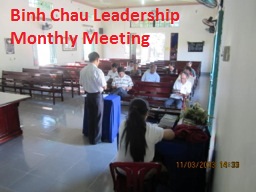 together on a regular basis to pray over the needs of the church and each other, to seek God's guidance/direction for the church, and encourage one another and the different ministries of the church. They are now conducting daily, weekly, and monthly meetings (picture to right) now and report to us that communication has never been better/they can accomplish more as a team.